Original URL: https://www.theregister.co.uk/2012/02/24/review_game_syndicate/
Syndicate
Bullfrog classic revived
Posted in Personal Tech, 24th February 2012 12:00 GMT
Review Cyberpunk's lasting appeal is often attributed to its familiar tropes: dystopian near-future settings, rapid technological advancements, massive societal upheaval and, of course, alienated loners living off-the-grid. But it's not the conventions that sustain the genre, but its allegories.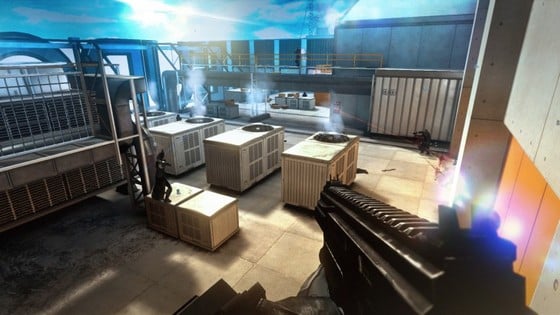 Rooftop rampage
They warn of societies in thrall to technology and divided into strict classes of haves and have nots. They warn of an insidious erosion to democracy by the preponderance of financial markets and mega-corporations. And, most of all, they warn of the diminishing relevance of the individual.
Depressingly resonant of the real world, they also serve as metaphors for Syndicate, Starbreeze's FPS reboot of Bullfrog's seminal RTS. The decision to shoehorn the classic squad-based tactical shooter into gaming's de rigeur format may have serviced the bean-counters, but the result is a lesson in fan disservice, a confused and middling game stripped of the original's individuality.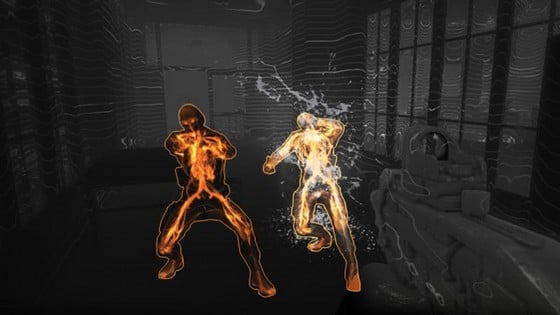 X-ray spray
Take the story, for example. The original's rich fiction may have been delivered largely through a manual, but it was vastly more evocative and engaging than Starbreeze's. What little narrative there is arrives in sporadic cut-scenes, in which inscrutable characters allude to unintelligible plot strands.
Right up to the frankly unfathomable denouement, you're left wondering if you've missed something, if you haven't quite understood what it is they're saying. But the truth is, you haven't. They're not really saying anything. Syndicate's narrative simply doesn't exist.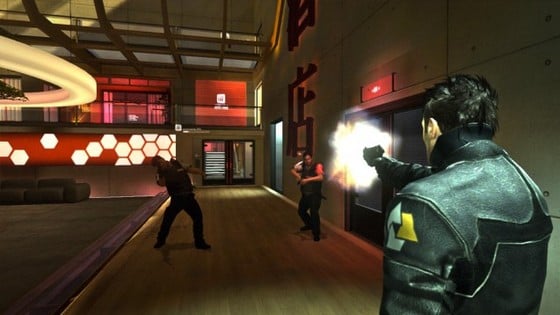 In the firing line
The overarching plot is, on the other hand, much more obvious. Obvious in its heavy indebtedness to Deus Ex: Human Revolution, that is. You play as a cyborg agent for an unscrupulous megacorp that is embroiled in a corporate war against another unscrupulous megacorp. Your love interest, the world's pre-eminent cybernetic engineer is kidnapped, precipitating... oh wait, you played Deus Ex: Human Revolution too.
Raising arms
OK, so Syndicate's plot won't win awards for originality, but how about its gameplay? Well, it certainly won't win any awards either, but at least it's original.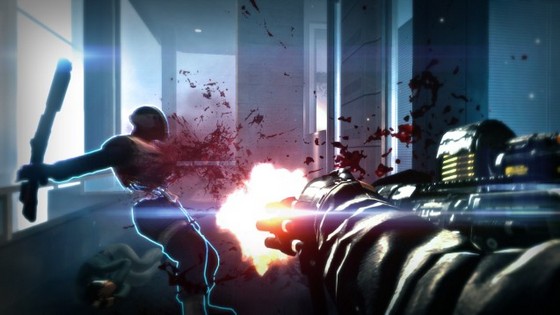 Splat's the way
To complement the decent, if unremarkable gunplay, your character is fitted with DART 6, a bleeding-edge cybernetic chip, granting bullet-time and thermal imaging, some passive modifiers and the ability to 'breach' machinery and other cyborgs.
Breaching is at the heart of gameplay. It can be used to hack doors and gun turrets, break the shields of tough enemies and even disarm rockets and grenades. But its most integral use are three special hacking powers used to inveigle or dominate enemy cyborg minds.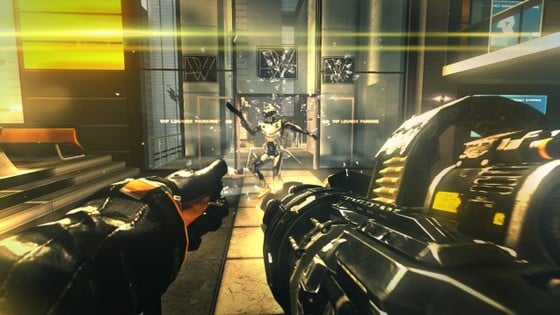 Cracked the droid
Backfire causes your opponents' weapons to overload, stunning them momentarily and dealing damage. Suicide forces an enemy to prime a grenade and kill himself and anyone in close proximity. And Persuade causes an enemy to fight on your side temporarily before turning the gun on himself.
As usual, there's a catch. The DART 6 chip is powered by adrenaline, which is raised (conveniently) by pulling off quick kill streaks. The more kills strung together, the more you can breach. It's a device which sounds intriguing enough. After all, we're used to such devices defining and driving unique gameplay.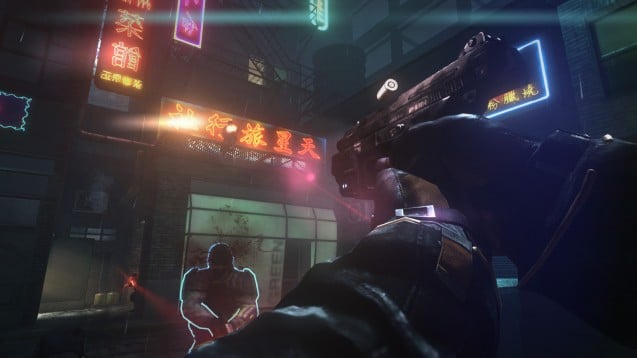 Top shots
But Syndicate fails to construct its gameplay around these mechanics. Its tricks never feel anything more than... well, tricks. Breaching always feels ancillary to combat, offering no true novelty and feeling little more than a mildly interesting grenade type, one whose scripted consequences soon become repetitive.
Lottery fellowship
With Syndicate's novelty failing, there's precious little else to admire in the campaign mode. It's a serviceable enough shooter, but it's also highly formulaic and linear, shifting you from one duck shoot to the next with no variation in pace other than occasional and exacting boss fights.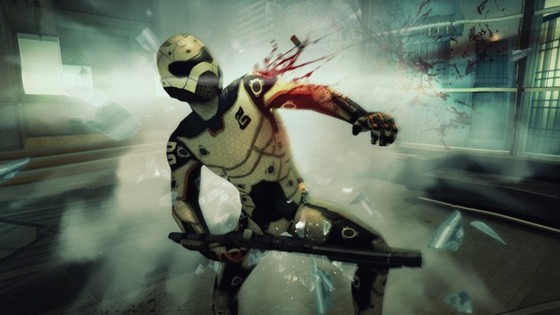 Shoulder the burden
Syndicate's only real saviour is its co-operative mode, where up to four-players work together in nine separate missions. It's a significantly different experience to the campaign mode, one that could easily stand on its own as a budget game. The environments are far more varied than the campaign's, as are loadouts and breach abilities, which provide ample class customisation.
It's not mere costume play, either. Teamwork is essential, and you'll need a range of abilities to take on some seriously tough enemies, not only capable flanking and healing each other, but also of breaching you with devastating results.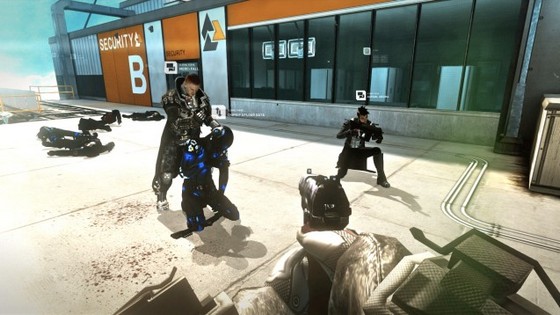 Your knees are feeling sleepy...
Given co-op is the more assured of the modes, it's a shame Starbreeze didn't concentrate more of its efforts there. Limited to fetch quests and escort objectives, the scenarios aren't anywhere near as varied as the top-tier shooters. And while the additional breaches renew interest for a couple of hours, as in the campaign mode, their rudimentary one-button mechanics ultimately make them as anonymous as the actual gunplay itself.
Verdict
Syndicate isn't an awful shooter, it's just a mediocre one in an over-saturated market. That may sound like sour grapes from an ardent fan of Bullfrog's originals, and I won't deny there's not an element of truth in that. But I'm also a Starbreeze fan, and, while it shows signs of invention and promise, Syndicate is a long way short of The Chronicles of Riddick and The Darkness. ®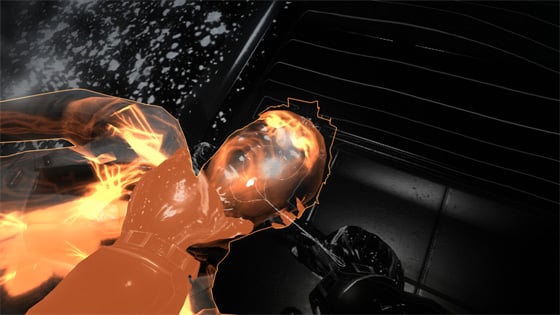 You've been Tangoed
More Games Reviews

The Darkness 2
Kingdoms of Amalur:
Reckoning
Final Fantasy
XIII-2
Soul Calibur
V
Star Wars:
The Old Republic