Original URL: https://www.theregister.co.uk/2012/02/23/smart_storage_systems_optimus_ultra/
Smart has high IOPS for super-fast, smarter SSDs
Reads at a hell of a lick
Posted in Storage, 23rd February 2012 16:04 GMT
A super-fast random reading SSD has been launched by Smart Modular Technlogies' spun-off business unit.
Smart Modular Technologies (SMT) is becoming a memory seller with Smart Storage Systems (SSS), the new business unit, becoming the solid state drive (SSD) seller. It has been given – among other SSDs – the Optimus solid state drive (SSD) to sell, and it has been tweaked to last longer. This Optimus Ultra version holds up to 1.2TB of consumer-grade MLC flash whereas the Optimus held 1.6TB. That smaller capacity maximum is balanced by a 2.5X increase in working life; from 10 full writes a day to 25 full writes a day for five years.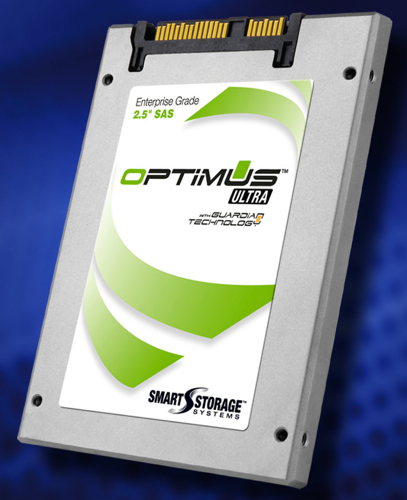 Optimus Ultra
The bare performance stats are 100,000/50,000 random read/write IOPS and 500MB/sec sequential read and write bandwidth through the 6Gbit/s SAS ports. There are two of them so you can get 1GB/sec sequential read speed with wide-port operation.
The chart below shows that it is one of the fastest MLC SSDs at random read IOPS, if not the fastest. Random writes are a different story, with SanDisk's ExtremeSSD looking good on that measure.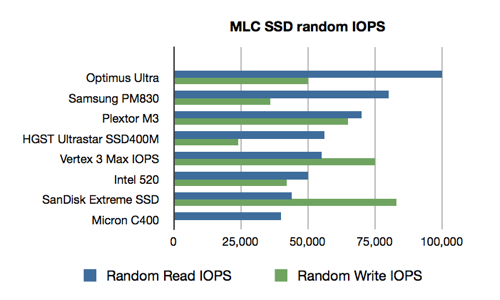 Random read/write IOPS by various MLC SSDs
Capacities are 150GB, 300GB, 600GB and the maximum 1.2TB. SSS says that FlashGuard branded technology makes MLC flash perform at SLC levels through its management, signal processing and error checking and correction technologies. There is full data path protection and protection against the loss of data at the page and block levels is accomplished through a redundancy feature called FRAME. (Flexible Redundant Array of Memory Elements). There is capacitor backup circuitry to maintain power if there is a an unplanned power failure.
SSS says it "is delivering industry-leading [SSDs] to Tier-1 OEMs and organisations in the enterprise and defence sectors." Its president is John Scaramuzzo. The SSD world gets more crowded by the day. ®