Original URL: https://www.theregister.co.uk/2012/02/23/review_toshiba_portege_z830_10n_ultrabook/
Toshiba Portégé Z830-10N 13.3in Ultrabook
Five and a half hours on the road
Posted in Personal Tech, 23rd February 2012 12:26 GMT
Review The last time I tested a Toshiba laptop, it had a glowing orange screen and the keyboard rattled like a box of Lego. Come to think of it, newspapers at the time were scaring readers about 'house parties', so it was quite a while ago. So perhaps you can imagine how utterly charming the pretentiously named Portégé Z830-10N appeared to me when it arrived.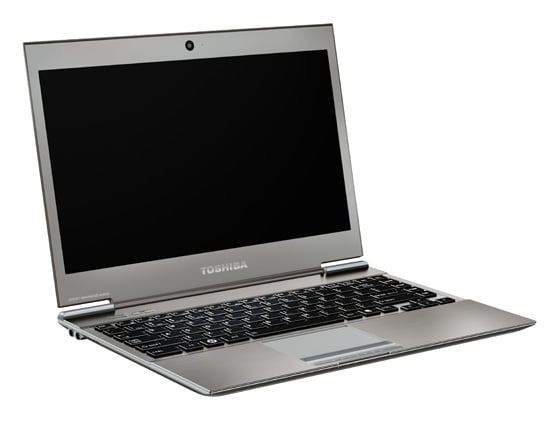 Toshiba's Portégé Z830-10N – call me a fashion victim but charcoal grey is soooo Nineties.
It's skinny – 10mm thick on average – and light – weighs less than two iPads – but in classic Toshiba form, it means business too. I don't mean in terms of performance, though: business doesn't need processing power, it needs connectivity, and the Z830 is a rare Ultrabook in letting you plug stuff into it directly. You won't need to buy, carry and invariably lose pocketfuls of port adapters.
First, a quick tour. The case is largely built from a dark-grey magnesium alloy, the only apparent seams being around the display, the keyboard and the trackpad. Although tougher and more resistant than plastic, this material is not rigid, so it is still possible to tweak and bend the screen.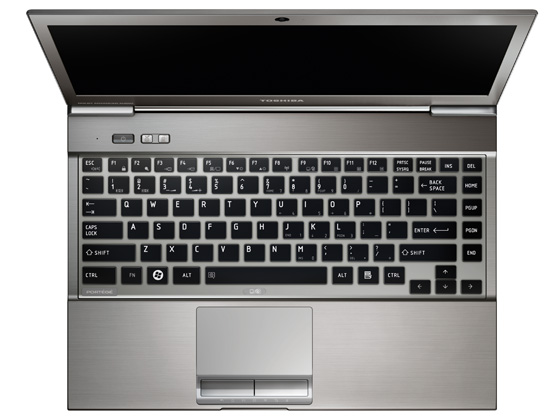 The keyboard has a bouncy rather than clattery feel, but those vertical cursor keys are too close
A sticker on the base warns: 'PC base and palm rest can become hot! Avoid prolonged contact to prevent heat injury to skin.' I can assure readers that the Z830 did not become hot or even lukewarm during testing. It runs cool and quiet.
Opening the clamshell is a bit tricky if you have cold hands, since the front finger recess to help you separate the screen from the body is barely a millimetre wide. Resisting the temptation to use a bread knife from the kitchen, I found the best technique was to rest the computer flat on one open palm and slowly tease up the lid with the fingernails of my other hand.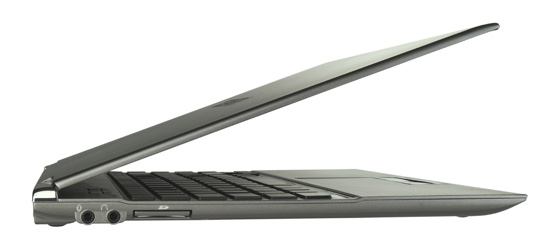 Separate audio in and out ports for those of us with standard headset mics
Frankly, I'm baffled as to why increasing numbers of manufacturers seem to be designing their notebooks to be difficult to open, but there you go.
Seeing the light
The keyboard is backlit with white light shining through the letters on the keycaps, although it is not obvious to me when the backlight is supposed to operate automatically. I would have thought that working in a dark room would turn it on, but apparently not always: as far as I can determine, the backlight comes on and goes off according to the Z830's mood.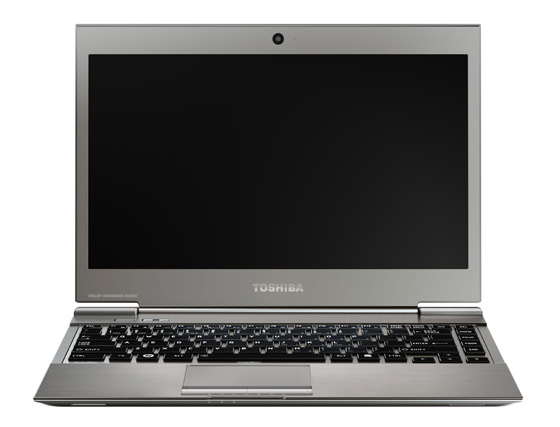 Backlit keys or mood lighting?
The keycaps look small with a rectangular button-like appearance but the keyboard is pleasant enough to type on. My only complaint here would be with the two vertical cursor keys, which are so close that it is impossible to distinguish one from the other by touch alone.
In front of the keyboard is an 8.5 x 5cm trackpad plus two shiny click-buttons at the front edge. Synaptics TouchPad drivers support one- and two-finger gestures inclusing scroll, zoom and rotate. Best of all, the touchpad is highly sensitive and only requires a gentle touch, making for fast and efficient manipulation.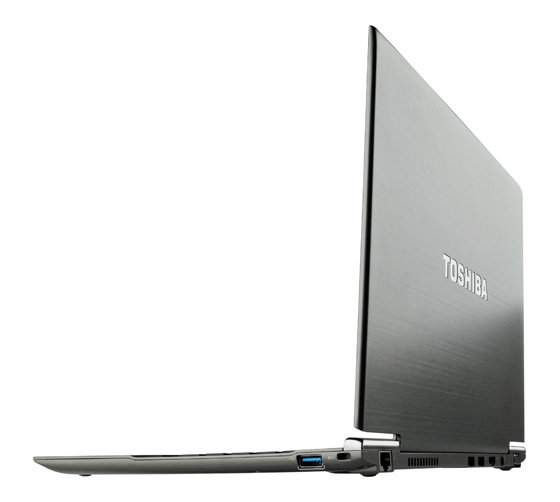 Despite the rugged appearance, the display flexes all too easily and is tweakable
There is a row of LED status icons in front of the click-buttons, which seems an odd place to put them, considering that they'll be hidden under your hand most of the time. They tell you things such as whether the computer is on or off, whether you have enabled Eco mode and whether Wi-Fi is enabled – but the buttons and keys that control these features are on the other side of the keyboard. Why not put the LED status icons there instead?
Despite the 13in size of the screen, it supports a native resolution of 1366 x 768 pixels, which is more commonly employed for 11in displays. Still, it's bright and clear, except in Eco mode, whereupon it becomes murky and illegible. It also suffers from the viewing angle limitation that most notebooks suffer from, so you'll need to tilt it back and forth a fair bit before finding that visual sweet spot.
Benchmark Tests
PCMark 7 Results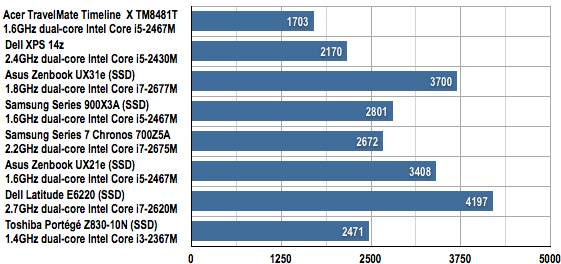 Longer bars are better
On a much more positive note, I applaud Toshiba for taking the trouble to provide full-size connectivity ports for VGA, HDMI and Ethernet in addition to a USB 3.0 and two USB 2.0 ports. This is probably the only Ultrabook on the planet that you can take with you anywhere without needing silly little adapters. Flying in the face of conventional Ultrabook design, the Z830 even has some of the ports arranged along the back edge, and they are well-spaced so that, for instance, you can plug in a memory stick without obscuring adjacent ports.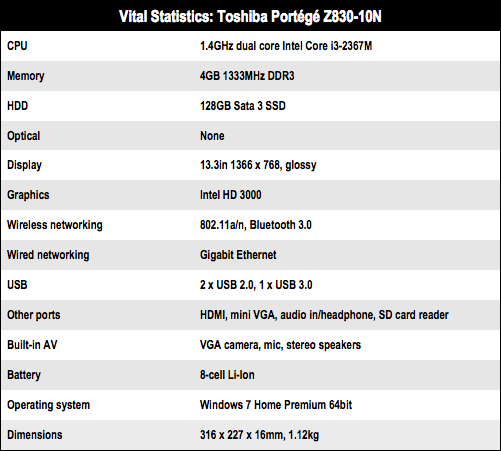 Endurance over performance
The Z830 is not a top performer in benchmarks with one exception: its battery life is exceptional, achieving five and a half hours of non-stop use between recharges. Indeed, tests with Futuremark's PowerMark battery test benchmark concurred with this, clocking up 334mins. Knowing that the computer is not likely to blank out any time soon is a liberating experience. I felt calm and confident while playing with this Ultrabook on battery power, rather than rushed and panicky.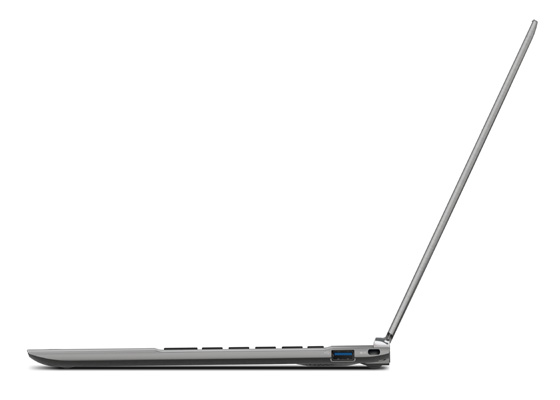 It might look boring but there's a lot of notebook gone into this Ultrabook
Toshiba has installed a number of custom software utilities to keep you up to date, notably App Place, Music Place and Video Place. These are effectively themed software stores. Personally, I am not happy about my computer thinking it's a shop and trying to sell me stuff.
Even this is less annoying than the constant bullying reminders from McAfee popping up at every opportunity. I don't know whether to report McAfee to the headmaster or get some mates together to kick the shit out of it. One way or another, this McAfee kid's up for a serious dabbing at morning break.
And for those who are interested in such things, 'Portégé' doesn't mean anything in French.
Verdict
Despite some annoyances, I really enjoyed my time testing the Toshiba Portégé Z830. It is a good all-rounder, but so very slim and light, and it runs on batteries for the best part of a day. Surely these three features alone deserve to make it a great success. It's not a style icon by any stretch of the imagination, but this Ultrabook looks businesslike in an understated way and genuinely feels like a quality piece of kit. It is jolly expensive, though. ®
More Notebook Reviews

Asus
Zenbook
UX21E
Samsung
Series 7
Chronos 700Z5A
Asus
Zenbook
UX31E
Dell
XPS
14z
Acer
Aspire S3
Ultrabook