Original URL: https://www.theregister.co.uk/2012/02/21/review_motorola_motoluxe_android_smartphone/
Motorola Motoluxe Android smartphone
Talked up?
Posted in Personal Tech, 21st February 2012 07:00 GMT
Review Don't be confused by the name: it may be seem classy and good-looking but this is a mid-range handset, not a deluxe one. It's also quite distinctive, which is good at a time when Android handsets are numerous and often me-too copies or unimaginative derivatives.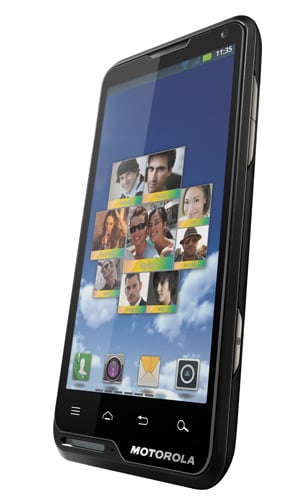 A comfortable compromise: Motorola's Motoluxe
Although this is a plain black rectangle, it's different thanks to the lanyard slot at the bottom left, balanced design-wise by the Motorola logo on the right. The back has the chrome mesh detail earlier Moto handsets have featured and which matches the earpiece speaker on the front.
It's a well-sized phone that fits the hand comfortably, squeezing a decent 4in screen into a case that doesn't feel oversized. The display is bright and high-resolution. It doesn't match the iPhone's Retina Display or the Motorola Razr screen, which gleams in its eye-popping colours, but at around 245ppi, it's sharp and detailed.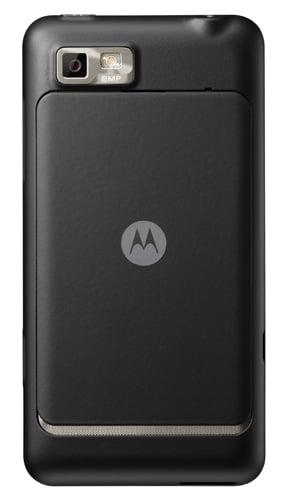 8Mp stills snapper but no HD video capture
The lanyard slot won't be everyone's choice as a must-have feature, but it has more functions than just being a place to attach a flat cord. A light hidden under the slot notifies you when there's an email waiting, say. It glows with a green pulse which is even visible when the phone is lying face down, thanks to the angled slot. Remember this if you keep the phone next to the bed.
To find out what's waiting, activate the phone. There's no front button to wake the screen, but a tap on the power button on the top edge reveals a strikingly different lock screen. A multi-function screen is common enough: HTC pioneered the capability to unlock the phone and go straight to a specific app.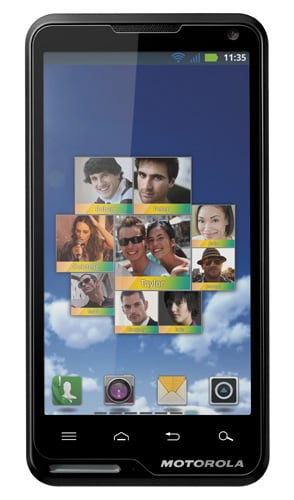 Custom contacts
Here, though, there are six apps offered by default: phone, browser, text messages, email and calendar together with a button to toggle between ringer and vibrate. If none of those suits and you just want to launch the home screen, touching the key at the centre sets the icons spinning fetchingly. What's more, you can swap the apps for others. It's a neat piece of customisation.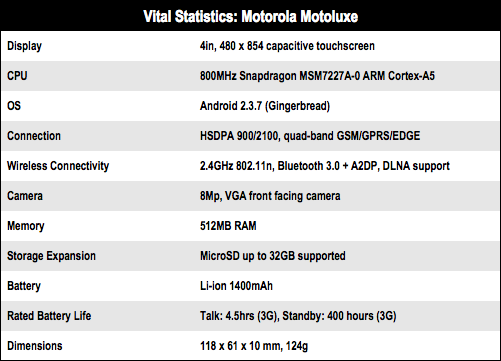 Core considerations
There's more. On the home screens are two Motorola specialities. The first is the Activity Graph. It's a widget made up of apps. It automatically pulls together the apps you use the most and clusters them in circle, the most used in the middle. It's certainly more convenient than customising the home screen by dragging the appropriate shortcut to it.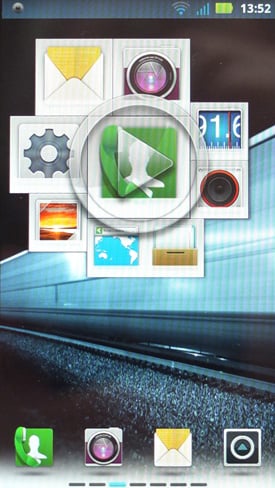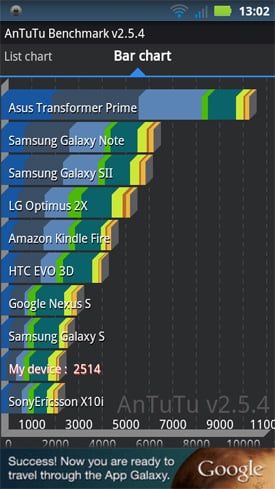 UI refinements abound, the AnTuTu score is so last year though
The second is the Social Graph which does the same job for your contacts, putting your most-contacted person at the centre, complete with photo. If you prefer, you can manually control which contact falls where. The bottom of each screen has four icons which move with you as you scroll between pages.
For a mid-range model, this handset has a decent camera – an 8Mp sensor with LED flash where you might have expected to find a 5Mp version. Results are not the sharpest I've ever seen from this resolution, and shutter lag was noticeable even in decent light, so if you have time to half-depress the shutter to focus before snapping, you'll have a more effective result.

Single-core CPU but no slouch
What's not as impressive, but not unexpected given the price point, is the processor speed. It's just 800MHz, single-core, of course. For all that, the phone never seemed especially slow, even when plentiful programs were open, as they often are with Android. This phone runs Gingerbread 2.3.7, by the way. Since this is a phone made by Motorola – soon to be owned by Google – you might have thought Ice Cream Sandwich was in order.
I guess it'll come in high-end phones first, like the Motorola Razr, but no decision has been made yet as to whether it'll reach down to this phone. Motorola execs told me it should be technically possible for it to run it. Call quality on the Motoluxe was good, with signal strength consistent and reliable. Battery life was pretty good, too, though as always with smartphones, daily recharges are best.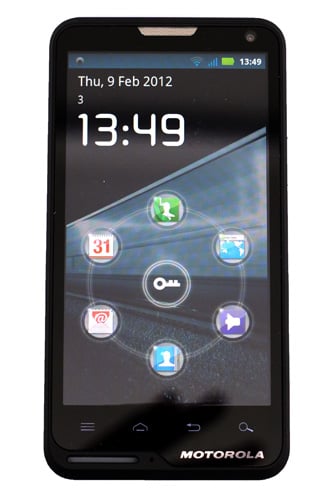 A lot of phone for your money
Verdict
This is a likeable phone with decent screen, a camera that is higher quality than the price would suggest and has neat styling to boot. It would be better if it came with the latest Android software, though this may follow. And a faster processor would make it really hare along. In all, however, this well-priced Android phone has a lot going for it. ®
More Android Phone Reviews

Prada Phone
by LG 3.0
Motorola
Razr
Ten… Androids
to outshine
the iPhone 4S
Samsung
Galaxy
Nexus
Orange
San Francisco 2