Original URL: https://www.theregister.co.uk/2012/02/21/review_dell_latitude_e6220_core_i7_notebook/
Dell Latitude E6220 12.5in Core i7 notebook
Quietly powerful
Posted in Personal Tech, 21st February 2012 12:33 GMT
Review Dell's Latitude E6220 is a typical workhorse, designed to be solid, dependable and ever so slightly boring. However, Dell is aiming this compact model more at small businesses rather than large organisations. And the increasing numbers of people who, like myself, are self-employed. A touch of style and being just 1in thin and with a 12.5in display are the giveaways here.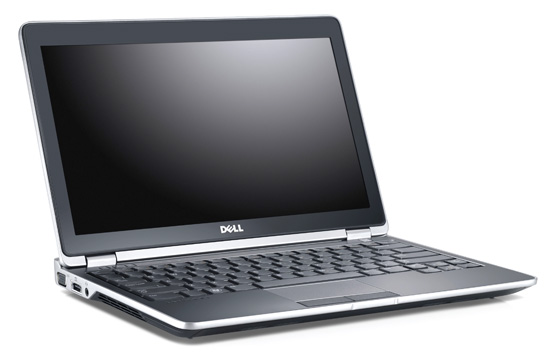 Built to last: Dell's Latitude E6220
On test is the E6220 featuring an Intel 2.7GHz Core i7-2620M CPU, 4GB of RAM and a 128GB SSD. There are three USB 2.0 slots (including one eSata combo) and USB 3.0 is available as an option. Other options include a backlit keyboard and fingerprint reader. It also has HDMI and VGA ports for video-out, plus a mic/headphone combo socket. There's an SD card slot and an Express34 card interface too. Quite a decent array of ports for a laptop of this size, but you do go without an optical drive.
The display resolution is 1366 x 768 and it is housed in a rigid lid, that shows no signs of flexing. It all feels solidly built and indeed it should as Dell claims the Tri-Metal casing is MIL-STD 810G tested. The anodised, brushed aluminium finish on the lid, isn't a favourite look but doesn't show up fingerprints. Further protection is provided by magnesium alloy around the edges, and a powder-coated magnesium base.

At 1in thick being having only a 12.5in display it looks chunkier than it is
Most personal stuff can be done on a smartphone but when it comes to rolling up your sleeves and updating various websites, using content management systems and working on long documents, you need a proper keyboard. And it just so happens that this one of the most likeable features of the Latitude E6220. It's also spill-resistant and available with a backlighting option too.
The keys are all full sized, and are firm enough to touch, but with enough give, that my fingers didn't tire when typing. Also, I didn't have to learn a new layout or condition myself to where the keys were. As a touch typist, I could start using it straight away – all the keys fell exactly where my fingers expected them to be.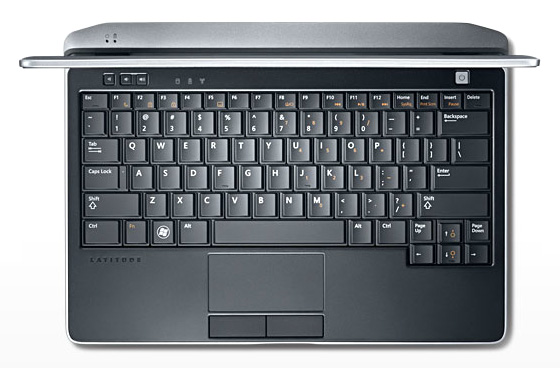 Key feature: great to type on and splash proof too
This is an astonishingly quiet machine for such a slim laptop packing a feisty Core i7 CPU, which makes it hard to judge how noisy the keyboard is to use. Even with the lightest tap, the keys were this Latitude's noisiest feature.
Tilt in favour
When working on the E6220 for a few hours, it remained cool to the touch and any irritating fan noise was notable by its absence which is also a bonus when on the move especially during an unexplained 40 minute wait in a train quiet carriage filled with people and a heavy silence.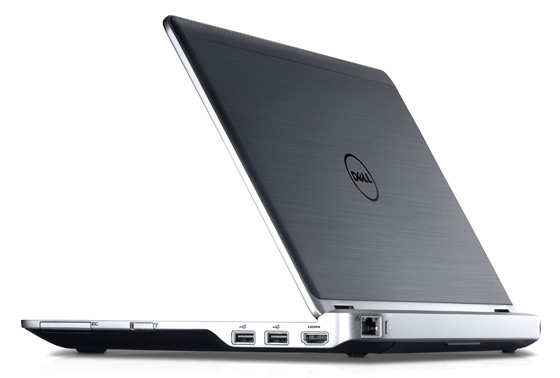 The recessed hinge is an advantage is tight spaces
The screen is hinged forward slightly on the case, giving the laptop a larger than normal back-end when open. One advantage of this became apparent when placed on the drop-down tray on the train, which are even smaller than those you get on airlines.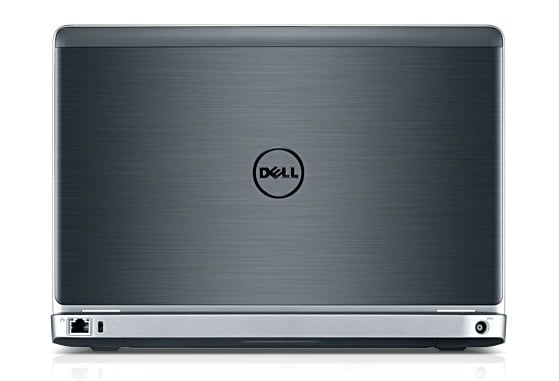 Magnesium wrapped corners add to its ruggedness
The Latitude's design left me with room to tilt the lid slightly backwards for a decent upward viewing angle. On a more conventional arrangement, with the screen panel hinged at the back, I'd have been stuck with a neck-straining vertical 90 degree angle in this scenario.
The non-glossy display is bright, produced clear, crisp images and has an excellent viewing angle, whether it was perched on my lap, a coffee table, or in front of me while lying on sprawled across the bed. The trackpad is smooth, easy to use and the two mouse buttons have a firm, solid action.
Benchmark Tests
PCMark 7 Results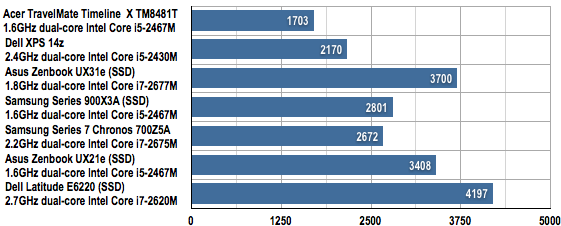 Longer bars are better
There are no special features here – you can't use the trackpad to scroll or zoom on-screen. Personally, I prefer this as I find these aids irritatingly easy to be activated by accident.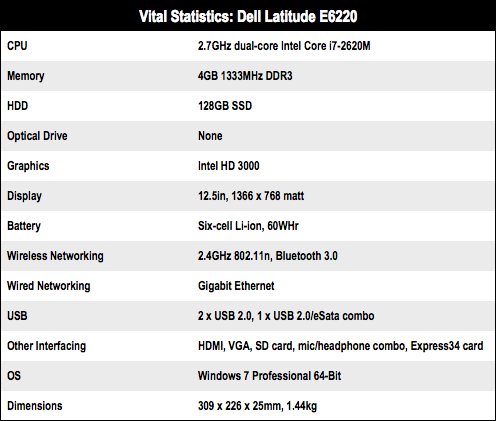 Road warrior
The Latitude E6220 turned out to be a bit of a speed demon, with a score of 4197 on PC Mark 7. Certainly, having an SSD gives the figures a boost and highlights the difference you get from this 2.7GHz Core i7 CPU. By comparison, at nearly 1GHz slower, the Asus Zenbook UX31e managed a PC Mark score of 3700. Incidentally, Dell has only recently introduced a marginally faster incarnation, featuring a 2.8GHz Intel Core i7-2460M CPU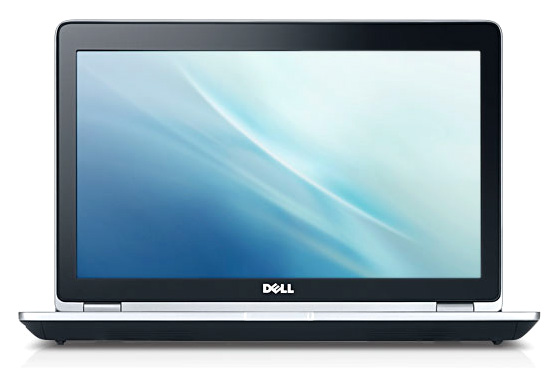 Durable and configurable to suit your speed needs
Graphics work is the job of the integrated Intel HD 3000 GPU. It didn't support DirectX 11, and 3DMark11 wouldn't run, so not a machine to use for 3D gaming. But on 3DMark06 it came up with a respectable score of 5285.
Verdict
Compared to Ultrabook's like the 11.6in Asus UX21E Zenbook costing £850, the speedier Dell Latitude E6220 is pricey, but it is a very different beast. The base version of this laptop starts at £1066 but it has an Core i3 CPU and no SSD. While no great shakes in the looks department, as a notebook, it was a pleasure to use. Its built to last, has a great keyboard, an excellent display, is nifty and super quiet. If pushed, you can always shave a bit off the price by downgrading some of the spec but I'd keep the SSD though. ®
More Notebook Reviews

HP
Pavilion
dv6
Samsung
Series 7
Chronos 700Z5A
Asus
Zenbook
UX31E
Dell
XPS
14z
Acer
Aspire S3
Ultrabook