Original URL: https://www.theregister.co.uk/2012/02/20/review_nokia_asha_201_qwerty_phone/
Nokia Asha 201 Qwerty phone
Cost-conscious caller
Posted in Personal Tech, 20th February 2012 12:05 GMT
Review When Nokia announced its three new Asha budget phones in October they didn't attract much attention alongside the WinPho 7 handsets that were punted by the company at the same time.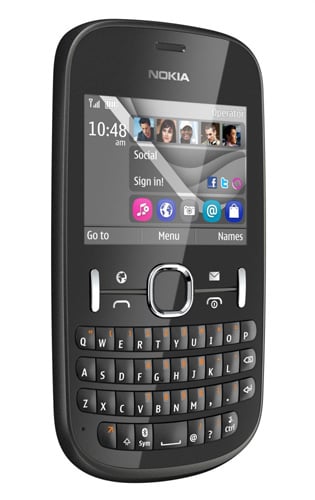 Keeping it simple: Nokia's Asha 201
That's a shame, because the Ashas look like being very good mobile phones, perfect for people who just want a phone to talk on and with battery life longer than the space between sunrise and sunset.
The first of the Asha troika to arrive in Blighty is the messenger phone 201 (there will also be a dual-SIM version called the 200). It's worth stating clearly at the outset that the 201 is a cheap phone. Vodafone who supplied my review handset are punting it for £45 on Pay-As-You-Go.

A dual sim version is also on the way
Once out of the box there's nothing about the 201 to scare the horses apart from some of its colour choices. Up front is a crisp and colourful 2.4in QVGA display and a four-row Qwerty keyboard, the two separated by a navigation deck built around the usual navpad.
At 14mm thick it's a chunky beast but it feels comfortable in the hand and despite being made entirely plastic is very solid and well screwed together. The navigation keys all have a nice positive action to them and the D-pad is extremely well calibrated. You won't find much better no matter how much you spend.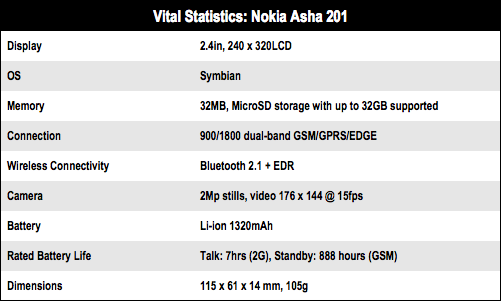 Belle view?
The four-row Qwerty keyboard is hard to fault too. Actually I can't fault it. The texture, size and action of the 37 keys are all near perfect and make no concessions to the handset's rock-bottom price. It's not all good news though. Despite the MicroUSB port you still have to use the traditional 2mm charge port to juice the 201 up. Also there are no physical volume keys which is a bit irksome and you have to unclip the back to open the side cover of the MicroSD slot.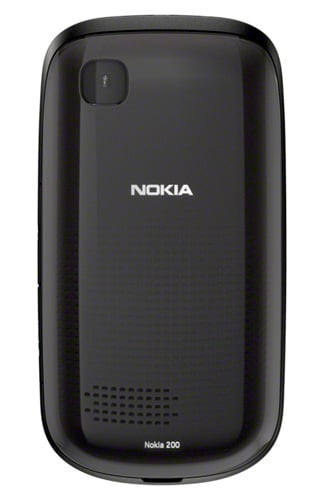 Having a 2Mp snapper is a case of you get what you pay for
The Nokia OS (read S40) menu structure has been given a wash and brush-up to make it resemble the latest Belle version of what used to be called Symbian. And a very successful face-lift its been too. I'd go as far so say that it is now the most attractive and intuitive dumb-phone interfaces there is.
The trusty S40 mail client works a treat and is very easy to set up and even though there's no 3G or Wi-Fi you do get Bluetooth 2.1. Surfing the web with the preinstalled Opera Mini browser isn't too much of a chore and the social network aggregation app (called Social) is competent enough.
The 2Mp auto-focus camera is a very basic affair and will only record video at 175 x 144 @ 15fps but to counter that the call quality, rear speaker and signal reception are all excellent.
Plug a decent pair of earphones into the 201's 3.5mm audio socket and it makes a surprisingly good, if basic, music player. Swapping back and forth between my HTC Desire HD, her indoors' iPhone 4 and the 201 saw it more than hold its own in the sound quality stakes.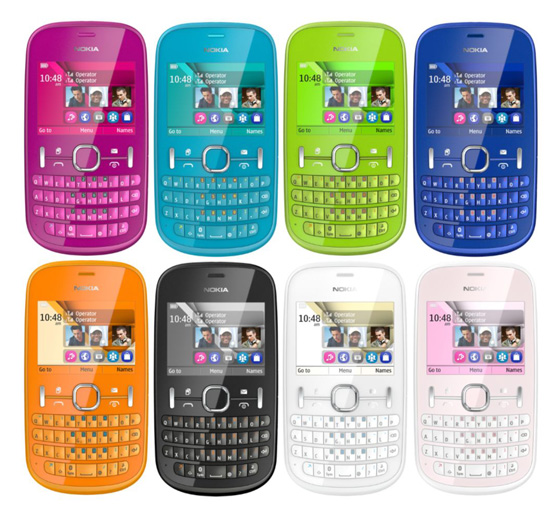 Colourful choices to suit varied tastes
Nokia says a full charge of the 201 will support standby for 37 days. That may or may not be true but after four days of heavy use it only dropped from an indicated 50% to 25% of charge remaining at the last moment so it gets top marks from me on this front too.
Verdict
If your main requirements are making voice calls and keeping on top of your e-mails and texts then the Asha 201 is an easy recommendation. The screen is sharp and bright, the keyboard nearly faultless and the new-look S40 interface a joy to behold. If you want a phone that can handle data then the 3G and Wi-Fi-less 201 is clearly not for you but if all you want are the telephonic and communication basics covered it's well worth the limited outlay. ®
More Phone Reviews

HTC
Explorer
Motorola
Razr
Ten… Androids
to outshine
the iPhone 4S
Samsung
Galaxy
Nexus
Orange
San Francisco 2