Original URL: https://www.theregister.co.uk/2012/02/17/review_spotify_versus_pure_music/
Spotify v. Pure Music
On-line tunesmiths sounded out
Posted in Personal Tech, 17th February 2012 12:54 GMT
Review Spotify began as the cool on-line portal that set a high benchmark for music streaming services. It's now a fast growing, song spewing giant but it is not alone, as entertainment corps and smaller contenders want a piece of the action too.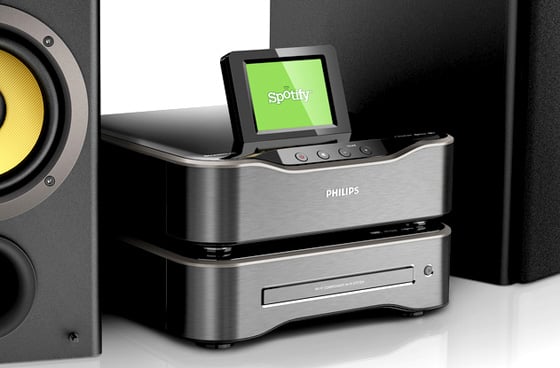 Philips Streamium with Spotify
Spotify competes with long-established internet music retailers using various business models. They include à la carte purchasing of iTunes, eMusic's monthly allocation of downloads, music discovery jukeboxes such as Last.fm and direct music streaming competitors. Apart from Napster and Deezer, which recently spread to the UK, the choice of streaming services is wider overseas. They include Mog, Rdio and Rhapsody, which recently bought Napster's European operations in an expansion drive.
Recent restrictions on Spotify's popular free offering obviously intended to push people to subscribe. However, it will have nudged some people elsewhere. The latest rival is from the UK's digital radio specialist Pure. The ambitious service, called Pure Music, is built on its pre-existing Lounge portal, which was its first move at creating a platform to complement its range of network-connected hardware, such as the Evoke Flow and Sensia radios. Though new, it draws from a large library and is a close Spotify alternative. So how to they compare?
Unlike most legit music services, Spotify has a free ad-supported option, with short adverts sprinkled between every few tracks. It enabled full access to millions of songs, with a limit of 20 hours of use a month. In April 2011 it changed this 'free lunch' into a light snack. Now songs can only be played up to five times and you can't go over ten hours a month of usage.
So if there's something you really like, you have to buy it or subscribe to Spotify Unlimited at £4.99 per month or Premium at £9.99. As the name suggests, Unlimited removes playback restrictions and ads. Premium enables access on other devices and higher quality sound. There are usually trial periods to sample the Premium lifestyle. Once you have, it's hard to go back.
Facebook foibles
Spotify also 'became friends' with Facebook (i.e. entered a commercial arrangement) in September 2011. It means new users must have a Facebook profile. Previously existing users can link to Facebook and Twitter but they don't have to. It's easy to set-up an account, including paid options, and you can stop or restart payments any month without losing stored playlists. Spotify uses a desktop application for Windows, PC and, unofficially, Linux. Premium customers can download a slick phone app with useful offline playback.
Pure Music runs mainly through its website. At the time of testing there's one sample month but no ongoing free option. It costs £4.99, matching Spotify Unlimited, and you are not compelled to use Facebook. There are non-subscription aspects to the Lounge, which has been around since 2009; you can buy tracks or albums and stream them to compatible Pure radios. Alternatively, some Pure radios feature Pure Tag, a built-in Shazam-based music ID software that enables music purchasing from the device or later from the tagged listing using the website.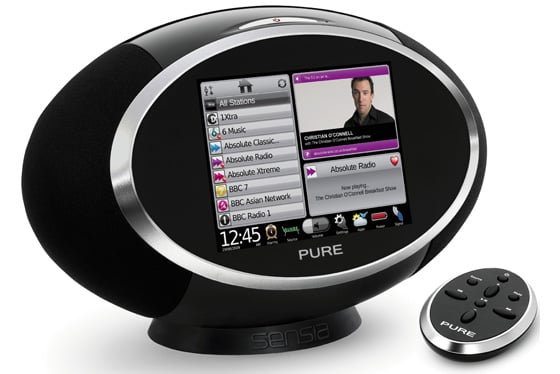 Pure's Sensia includes Pure Tag music identification and purchasing from the device
Pure Music expands on that by streaming from an online catalogue using the browser, a suitable Pure Radio or an Android or iOS mobile. In contrast to Spotify, it doesn't cost more to access its smartphone version, however, there's no offline caching so beware of data use. As of February 2012 the apps are free to install, but only for a limited period.
Spotify's desktop program is generally well laid out and user friendly. Its punchy white text on 70 per cent black is different to the pale, desaturated look of Pure Music, which shows a heavy iTunes influence.
Later in 2011 Spotify added a selection of free apps within the program, acting as shortcuts to curated playlists from the likes of Pitchfork, Rolling Stone and The Guardian. On top of the subscriber-only Artist Radio feature (recommended tracks using a chosen singer or band as a starting point), it's a handy way to discover new things. The related artist recommendations are largely accurate and helpful. For example, look up Radiohead and it suggests Jeff Buckley, REM, David Bowie and more.
To buy something, click 'get' in the program and verify your password. Individual tracks can be starred for finding later or saved into playlists, which can be shared among the Spotify community. In a controversial move, sharing new playlists and what you're listening to is now active by default. There's a private listening mode and more permanent settings in user preferences.
Music and movement
Spotify's mobile app works on iPhone, Android, BlackBerry, Windows, Palm and Symbian. It seamlessly syncs to the main application and you can star tracks and add or edit playlists, as on the desktop. If you have Shazam you can also link to hear a song again via Spotify.
Pure Music's web portal is conventional, rather cluttered and less intuitive than Spotify, though it's been around for much less time, so it may get better. There is no 'artist radio' feature but it suggests similar things, again quite effectively and often with a broader range. For Radiohead it recommended Mogwai and PJ Harvey, besides more obvious names.
You can buy any of the tracks for keeps or simply use playlists, as with Spotify. If you're listening on one of Pure's radios or with the mobile app you can't buy streamed tracks, so the system needs a bit more development, as well as bug fixes.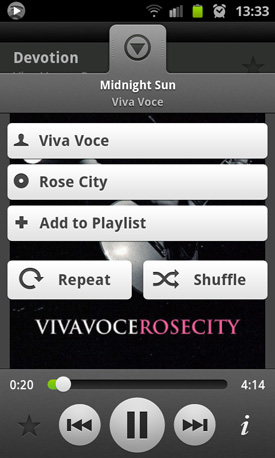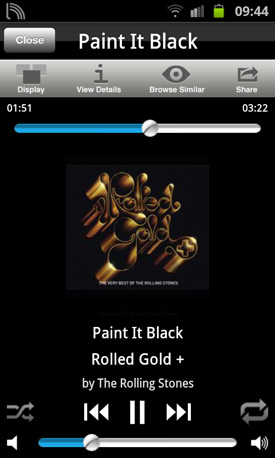 Spotify and Pure Music apps
At the moment purchasing can only be done on the website – a tablet or mobile browser such as Dolphin will work if its user agent is set as a desktop. The Sensia is an exception though, Pure's radios aren't great for browsing the catalogue because lots of information is stripped to fit small displays. Still, a benefit compared to Spotify is that multiple devices connected to one network and account can play different songs simultaneously.
Not everything, past or present, is available on Spotify but it has a large and growing library of at least 16 million tracks. Premium subscribers also get exclusive access to certain early releases. Not every label or artist's management are happy with Spotify. As a result there are some omissions, a high profile example being Adele's 21, but given that it's in constant rotation on nearly all radio stations, is that so bad?
Quality option
Pure Music calls upon digital retailer 7Digital's resource of over 17 million songs – a close match for Spotify. And if you really must have 21 by Adele, you can stream it here. Some of the acts aren't available to stream beyond a 60 second preview – including Domino Records, home to the Arctic Monkeys – but you can buy them in full. Pure says it has all major labels and some indies on board at the moment. I hope Pure sorts out the others soon, because I kept finding a lot that couldn't be streamed.
With streaming audio over the internet, you're not likely to get top notch quality. Spotify has the edge as it normally uses Ogg Vorbis at 160kbps or for Premium users 320kbps. Pure Music tracks are MP3 streamed at only 128kbps. Given that it's mostly aimed at tabletop radios, this explains the bitrate. It's adequate for those; less so for headphone sessions. Purchased tracks are 320kbps. Pure is said to be working on higher quality streaming.
Spotify is evolving into a true multiplatform service but only Premium customers can access it on anything other than a computer. Currently you can login and listen on Sonos, Logitech Squeezeboxes, Onkyo AV receivers (such as the TX-NR609 reviewed last year), Philips Streamium hi-fis, Boxee, newer WD TV Live boxes and Virgin Media's TiVo, which makes effective use of an HDTV screen.
Pure Music runs on its desktop and mobile apps, so you don't have to have a Pure radio. Pure radios are inevitably the only device choices at present, although there are nine different product lines.
Verdict
Both services have equally large catalogues. There are differences in the line-ups but you probably won't be short of choice. Just on price, Pure Music is better. Spotify's free option isn't as good as it once was and for a monthly £4.99 you can do more with Pure than Spotify Unlimited.
However, if you don't mind coughing up twice as much you get a superior offering with Spotify Premium – higher sound quality and access on a big range of networkable AV products. To play Pure Music out loud without a Pure radio you could plug a computer, tablet or mobile into a hi-fi. Streaming to multiple devices is a big tick in Pure's favour but its current lack of off-line playback is a letdown, as are its unresolved licensing issues. Still, if the Spotify prerequisite of a Facebook account is a turn off, Pure Music may well appeal. ®