Original URL: https://www.theregister.co.uk/2012/02/17/netapp_q3_fy2012/
NetApp rides stiff rise in sales but profits droop
Third quarter improves thanks to virtualisation
Posted in The Channel, 17th February 2012 18:27 GMT
NetApp saw off its last quarter's major account weakness and grew third quarter revenues to $1.57bn, though profits dropped 35.5 percent.
Total revenues of $1.566bn compare to $1.268bn a year ago, up 23.5 per cent, while profits of $120m compare to third quarter fiscal 2011 profits of $186m, reflecting a tougher competitor environment where NetApp is facing down EMC, new customer capture costs and the effect of hard disk drive shortages, which is driving up prices.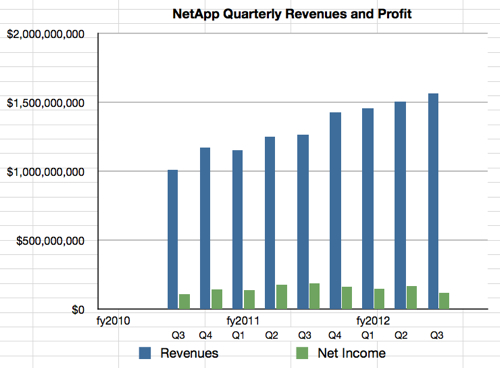 Recent NetApp quarterly revenue history
Last quarter's revenues were held back by nine major accounts delaying purchases. That did not happen this quarter. CEO Tom Georgens attributed the revenue rise to customers increasing their efforts to use storage virtualisation to increase the efficiency of their data centres. All three FAS array ranges did well, with the refreshed FAS2000 low-end growing nicely after declining revenues in the most recent quarters.
In the earnings call he said the storage market was increasingly about the two top dogs, EMC and NetApp, competing with each other and taking share from the big (server) box vendors.
He specifically said that NetApp would bring out a PCIe flash card for servers with links to NetApp's arrays.
The outlook for the next quarter was for revenues between $1.6545bn and $1.725bn – translating to a 15 to 21 per cent annual growth and 5 to 10 per cent sequential growth.
The tightly run NetApp money-making product machine steams steadily on, content, El Reg storage desk thinks, to be number 2 with no realistic hope of catching up with EMC. ®