Original URL: http://www.theregister.co.uk/2012/02/16/review_game_the_darkness_2/
The Darkness II
Shadow people
Posted in Personal Tech, 16th February 2012 12:00 GMT
Review On paper, there's very little to like about The Darkness II. Take your character Jackie Estacado, for starters. Even before taking into account the unspeakable evil to which he is host, few gaming protagonists are as monstrously unsympathetic as the contract killer turned mob boss.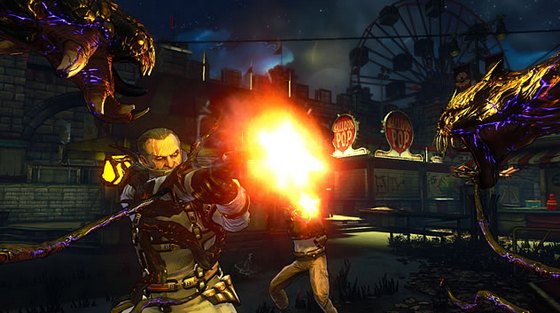 Hit the fairground
Then consider the game's central conceit, 'quad-wielding', which augments regular gunplay with the manifestation of The Darkness: two hideous, serpent-like appendages that burst from Jackie's shoulders with an insatiable bloodlust.
And how about the clichés? The supporting cast of pasta-eating Goombahs called Vinnie or Jimmy or Chief. Or the spectre of his brutally murdered girlfriend Jenny, the "only good thing in his life", fuelling Jackie's inexorable descent into hell?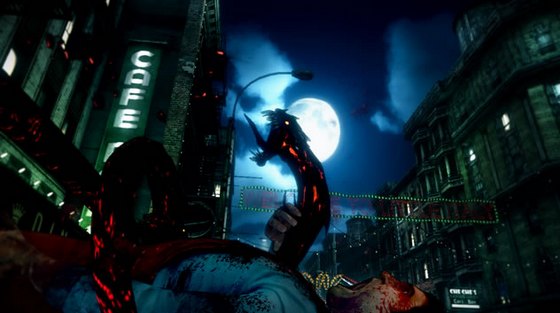 Knocking one out got a bit messy
So is there anything to prevent The Darkness II's own descent towards the hell of the pre-owned shelf? Well, surprisingly, plenty. Its mechanics might feel contrived to punch a niche into a saturated market and its narrative employ some tired conventions, but within the confines of an interactive B-movie, The Darkness II is a thrilling barnstormer of a shooter.
In remaining true to its source, it's also a game of intelligent contrast. Ripping out an enemy's spinal cord through his sphincter or eating his still-beating heart to regain health are obvious grotesqueries, even when tempered graphically by stylised cel-shading and cross-hatching. But the supernatural comic book horrors prove less shocking, splattered across the backdrop of a brutal criminal underworld.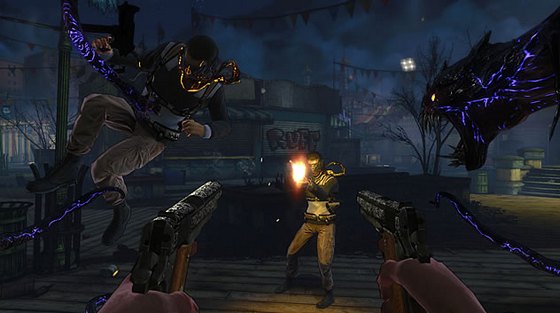 Day of the tentacle
For all its Mafia clichés and ribald humour, it's a disturbingly mature depiction of violence and vice. Here, vendettas are repaid by butchering innocent family members in front of your eyes and clients pay to beat-up prostitutes in squalid, factory-sized whorehouses.
Let's shed some light...
Brutal as its world may be, the story is written with remarkable subtlety. It's starts out as regular comic book sequel stuff, naturally. After finally managing to control The Darkness, Jackie has turned his back on his superpowers.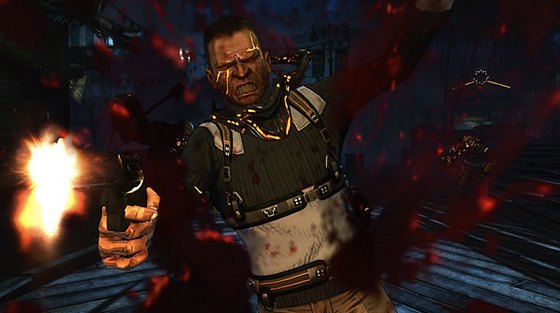 One too many disco biscuits and you go mad
Cue the appearance of the Brotherhood of The Darkness, a seemingly indomitable enemy, hell-bent on controlling The Darkness for their own nefarious purposes.
With half his mob killed in the prologue and, he himself, torched alive, Jackie is left with a simple choice: repress his superpowers and go straight to hell, or re-embrace The Darkness to rise from the dead and exact his bloody revenge.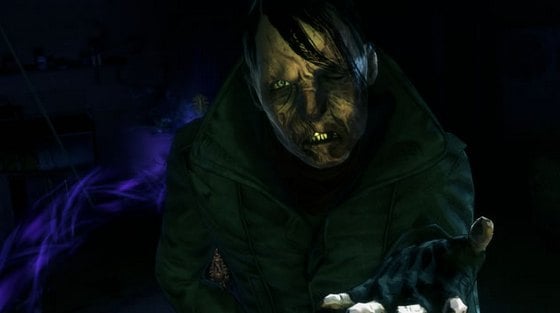 I'll make you shake
So far, so humdrum. The plot's saved, however, by some expertly-crafted twists and turns. These are centred around frequent jolts into an alternative reality, where Jackie is simply a nut-job in an asylum, and his mob friends are nothing more sinister than doctors, nurses, orderlies and fellow inmates.
Is Jackie evil personified or simply a tortured soul? Are the horrors he commits real or just a figment of a sick mind?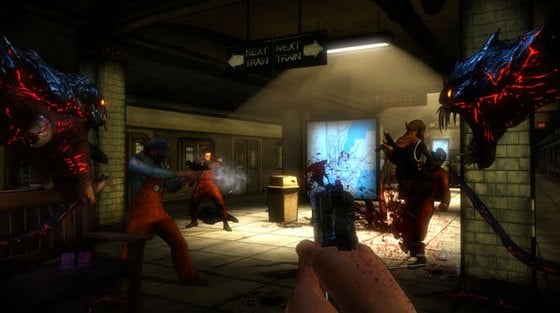 Dead can usually be found underground
It's a device that injects the narrative with unexpected pathos, teasing redemption for the irredeemable Jackie. And it's one that brings welcome regular respite from the incessant carnage of combat.
Exterminate...
If not for those superpowers, there wouldn't be half the carnage. It's little more than a corridor shooter at heart, with unremarkable weaponry and AI, but its superpowers elevate pedestrian gunplay into distinctive and challenging combat.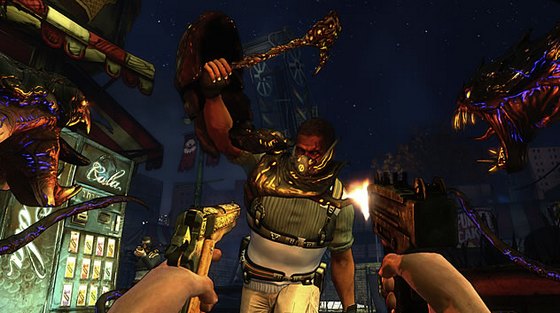 Beats me
A clever Bulletstorm-style combo point system encourages experimentation, rewarding stylish executions with more Essence to upgrade powers, in turn rewarding even more ludicrously visceral ways to dispatch enemies.
For all the bloody on-screen frenzy, gameplay proves surprisingly measured. At higher difficulty settings ammo is scarce and Jackie no bullet-sponge, and it's here the game really shines. Upgrades which allow you to harvest health or ammo during executions become indispensable, dramatically altering the pace of gameplay and transforming an otherwise predictable blast-fest into a frenetic mix of combat and resource management.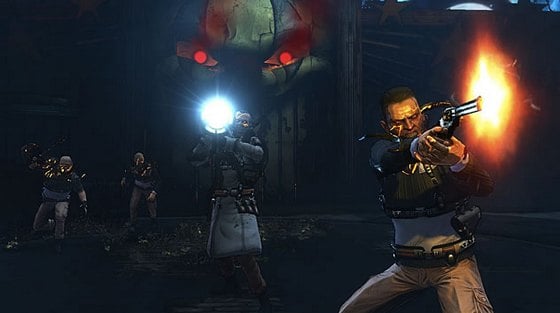 Carrying a torch for the darkside
Ultimately, however, The Darkness II is over too quickly. It's a perfectly contained experience, with no flaccid sections detracting from the taut scripting and scintillating gunplay, but at just 8-hours long, you can't help feeling a little short-changed. And although serviceable enough, the co-operative Vendetta mode – in which you play as other Darkness-infected characters in hitman vignettes – in reality offers too little depth to extend the experience.
Verdict
A violent game with a poignant tale of redemption. A narrative riddled with clichés and stereotypes, but grittier and truer than most other 'adult' games. And mechanics that smack of throwaway novelty yet contain real hidden depth. The Darkness II is full of contradictions, but just one eternal truism – you should never judge a game by its cover. ®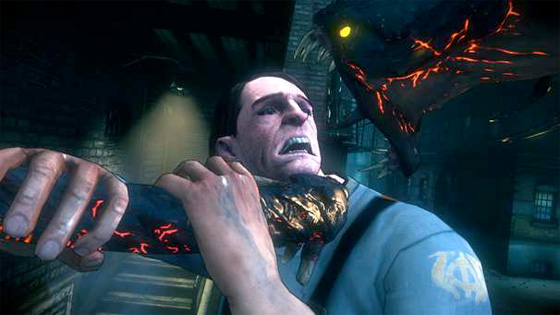 What a choke
More Games Reviews

Kingdoms of Amalur:
Reckoning
Final Fantasy
XIII-2
Soul Calibur
V
Star Wars:
The Old Republic
Need for Speed:
The Run