Original URL: https://www.theregister.co.uk/2012/02/16/review_archos_35_home_connect_android_internet_clock_radio/
Archos 35 Home Connect
Net savvy Android clock radio, anyone?
Posted in Personal Tech, 16th February 2012 07:00 GMT
Review After having built a DECT home phone around the Android operating system doing the same for the humble bedside clock-radio probably seemed like a logical move for Archos so here we have the 35 Home Connect.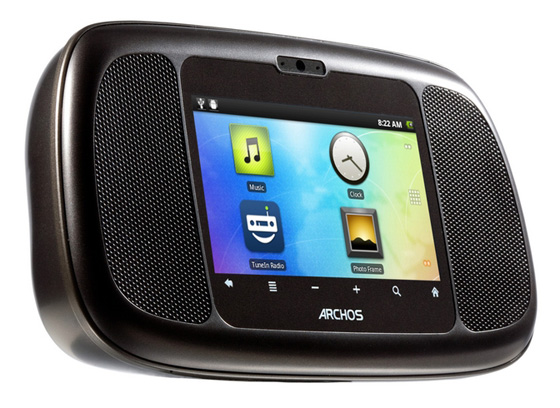 Beside manner: Archos' 35 Home Connect
The basic components are much the same in the Smart Home Phone reviewed recently, so you get a 3.5in 272 x 480 screen, a 1GHz TI 3630 CPU and 802.11n Wi-Fi but no Bluetooth or GPS. The shell is clearly made of the same gloss grey plastic but like the phone it feels well made.
Much the same? Yes, but there is one big difference, the Home Connect will play Flash video, something I couldn't coax the Home Phone into doing despite an apparently identical technical specification. Flash playback wasn't always wholly smooth or consistent but I got through an hour-long episode of The Crusades using the iPlayer app with only a couple of stalls.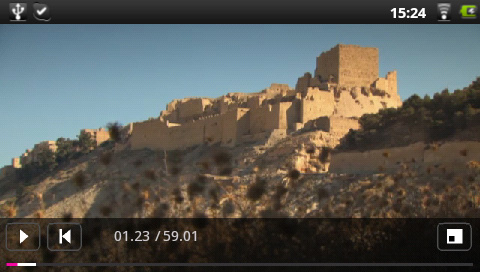 Flash support enables BBC iPlayer viewing among other things
Like the 35 Smart Home Phone the Home Connect uses a resistive rather than capacitive screen, but it's a much better implementation and could almost fool you into thinking it is capacitive. It makes me wonder if the touch screen on my review Smart Home Phone was a one-off dud.
I've no idea what sort of power the two speakers that flank the screen develop but they sound very nice with punchy bass and no hint of vocal sibilance. They deliver plenty of volume too. Certainly waking up to the Home Connect is a far more aurally satisfying experience than to the noise made by the speaker of a smartphone.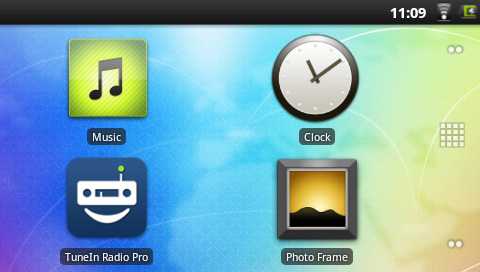 Homescreen with big icons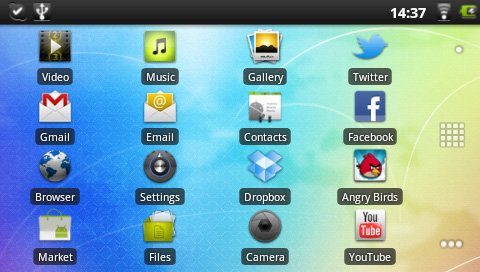 Apps
Below the screen you will find touch controls for the volume as well as the usual four Android system buttons. The buttons are not back-lit but they should be - ideally to match the subtle green clock that is the default standby display - and some sort of rocker control on top for the volume would have made sense too.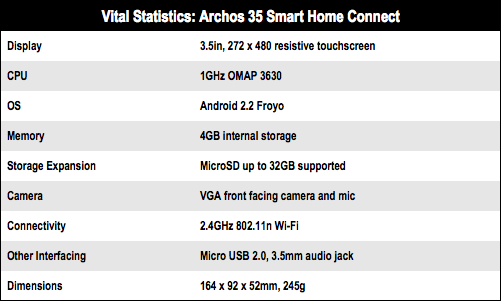 Aerial view
The keen-eyed amongst you will have noticed there is no snooze button. Also there's no FM radio, so I won't push the clock-radio analogy too far but the pre-loaded TuneIn internet radio app is a good replacement and has a one-button record facility.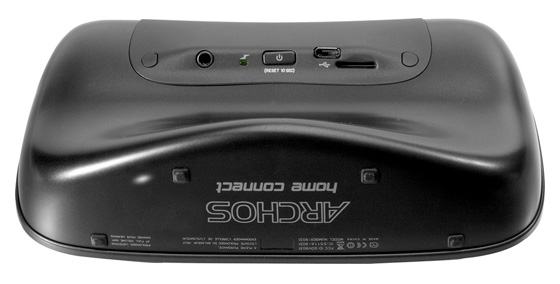 Given the connectivity, is this is PMP in a box?
Around the back you will find a MicroSD slot to expand the 4GB of internal storage to a maximum of 16, a 3.5mm audio jack and a MicroUSB port for syncing and charging. Archos doesn't say what the battery capacity is but it's certainly good for at least 8 hours mixed use away from the mains.
Loading apps other than those in the Archos-endorsed AppsLibb requires that you instal ArcTools from said. One you have that you can use it to install the Android Market and any Google apps you want.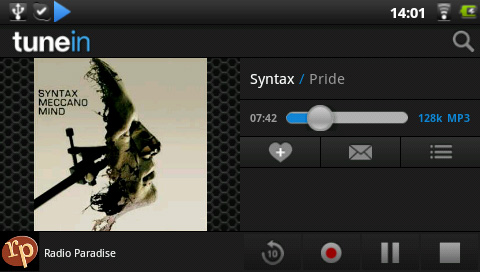 Internet radio player
Because the Home Connect's screen is locked to portrait most apps are flagged as not being compliant. I got around this by exporting the apps I wanted from my phone using AirDroid. Once I had side loaded them all the ones I tried worked just fine.
Once installed Skype worked perfectly with the VGA web-cam above the screen and turned the Home Connect into a handy video and VOIP communication device, though who would want to video chat with me when I've just woken up in anyone's guess. It's really not a pretty sight.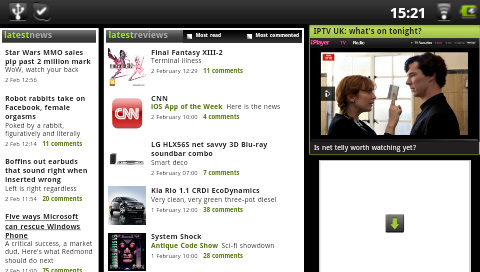 Web browsing
Verdict
The Archos Home Connect is an interesting modern take on the good old bedside clock-radio with a decent screen at the front, Flash-playing Android underneath and a fine pair of speakers at either end. I'd like a snooze button and physical volume controls on the top though and the system buttons should be backlit for night-time use. ®
More Android Reviews

Orange
Tahiti
7in tablet
Samsung
Galaxy
Nexus
Ten… Androids
to outshine
the iPhone 4S
Motorola
Razr
Asus
Transformer
Prime