Original URL: https://www.theregister.co.uk/2012/02/15/review_intel_520_series_ssd_storage/
Intel 520 240GB SSD
Sandforce inside
Posted in Personal Tech, 15th February 2012 07:00 GMT
Review The rumour mill was working overtime throughout 2011 with suggestions that Intel was considering forsaking the Marvell controllers it had used for its previous generation of consumer SSDs, the 510 series. The story went that the company was jumping into bed with another third party controller manufacturer, namely Sandforce, for the next generation of its solid state drives.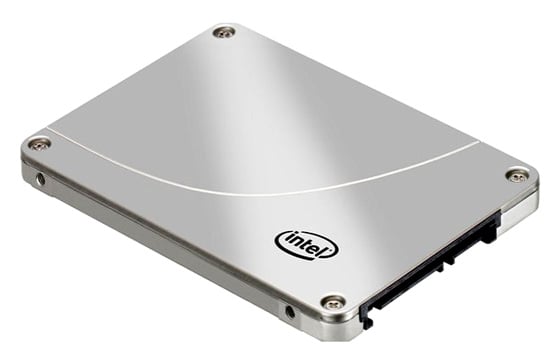 Taking control: Intel's 520 SSD
Certainly, those who thought that the idea was nonsense have been left with egg on their faces. Intel's 520 series – code named Cherryville – has duly arrived and this new family of SSDs is, indeed, being looked after by Sandforce controllers.
Intel may be very late to the table with a Sandforce-based drive – some 18 months, in fact – but just like Kingston and its Hyper X series, Intel has a reputation for quality control and validation to uphold. And while Sandforce controllers have a lot going for them, they're not immune to bugs. So after exhaustive analysis – Intel claim over 5,000 individual tests – checks and tweaks, the drives are finally here, albeit quite a while after everybody else's.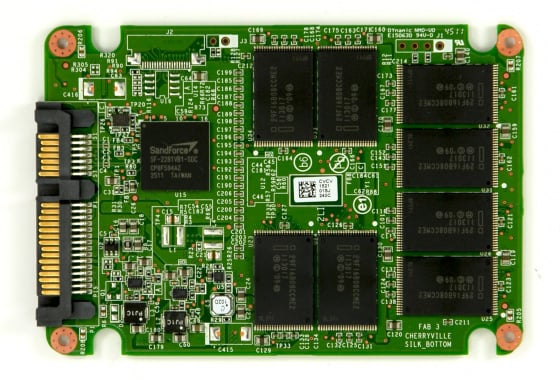 The Sandforce controller takes a hefty bite out of the drive's capacity
The 520 range consists of drives with 60, 120, 180, 240 and 480GB capacities which is a far better spread than the previous 510 series from a consumer's point of view which just offered drives in 256GB and 512GB capacity. The 480GB drive only comes in a 9.5mm high offering while all the other drives are 7mm high and come with a 2.5mm plastic adaptor that allows them to fit into 9.5mm drive bays.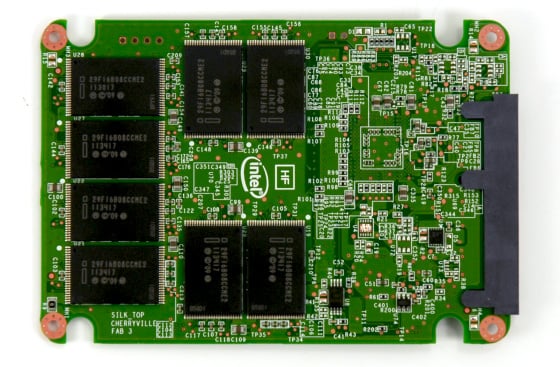 Although 16 x 16GB memory chips populate the 240GB Intel 520, one is used for firmware and other tasks
All 520 drives have quoted sustained sequential reads of 550MB/s with sustained writes ranging from 475MB/s (60GB), 500MB/s (120GB) up to 520MB/s for the 180, 240 and 480GB versions. 

On test is the 240GB 520 (SSDSC2CW2240A3K5) which Intel claims has a 4KB random read/write performance of up to 50,000IOPS and 80,000IOPS respectively.
Fresh thinking
Somewhat surprisingly Intel actually admits that this 4K random write performance is for a fresh out-of-the-box drive and gives an everyday use figure of 60,000IOPS – other vendors please take note.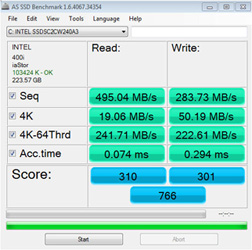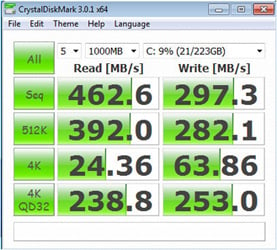 AS SSD and CrystalDiskMark results
Making up the drive's capacity are 16 16GB Intel 29F16B08CCHE2, 25nm MLC NAND chips, 8 per side of the PCB with the Sandforce 2281VB1-SDC controller joining the ones on the bottom of the PCB. Yes, 16 x 16GB does equal 256GB but one module is used for firmware and over provisioning. Hence, the 240GB capacity, which, when the drive is formatted, drops even further to 224GB.
Unlike many of its competitors relying on these controllers, Intel has co-defined the firmware with Sandforce allowing for better stability, compatibility and, above all, the ability to tune the performance of the drive.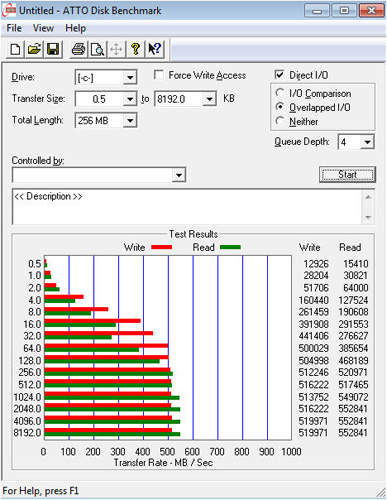 ATTO results
In use, the drive took just 11 seconds to get to the Windows 7 desktop after the motherboard BIOS had finished loading, while duplicating within the drive a 50GB folder of mixed file types and sizes took just 5m 45s. Loading a copy of Office 10 Professional took just 4m 30s from hitting the instal button to completion.
Intel quotes sequential read/write figures for the 520 240GB of 550MB/s and 520MB/s, respectively. This is confirmed by the ATTO benchmark which gave figures of 552MB/s for reads and 519MB/s for writes. All told, this puts the Intel 520 in amongst the fastest drives currently available. For comparison, Samsung's 256GB 830 SSD produces read/write scores of 546MB/s and 408MB/s respectively.

The slimline drive features a spacer for a snug fit in laptops
The performance of the Intel 520 also highlights just how much better the Sandforce controller is than the Marvell one used in the previous 510 series – the 250GB 510 gave read/write figures in ATTO of 403MB/s and 209MB/s.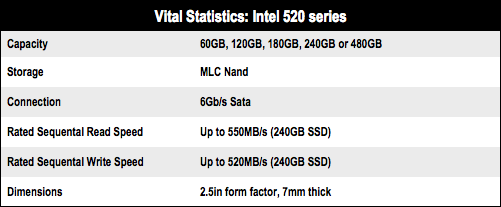 Tooling around
The read/write figures drop in the more demanding AS SSD and CrystalDiskMark results – both of which use incompressible data, which can be a bit of an Achilles heel for Sandforce equipped drives. Still, the read figures in both benchmarks hold up quite well, which is no doubt a sign of Intel's hand on the firmware.
CrystalDiskMark 3 Results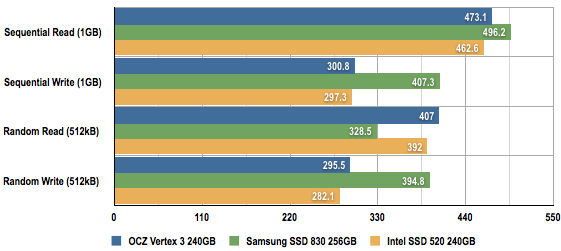 Data throughput in Megabytes per Second (MB/s)
Longer bars are better
The 520 series supports 256-bit AES (Advanced Encryption Standard) and better password protection for better security than previous Intel drive ranges. The new drives also work with the latest version of Intel's excellent SSD Toolbox utility. SSD Toolbox offers a host of routines to keep the drive running as close to fresh out-of-the-box as possible; drive optimisation, system tuner, firmware updater and, if all else fails, Secure Erase. Intel also backs the drive with a five year warranty.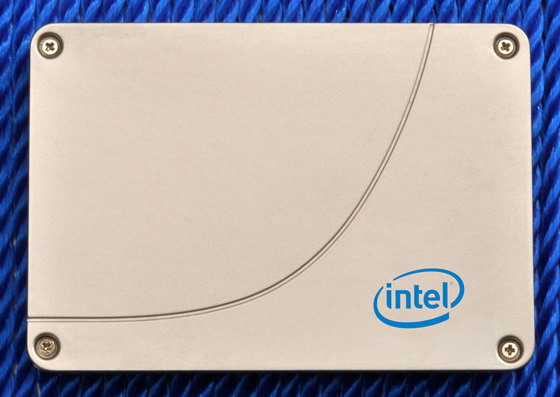 Performance comes at a price
Verdict

For many, the fact that there is the Intel name on a Sandforce controllers drive will allay some of the fears that people might have over the controller's sometimes notorious reliability issues in previous incarnations. It's a fast drive all right but it does come with a hefty price tag that impacts on its overall rating here. ®
More SSD Reviews

Samsung 830
Kingston
Technology
HyperX
OWC
6G Mercury Aura
Pro Express
Patriot
Wildfire
Crucial M4