Original URL: https://www.theregister.co.uk/2012/02/14/feature_21st_century_sexuality_the_shape_of_things_to_come/
21st Century Sex: the shape of things to come
Are bits and bytes changing what we do with our bits and bobs?
Posted in Personal Tech, 14th February 2012 12:00 GMT
NSFW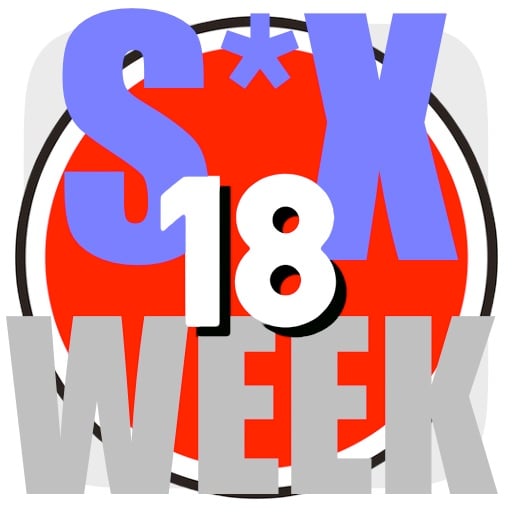 In the 1980s, when the first HIV and AIDS awareness campaigns were launched, alongside the crashing tombstones, leaflets gave frank advice about the risks involved in digital intercourse. In those days, of course, that just meant pleasuring someone with your fingers. Concerns about computers and sex related to the possibility of low quality images and crude - in all senses of the word - animations being swapped on floppy discs or bulletin boards.
Technology has advanced considerably since then, becoming a much more pervasive part of people's lives. It's undoubtedly had an effect on people's sex lives, too – but is it really changing them, or just making it easier to find like minds?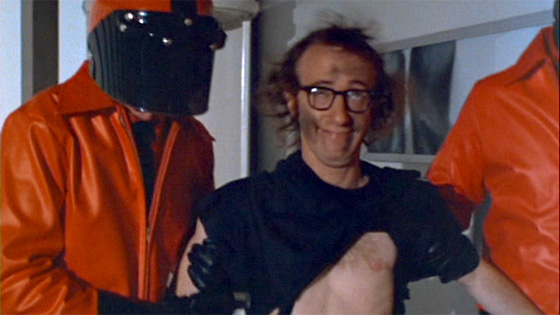 Future sex: Woody Allen experiences the orgasmatron in The Sleeper
Source: Twentieth Century Fox Home Entertainment
And as digital technology - robotics too - continues to evolve, how is it likely to alter this most fundamental aspect of our humanity during the rest of the 21st Century?
Coming together
At its most basic, technology has made it much easier for people to find those with similar interests. In 1990, when I started a UK-based gay email discussion list, there were a few sexuality based groups on Usenet, and some closed areas on services like Cix and CompuServe. It's hard to imagine now in the days of civil partnerships and same-sex marriage how important people found those small communities back then.
Today, one of the biggest dating sites in the UK is Gaydar and there are other sites catering to just about every sexuality imaginable, from the Furry community through varying shades of BDSM, to adult babies and straightforward hook-up sites for singles and swingers. Then there are the escorts you'll find on CraigsList and even Facebook, and online porn catering to just about every taste, legal or not.
It's not just dating and mating, of course. Campaigns like It Gets Better show how the internet can be used to try and effect change in attitudes towards diversity in sexual preferences, too.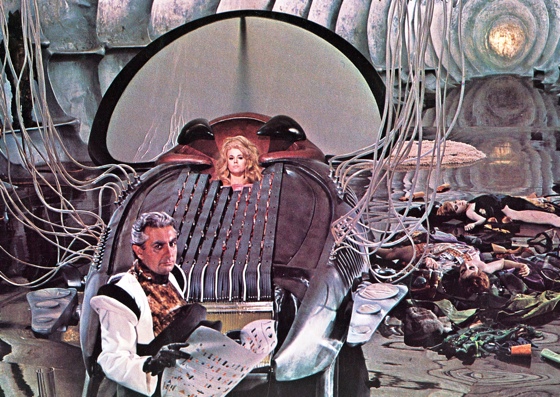 If music be the food of love: Durand Durand's pleasure machine teases Jane Fonda in Barbarella
Source: Paramount Home Entertainment
While sexual minorities might be the groups we most associate with technology in this context, as Sharif Mowlabocus, lecturer in Digital Media at the University of Sussex points out, the proliferation of content means that the average person, who a generation ago might have been exposed only to fairly 'conventional' sex, is likely now to be aware of a much wider range of activities, even if they choose not to take part.
Play time
Technology can certainly help us find partners, and show us new kinks, but does it change the way we actually have sex? We're a long way from the simple pill that Jane Fonda took in Barbarella, but Durand Durand's mechanised sex machine turns out not to be too outlandish.
Mechanical sex toys aren't anything new – even the Victorians had vibrators – and arguably, new inventions have been changing the way we think about or have sex, from the earliest carved phalluses, through the contraceptive pill and Viagra, to the latest hi-tech sex toys.
Are friends electric?
Today you can buy vibrators that connect to a phone via Bluetooth and can be controlled remotely by text message, or react to the music playing on your iPod.
The thought of attaching electrical devices to yourself may conjure up images of shock therapy, but electro sex is big business for companies like Watford-based E-Stim systems, and in the hands of an expert can produce sensations that really do feel as if someone else is doing things to your body.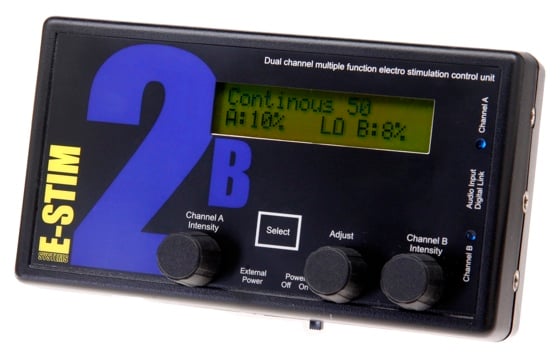 Remote electrical play: E-Stim Systems' Series 2B control unit
This sort of thing isn't just about having fun on your own, though. Gadgets like E-Stim's Series 2B can be connected to a PC, and so controlled remotely. The company's Wayne Allen explained that they've open sourced the serial control protocol, so users can write their own apps.
There's even a forum dedicated to remote control of electro devices, allowing a single "driver" to take charge of several other people in a group session. And by adding everyday technologies like webcams or Skype to the mix, the idea of a sexual experience with a partner who's a long, long way away starts to become more real than science fiction.
The real thing?
But is all this realistic? While you might have a lot of fun with remote controlled vibrators or electro boxes, they don't have much a personal connection. The term often bandied around for remote sex is 'teledildonics', and while it's still some way away from providing a complete body experience, it's closer than you think.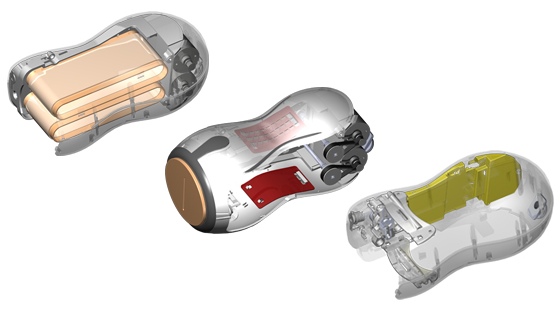 Computer controlled: the PC-connected Real Touch responds with internal motion, temperature and moisture
Remote kissing is an area that's been exercising inventors for some time. The Kissenger essentially transmits the pressure of your lips to a receiving device, and is just the latest attempt to let you lock lips remotely.
Moving south, the Mojowijo is available in both his and hers options. The 'his' is a robotic looking handle, while the 'hers' is a more conventional vibrator. Both devices attach to Nintendo's Wii remotes, and use the motion of one to control vibrations in the other, either locally or across the internet. And no, you don't have to buy a Wii to use it.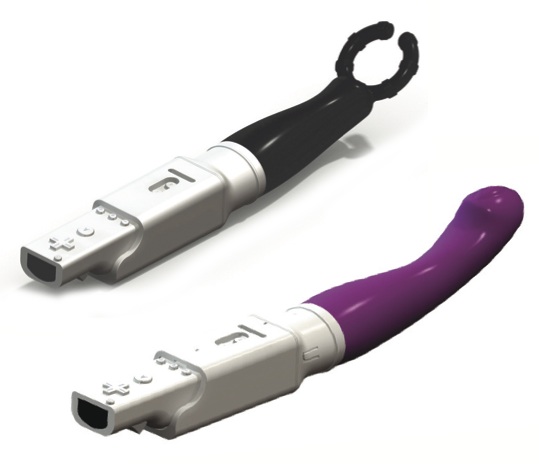 Wii play: Mojowijo remote stimulation toys for him and her
Similarly, the slightly terrifying looking Real Touch is, essentially, an electric version of the Fleshlight, complete with heaters, motors and lube dispensers that can be synchronised to videos on the company's website. Real Touch also made some headlines recently for suggesting that they provide a thousand "dildos for military wives", which would relay sensations to the counterpart parts of servicemen in Afghanistan.
Quite what the top brass would think of bandwidth being used for such purposes is anyone's guess - just remember to check your ping time before you start.
Power up
Unnecessary lag may well be the least of your problems. As E-Stim's Wayne Allen explains, sex equipment needs power just like any other gadget. And, not surprisingly, many people feel a little uneasy when it comes to plugging toys into the mains, preferring battery power instead.
With many devices relying on motors or other mechanics to provide sensation, power is likely to remain a key issue to overcome, just as it is for other tech like mobile phones – you don't want your robo-partner suddenly grinding to a halt at an unexpected moment. A trailing mains cable snaking out from under the duvet isn't terribly erotic.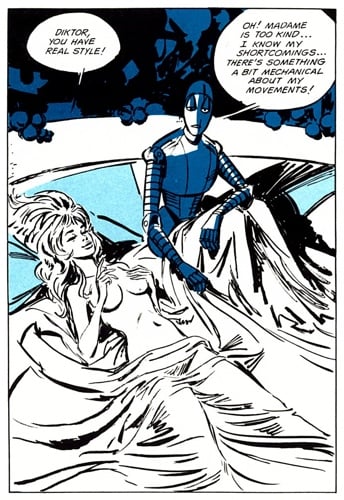 Your plastic pal: Jean-Claude Forest's original Barbarella enjoys robot relations
Barbarella™ © The Estate of Jean-Claude Forest
Robots as sexual partners? On the face of it, there's no reason a robot couldn't be equipped with various bits of sex tech. But don't hold your breath for an android lover. While a robot that can spoon feed a person has already been developed in Japan, such devices aren't cheap. To successfully replace a human sex partner, a robot's going to need a lot of sensors and processing power – just think of all the sensations and processing of feedback involved in real sex – to be able to be anywhere near proficient.
It will happen, but not for a long while yet.
But do we even want that? Culturally, while some have seen vibrators as a means of female emancipation, there's not really an equivalent for men. For many, physically interacting with a partner is an important part of their sexuality and masculinity. Culturally, male solo sex is still frowned upon.
Sharif Mowlabocus points out that much of the experimentation with new technology is about creating a tactile sense of someone else being there, which perhaps shows just how central that idea is to how we feel about sex. Is feeling good on our own enough, or are we ultimately seeking ways to feel good in relation to someone else?
Judgement day
Cultural taboos take a long time to change. Even now there are those who consider the contraceptive pill as an agent of promiscuity rather than liberation, or look on as Viagra as an enabler of dirty old men. So while technology makes it possible, for example, to virtualise taboo desires with no one being hurt, don't expect others - or the law - to suddenly find certain tastes acceptable.
Law makers have tended to the conservative where technology's concerned, with an assumption that seeing inevitably leads to doing underlying both the UK's extreme porn laws and the inclusion of 'pseudo photographs' in regulations regarding child pornography. As technology becomes more sophisticated, questions about sex will only become more tricky.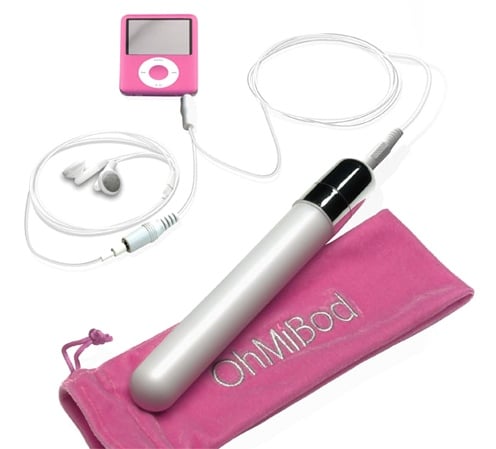 Picking up good vibrations: the Ohmibod music-powered vibrator
If you're having remote sex with someone, and go further than they want, is that assault? Does connecting imply consent? If someone else takes the controls without telling you, is that rape? Or is it something else? And if your partner won't do something that really turns you on, is it adultery if a machine does it for you instead?
Some of these issues aren't, of course, related just to sex. As telepresence, robotics and other smart technologies evolve, the law will inevitably have to address them sooner or later. Meanwhile, the choice is yours: jump in and experience bliss in novel ways, or sit back and marvel at the shape of things to come. ®