Original URL: https://www.theregister.co.uk/2012/02/14/app_of_the_week_android_sexinfo_101/
SexInfo 101
Bend me, shape me, anyway you want me
Posted in Personal Tech, 14th February 2012 10:00 GMT
NSFW App of the Week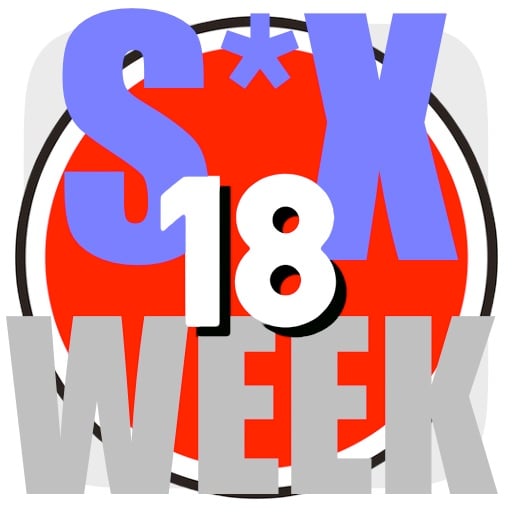 The Android market is full of apps dedicated to the various positions you and your other half can tie yourselves into, but be warned: many have a terrifyingly long Permissions list.
In other words many are nothing more than scams targeting the randy and stupid.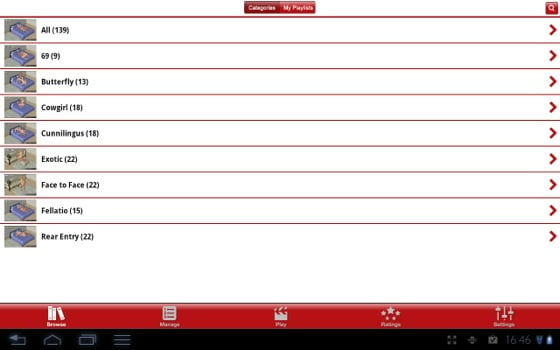 139 types - count 'em - of rumpy-pumpy
SexInfo 101, on the other hand, requires no special permissions and has a user PIN lock so your handset is safe, as are the delicate sensibilities of anyone who shouldn't be playing with it to start with - your handset that is.
The app can be download for free with 39 positions, or for 69p - what else? - you can have it with 139.
Sadly, due to an attack of Puritanism at Google the app has to make do with static images of the various positions on offer rather than the more helpful but still rather tasteful 3D animations on the app's accompanying website.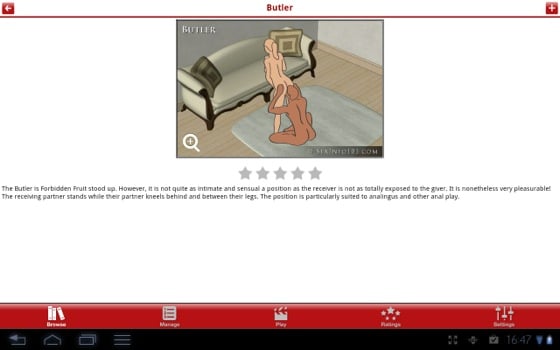 I lick you a lot
That aside this is still a useful app if you want to push the envelope in the bedroom. To start with, positions are grouped together by obvious styles - face-to-face, fellatio, rear entry and so forth - so you can look for things akin to those you already enjoy.
Once you drill down, you are still faced with an array of silly names but that seems to the case with all adult-oriented apps. Tap on a position and you get a sensible and well written description of the why and the how, and a simple drawing.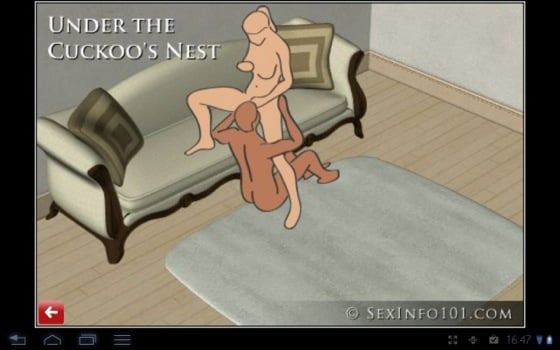 Zoom in for a closer view
Unique to the app is the Play mode, which will cycle through various positions in a given category or from a playlist. You can set the amount of time before the apps suggests a new position and even ask it to randomise the order. Hook it up to the bedroom telly for guided rumpy-pumpy.
Changes can also be made with a shake of the wrist. Well, a shake of the wrist when you have your phone in your hand.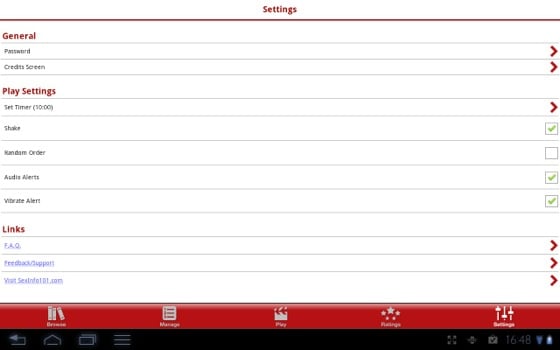 Set a timer for position switches
In case you're worried about your partner suggesting something you fear will have you ending up in A&E, individual positions can be hidden from view.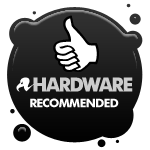 The developers are in discussion with Google about getting the desktop animations back into the app and I for one hope they are successful. After all, we are all grown-ups here.
Bootnote
This app was tested on the Motorola Xoom 2 Media Edition with its splash-proof coating. Now I know what that feature is for... ®
Size 5.8MB
Apps2SD No

We make our choice of the best Android smartphone and tablet downloads every Tuesday. If you think there's an app we should be considering, please let us know.
More Android App of the Week Winners

Avast!
Mobile
Security
AirDroid
FilmOn
WikiHow
Go Contacts EX