Original URL: https://www.theregister.co.uk/2012/02/13/review_roundup_ten_valentines_gifts_for_him/
Ten... Valentine's Day gifts for him
Surprise, surprise!
Posted in Personal Tech, 13th February 2012 10:00 GMT
Product round-up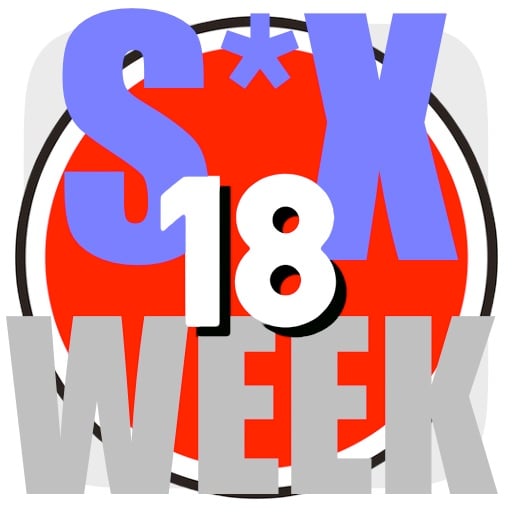 Valentine's Day is all about sharing, and while you can show your affection in many ways that won't cost a penny, it's also an opportunity to enhance your other half's lifestyle. Whether it's brightening up a dreary flat or indulging a passion, the choice is yours and so here are are ten treats that may tickle his fancy and yours too. After all, keep him busy for a while with a tech treat and you can munch your way through that inevitable, yet irresistible, box of Thornton's undisturbed. Nom nom nom.
Algoriddim Djay with Griffin DJ cable

If your man is a control freak on iTunes and fancies himself as a bit of a disc jockey, then picking up Djay by Algoriddim is definitely worth considering. It turns an iPad into a set of virtual decks, packed with digital aids. Admittedly, deejaying on the iPad is not quite on the same level as working on Serato gear, but the app includes similar features, as well as low latency, and a broad range of effects – it even won the iPad app first prize in the Apple Design Awards 2011, so Algoriddim must be getting something right.
Pick up one of Griffin's DJ splitter cables too and you're all set to go. This is different to guitar input/output splitter cables though, as it features two outputs: one for monitoring the track you're cueing up through headphones, and the other an entirely separate output of the mix to the PA. Schweet.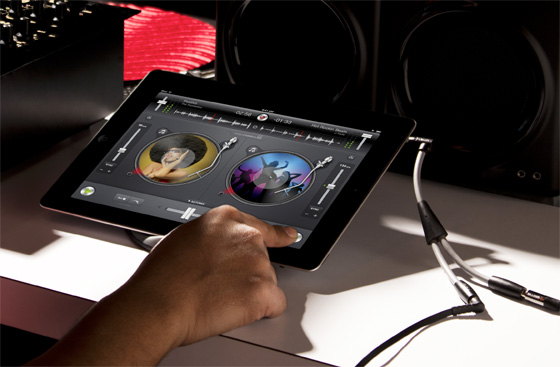 Price £14 (app), £15 (cable)
More info iTunes
Gibson Firebird X

The Gibson Firebird X literally rocks up with features such as fourth-generation robot tuners for automatic tuning, on-board effects and wireless bluetooth pedals. It even allows for third-party developers to chip in with their own apps for an even greater number of add-ons and effects. OK, that could be a bit much for even the wealthiest of wives and with just 1800 of 'em created, the Firebird X could also be a difficult gift to source.
So for a cheaper alternative, yet equally techy six-string, look no further than the Zoybar custom guitar kit. Yep, musos have been taking their creativity into the design domain, crafting their own instruments using 3D modelling software and 3D print techniques. All of which can be done for under £500. And if your man already has enough guitars cluttering up your living space, then why not get him his own custom pick maker instead? Check out the Pickmaster Plectrum, which is priced at £20 and allows users to cut perfectly shaped guitar picks out of pretty much anything you like. Rock on.


Price £3553
More info Gibson
Jawbone Era motion sensing Bluetooth headset

There's more to a Bluetooth headset than meets the ear these day. Buy your chap one of these and it'll help keep him safe on the road, protect the points on his licence and give him no excuse not to answer the phone when you call him up to find out where he is.
Jawbone offers a tastefully designed range of earpieces incorporating top notch tech. With the Era's, there are four sizes of earpiece in two styles – one with a springy rubber ring sticking out that holds the headset even more snugly. When it comes to features, there are few alternatives that compete. High-grade noise-cancelling, multiple microphones and effective background noise elimination are all crammed in there along with various neat tricks, such as motion sensing, to simplify hands-free chat. For further reading, refer to Reg Hardware's full Jawbone Era review - we thought it was pretty darn decent.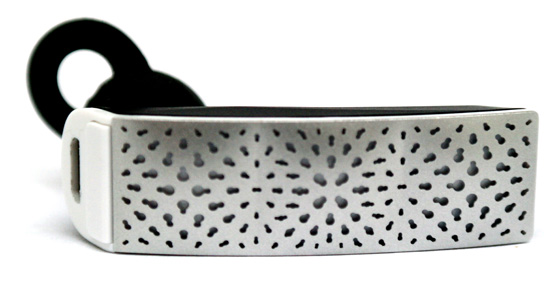 Price £100
More info Jawbone
Jellyfish tank

If your nearest and dearest would struggle to look after a goldfish or even houseplants, then perhaps an artificial alternative is the best way to introduce some animated presence into the abode. Propelled by a silent turbine in a water tank, these realistic jellyfish have certainly brightened the mood here at Vulture Central since we netted them late last year.
The elegant movement of the jellyfish is pretty convincing too, their beguiling, graceful motion catching the eye of every visitor to Reg Hardware's perch. Meditative musing aside, another benefit is that the tank doubles up as a mood lamp, with 6 LEDs that beam brightly through the water, and a few variations you can click through. Oh, and for the energy conscious, it automatically powers off after four hours.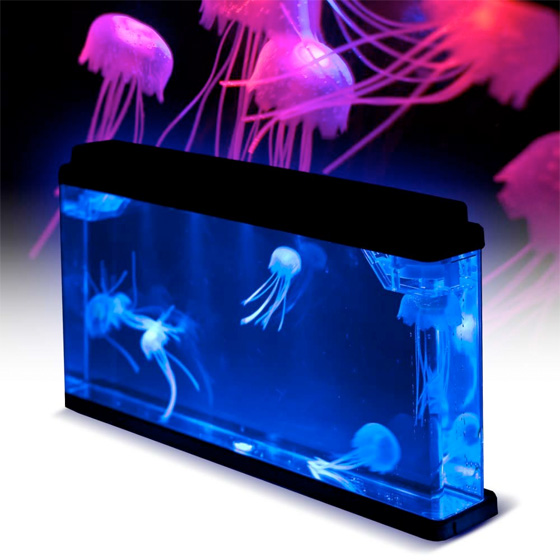 Price £40
More info Red5
Laser Target Alarm Clock

It can be a struggle for us blokes to get out of bed in the mornings, so the right alarm clock is a necessity, especially for times when there's nobody around to give us a prod. The only problem is, a painful wakeup machine may get thrown across the room if placed too close to the bed, and yet putting it anywhere could mean its waking wails fall on the deaf ears. Choosr the Laser Target alarm clock though, things would undoubtedly be different. There's nothing like a spot of gunslinging in the morning.
To help make stirring from your slumbers a little more engaging, the kit features an infrared gun, used to shoot the target and put the alarm into sleep mode. It doubles up as a gimmicky shooting game too, with three separate modes, and owners can record their favourite songs or sounds to be used as the alarm itself.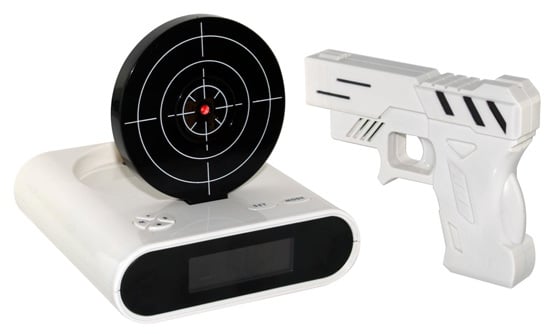 Price £14
More info Amazon
M:Tech iMusic Pillow

Wearing headphones in bed is hardly the most comfortable experience and having to reach towards a dock can be a stretch too far when drifting into the land of nod. M:Tech has an alternative though, this soft pillow features a built-in speaker and 3.5mm jack plug to connect it to your MP3 player. As the monitor is embedded into the pillow, your beloved will be able to listen to music while you hear nothing but the sound of silence, apparently.
The pillow is also a great tool for those with tinnitus, or insomniac sufferers who require a background noise in order to nod off. Regardless of how great the sound is, for the price, it's hardly a risky investment. Sleep on it.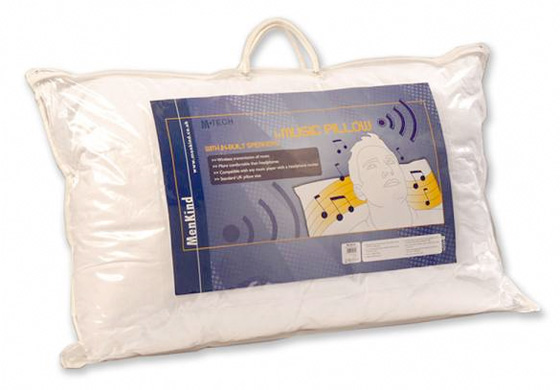 Price £15
More info MenKind
USB Cufflinks

Every man has a James Bond fantasy – no, not that sort of fantasy, well, probably not – and with technology advancing at such a blistering rate, Q-like gadgetry has become readily available.
Granted, a set of cufflinks that doubles up as a USB flash drive will hardly dispose of a villain in hot pursuit, but storing files in an easily accessible place is never a bad idea, especially if you're up for a bit of industrial espionage.
These rhodium-plated mini USB cufflinks store up to 2GB on their tiny body. It might seem like a high price to pay for such a small amount of storage, but if you've ever visited a cufflink store (yep, they do exist), then the price doesn't seem nearly as bad.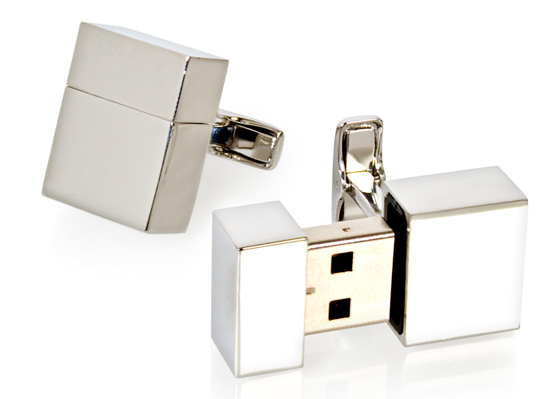 Price £80
More info Firebox
Sony HMZ-T1 display headset

If money isn't an issue, then getting your bloke a pair of these 3D Sony goggles is bound to get you a big thank you when he finally emerges from being immersed in an alternative universe. You see, the Sony HMZ-T1s is an AV headset that features two built-in HD screens with a 720p 16:9 resolution, and boasts no visible crosstalk.
As for audio, the built-in headphones deliver faux 5.1 signal processing to deliver an added dimension in the soundspace too. It's even better if your man's a gamer, as this AV immersive experience is probably one of the closest things to virtual reality you'll currently find on the shelves. And while he's sitting pretty looking like Geordie La Forge living out a Call of Duty session, you can relax having successfully ended battles over the TV remote, as the telly is all yours.
You can read a more in-depth review of the Sony HMZ-T1 here on Reg Hardware.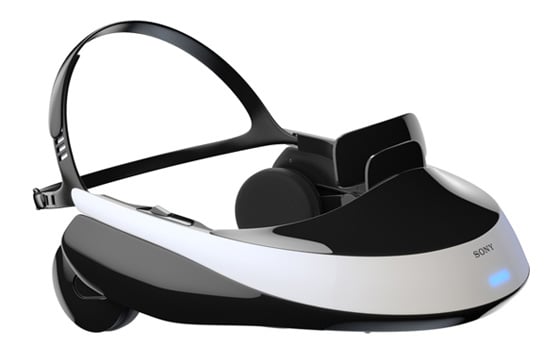 Price £800
More info Sony
Star Wars chop sabres

For those of you with other halves who obsess over all things Star Wars, these super-cool lightsabre chopsticks are a must-have. For a fan of the Force, what better to accompany a romantic dinner of stir fry, cooked in an eWok?
The Star Wars chop sabres come in various designs from blue Luke Skywalkers and red Darth Vaders to Count Dooku's bendy handled nosh-rods. They can be picked up for next to nothing too, so to spice things up further, how about a set of lightsabre candlestick holders as well? Hell, you could go all out and dress up as Princess Leia and, in need of service, send out that distress call: Help me, Obi-Wan Kenobi; you're my only hope...
May the forks be with you, or not, as the case may be here.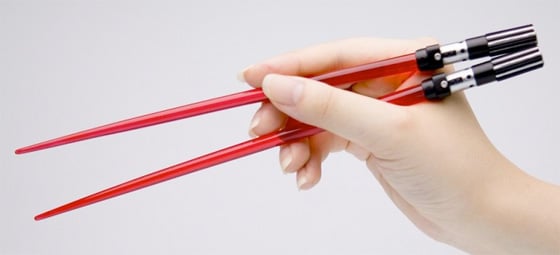 Price £9
More info Forbidden Planet
Zeal Optics GPS Goggles

Fancies himself as an explorer, does he? A thrill seeking extreme sports enthusiast, perhaps? Then investing in a pair of these high-tech goggles will leave him grinning like a Cheshire cat – they certainly had that effect on our wandering writer who looked at the older Transcend model in more detail, including the computer tracking, in our full review.
The latest Zeal Optics Z3 GPS goggles are rather pricey, but you certainly get your money's worth. They're apparently the world's first goggles to feature an LCD display too, built into the polarised photo-chromatic screen. This shows real-time stats, including time, speed, altitude, vertical distance travelled, temperature and location.
The best thing about it though is the information display appears to hang six-feet in front of a wearer's eyes, rather than having to squint into the corner of the specs. The USB compatible goggles, which last 7 hours on their rechargeable battery, also come with software for uploading your experience on t'interweb. ®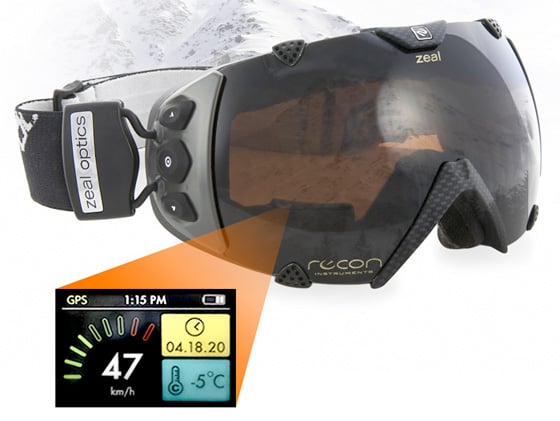 Price £450
More info Zeal Optics