Original URL: https://www.theregister.co.uk/2012/02/10/teslas_model_x_electric_suv_to_sport_massive_touchscreen_dashboard/
Tesla X e-SUV to sport monster touchscreen on the dash
Gull-wing doors? 85kWh battery? Pah!
Posted in Science, 10th February 2012 11:35 GMT
Car writers are focusing on the Tesla X's gull-wing doors, but it's the electric SUV's touchscreen-tastic dashboard that does it for us.
Like the Model S that the e-car company showed off at the Detroit Motor Show in January, the X will sport a 17in touchscreen as the basis of its control system.
Satnav, in-car entertaiment, car telematics - they'll all get space on the enormous display, seen here in Tesla's rendering of the X dash: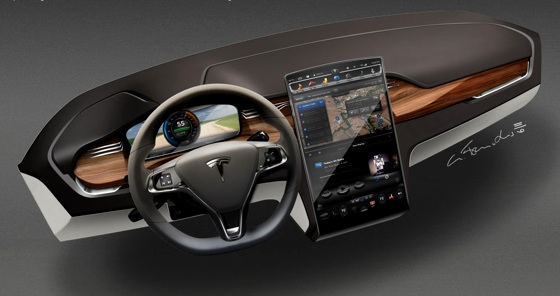 And there's a secondary colour LCD used to display drive information for the driver, you'll note.
Here's a snap of the same kind of dash layout in the Model S to give you a flavour of it in the real world: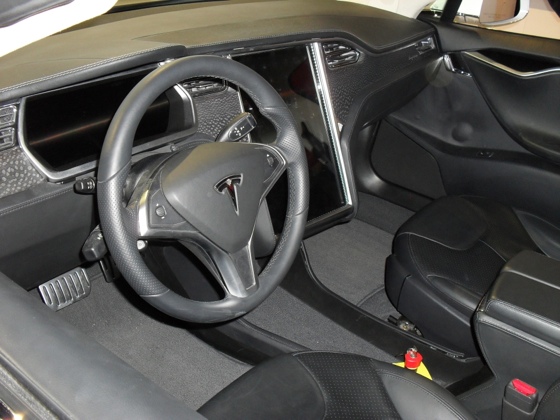 You'll have to wait for the X, mind. In the US, it's not due to go on sale until 2014, by which time the Model S will be out in both the States and the UK - it's expected here next year, but ships in the US in April.
Tesla says the X will go into production in late 2013. It'll be offered with a choice of 60kWh or 85kWh battery, and in rear-wheel and all-wheel drive configurations.
The X goes from 0 to 60 in 4.4 seconds, Tesla said. Pricing will be in the region of $60,000 (£38,000).
Here are some snaps: