Original URL: https://www.theregister.co.uk/2012/02/09/review_asus_ux21_zenbook_laptop/
Asus UX21E Zenbook 11.6in Ultrabook
Thin! Small! Mad! Gorgeous!
Posted in Personal Tech, 9th February 2012 07:00 GMT
Review Having already reviewed the slightly larger Asus UX31E Zenbook for El Reg, and quite liking it, I whinged that sending me the UX21E model would be a waste of time. It wasn't, obviously, because you're reading this. I loved it. In fact, I preferred it.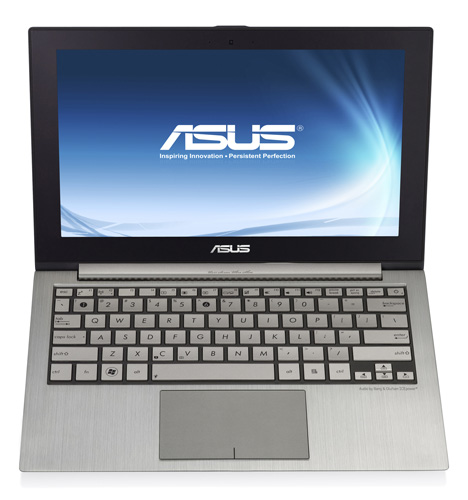 For such a small device, the Asus UX21E has a big feel – in use, nothing seems cramped
The Zenbook, if you didn't know already, is Asus's take on the growing Ultrabook craze kickstarted by Apple when it decided to turn its MacBook Air from a smart-arse tech demo into a half-decent portable computer. Naturally, cramming a Windows PC into a notebook that's roughly a centimetre thick – and that's with the lid shut, by the way – involves sacrificing components. In my opinion, Asus made all the right decisions when choosing what to put in and what to leave out.
For a start, the brushed aluminium case is the case: it's not just some ghastly surface effect. Such a skinny computer would be dangerously flimsy built from plastic. During on-the-road testing, the solid metal build of the Zenbook prevented me from accidentally folding it in half – in one instance, diagonally (don't ask).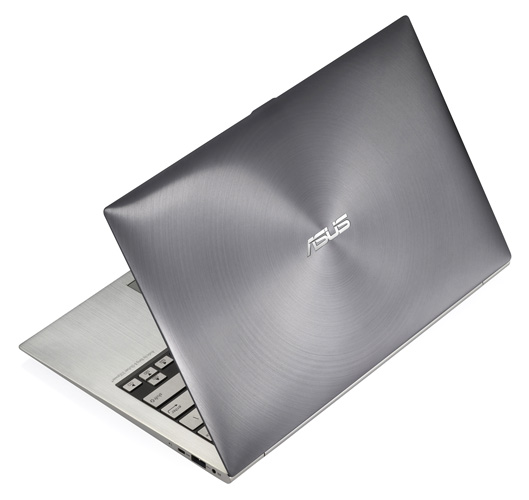 Build from (not just clad in) an aluminium alloy, the case is extremely sturdy
Opening the notebook is a bit tricky. Perhaps it's a security feature, but getting a grip on the micron-wide overlap between the flush lid and base isn't something I could achieve without a struggle every time.
The case then opens smoothly and silently to reveal a pleasantly uncluttered keyboard layout with 12 Function Keys but no numeric keypad. The metallic key caps look as if they might rattle but they don't. In fact, the action of the keyboard is unusually quiet and it is very comfortable to use. If I had to be picky, I might complain that black labels on metallic key caps are less legible than, say, black on white or vice versa. But I can't say I ever thought about it while testing.
Yes, it really is that thin. I ended up holding it in one hand like a tablet
In front of the keyboard is a trackpad that at 104 x 63mm is unexpectedly large for such a small notebook. It supports one-, two- and three-finger gestures, including scrolls, swipes, zoom and rotate. It even has a little line printed near the front edge to help fuckwits work out where to tap for left and right clicks. Best of all, the trackpad is sensitive to a light touch, so no brutish pressing or squeezing is required.
Video nasties
Unfortunately, the Sentelic trackpad drivers are pretty bland and its help videos failed to work. But then this was a brand new Windows PC: I've never known videos to work properly on a fresh installation of Windows until you abduct Windows Media Player in the middle of the night and drive it out to a lonely spot, where you ritualistically murder it and leave its lifeless body rotting in an unmarked grave.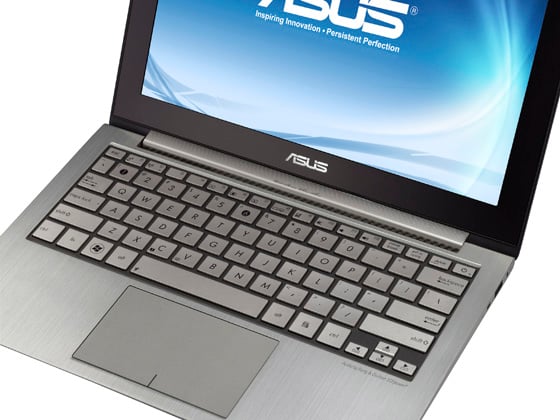 The keyboard is very pleasant to use and the metallic key caps do not rattle
Turning to the Zenbook UX21E's display, I was very pleasantly surprised with how well it fits into the size constraints of the case. As a rule, being someone who uses a 27in display and extends my desktop onto a second 23in display as well, I'm not a fan of diddy little 11-inch notebooks. Perhaps you can work on them, but to me, they're toys or (at best) gadgets that fill the gap between two proper computers.
Yet here on the Zenbook UX21E, the 11.6in display with its 1366 x 768-pixel resolution felt right. Breaking with routine, I did not rush to plug in an external monitor. Instead, I tried to use the UX21E as it was intended: on the road, on the train and, increasingly, just in my hand.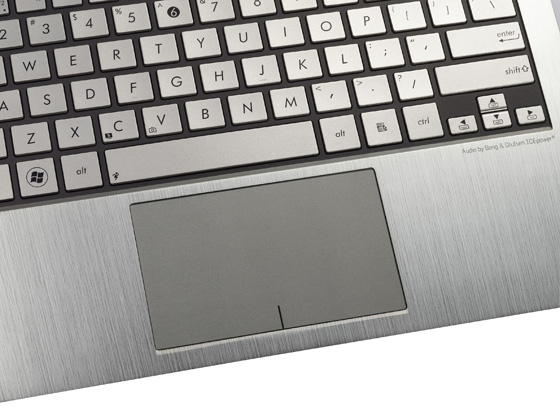 The multi-touch trackpad is wonderfully sensitive: no pressing required
In the end, I found myself instinctively holding the computer between thumb and fingers of one hand while typing or trackpadding with the other, as if I was using a tablet. It weighs just over 1.1kg, however, so this approach won't suit the weak-wristed.
The only problem with the display is that it is just like most other notebook displays in that it suffers from an extremely acute vertical viewing angle. I always had to tilt it back and forth, over and over again, each tiny adjustment sending the screen too dark or too pale before I could set the it in just the right position.
Despite the skinniness of the case, Asus has managed to build in a couple of USB ports, one of which is USB 3.0, plus micro HDMI and mini VGA. When I plugged in a USB 3.0 external drive into the USB 3.0 port, Windows didn't bother waiting to instal the driver before misadvising me "You can get faster performance from this device if you plug it into a USB 3.0 port". Naturally, a minute later, with the driver installed, the USB 3.0 port worked fine.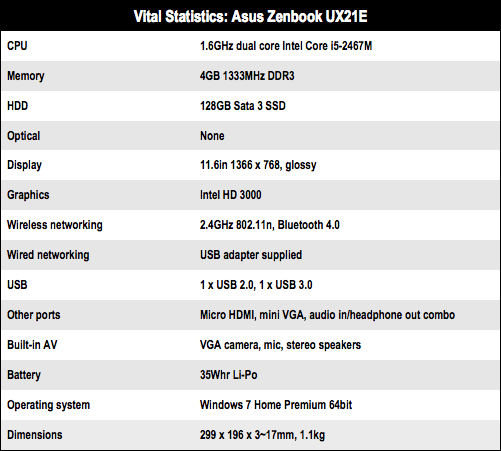 Sleeping well
The UX21E, like other Ultrabooks, makes use of solid-state storage instead of a hard disk. While this invariably means you get less storage space, the performance of the SSD drive in the UX21E wavered between remarkable and awesome. Indeed, it seriously skewed my benchmark tests, as the results are insane. Take a look at the same chip used on the Acer and Samsung, outperforming the latter that also features an SSD, by a 20 per cent margin. Asus even offers a Core i7 version of this model with a 256GB SSD, if you really need it.
Benchmark Tests
PCMark 7 Results

Longer bars are better
On the other hand, the one thing this computer is not good at is 3D gaming. Don't do it: you will only be disappointed. 3DMark 11 didn't play nice but 3DMark 06 notched up a score of 4084. As for battery life Futuremark's new Powermark benchmarking application ran for a respectable 184 minutes.
What it's amazing at is resuming from sleep. Asus claims it can wake from Sleep mode in two seconds, but my own test result of four seconds (from closed case to working Windows 7 desktop) is no slouch. Waking from full Hibernate took 15 seconds; starting up from cold took a mere 23 seconds, and it's not accompanied by urgent fan whirring or farty hard disk noises. I used the UX21E throughout a week, here and there, putting it into Sleep when not it use, and I only had to recharge it once.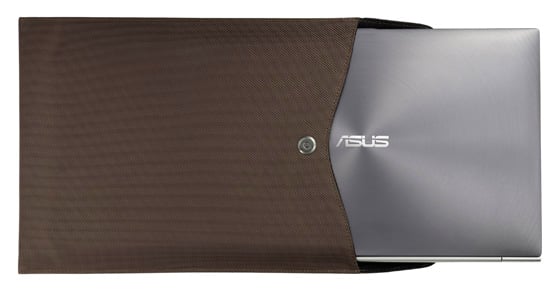 Asus is fairly generous with its bundled extras, including this tough slipcase
Verdict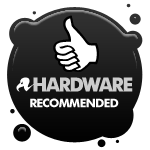 The Asus Zenbook UX21E is thinner, lighter and much more fun to use than I thought possible for an 11in notebook. Built to last and to impress, it manages to look amazing and cute at the same time. If the viewing angle on the display had been a few degrees wider, I would have rated the computer 90 per cent: I liked it that much. Asus also deserves kudos for including a tough slipcase, a USB-to-Ethernet adapter and a mini VGA-to-VGA adapter in the box, rather than charging for these as optional extras. ®
More Notebook Reviews

HP
Pavilion
dv6
Samsung
Series 7
Chronos 700Z5A
Asus
Zenbook
UX31E
Dell
XPS
14z
Acer
Aspire S3
Ultrabook