Original URL: https://www.theregister.co.uk/2012/02/08/irobot_warrior_sale/
iRobot Warrior-bot goes on sale this Spring
For the geek who has everything
Posted in Science, 8th February 2012 23:56 GMT
iRobot has confirmed it's ready to start manufacture and sale of its Warrior 710 robot early this year.
The 345lb Warrior system is a four-tracked beast capable of 8mph carrying a payload of 150lb, with a pincer-equipped robotic arm that can reach up over 11 feet and lift 220lb. It's an evolution of the Warrior X700 that iRobot has sold to the US military and, although no price tag for the system has yet been announced, it's expected to run in the millions – making it just right for well-financed Facebookers.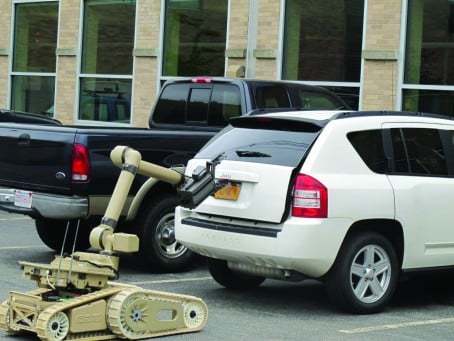 "Get the shopping in would you?"
Remote control of the device is possible from over 2,600 feet (as well as via a trailing Ethernet cable) and you can steer and control the device with a laptop running Aware 2 software and an Xbox controller. The company envisages mainly military sales, with the unit equipped to fire either barbed wire rolls to form an instant barricade or explosive charges to clean a path through minefields. That said, the accompanying video also shows it breaking into cars and peeping through windows so there's a whole range of uses possible.
"Warrior has been in development for some time, and prototypes have been on display at various trade shows," Charlie Vaida, PR manager for iRobot's government & industrial robots division told El Reg. "Two Warriors were also sent to assist with radiation detection and clean-up efforts at Fukushima, so these robots have seen work. iRobot is at the point where these robots will be ready to be full-up manufactured in early 2012."
In the case of the Fukushima incident, the prototypes reportedly imitated their rug-munching Roomba consumer cousins by cleaning up radioactive dust. Workers strapped conventional vacuum cleaners onto the Warriors and used them to clamber over rubble and remove radioactive material.
The company also reported revenues were up 16 per cent at $465.5m for 2011, driven by strong growth in its consumer line. But its stock fell over 20 per cent with the news that miltiatry orders were slowing.
"As we look at 2012, we feel very good about the growth opportunity for our home robot business in 2012 and beyond," iRobot CEO Colin Angle said in a statement. "However, we expect a decline in top and bottom line in our (government and industrial) division this year due to our current limited visibility in our defense business. We anticipate continued demand from the war fighters and support from military leadership for our products will drive higher revenue in the second half of 2012." ®