Original URL: http://www.theregister.co.uk/2012/02/07/review_viewsonic_v350_dual_sim_android_smartphone/
ViewSonic V350 dual Sim Android smartphone
For business and pleasure
Posted in Personal Tech, 7th February 2012 12:08 GMT
Review Every now and again, a brand new product comes along that seems to hark back to days of yore, to a time when things were different. One of those things would be the steam-powered PC, another is the ViewSonic V350 – a smartphone that can work on two networks simultaneously.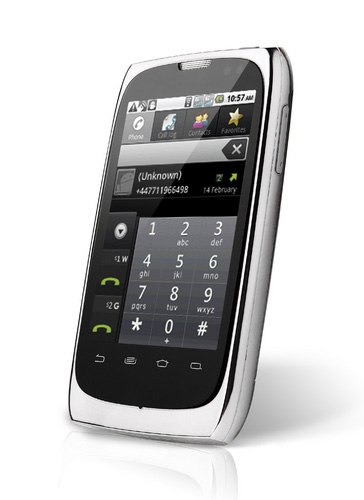 Dual of the dial: ViewSonic's V350
There was a time, back in the early days of mobiles, when dual SIM handsets were fairly common, but they're seldom seen these days. With lower prices these days, if you really need an extra handset, you don't have to splash too much cash for a budget dialler.
But if you really can't be arsed to carry two handsets, either because you work as a drug dealer, have a secret number you want to keep from your partner, or perhaps if you regularly travel abroad, then a dual-SIM handset could well be a convenient option.
Truth be told, first impressions don't mark the V350 out as a quality handset. Its chunky plastic casing feels a bit too flexible and flimsy to inspire confidence. The display doesn't help, with its 3.5in screen offering a relatively low 480 x 320-pixel resolution. Not terrible, but a bit fuzzy looking compared with the best.
Visually, this would still be tolerable, but the screen does lack sensitivity. Its unresponsiveness makes getting what you want frustrating on occasion, as you press the icons several times begging them to take notice of you.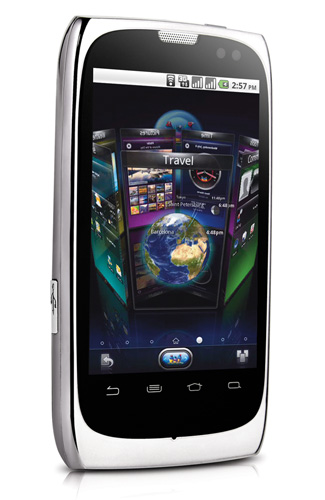 ViewScene 3D is ViewSonic's own spin on the Android Froyo OS
On start up, there's a choice of interfaces – standard Android and ViewSonic's own ViewScene 3D (see what they did there?), which is actually nothing of the sort. It basically offers a slightly different view of Android and while it does have some OK-looking widgets, none of them are really 'better' than the Android UI alternatives, but they're fine for a change.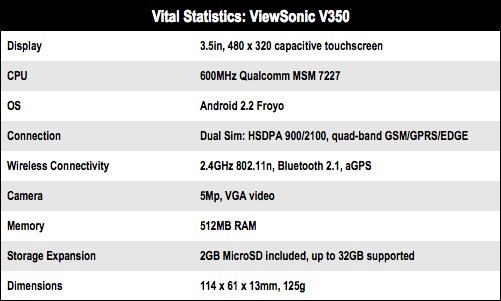 Dual citizenship
The V350 runs Android 2.2.2 Froyo which, as Android 4.0 Ice Cream Sandwich is creeping into the mainstream, seems positively antique. The next disappointment is the 600MHz Qualcomm MSM 7227 processor, that dates back to 2009, supported by 512MB RAM. It's surly and slow, never seeming to be in any rush to do anything, and generally taking its time when launching apps or switching between menus. This lethargic impression extends to the call quality too, which lacks fidelity, with voices sounding slightly distant.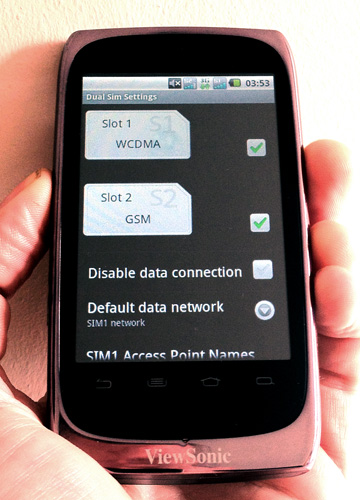 Choosing the Sim for calls and data is easy to get to grips with
Yet all those misgivings aside, the dual Sim aspect is really rather good. It has room under the hood for two quad-band 3G Sim cards, with each clearly marked as Sim 1 and Sim 2. A 2GB microSD card is supplied as standard, with the capability to handle up to 32GB.
When you key in the number you want to dial, there's a choice of green phone icons so you can decide which Sim you want to make the call, and the same goes for text messages. You can have both Sims active at once, so you can receive calls on either, and it will flag up which of your two phone numbers is being called.
You can choose to use one Sim for voice and another for your data, with the status bar revealing which one is connected to the internet. All useful stuff for avoiding high data charges when you're abroad, or if you have a Sim from work that offers voice but no data.
You can also set which Sim is your preferred one to make calls from or you can disable one or both of them altogether, which could come in handy if you're abroad, and you want to make absolutely sure you don't incur any roaming charges on one or other of your Sims. All in all, it's a neat and well thought out making it very easy to use two SIMs on one phone.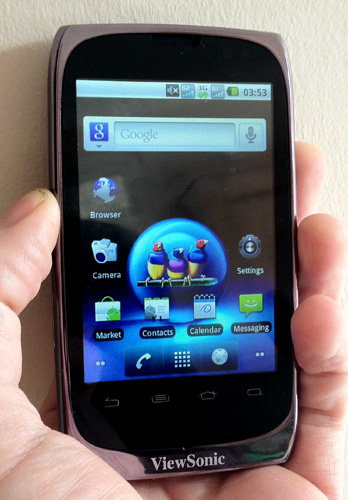 As a dual Sim device it does the job well, but as a smartphone it's a bit creaky
The 5Mp camera has no flash, but includes autofocus, as well as face and smile capture, plus a panorama function and geotagging. The panorama feature automatically stitches five pics together as you rotate the camera through 180 degrees. Picture quality isn't bad, though you'll need to be careful with your light, and while video quality is only VGA, it will just about do for YouTube. The 1500mAh battery held up OK but was nothing exceptional, offering a little over a full day of steady use.
Verdict
A dual SIM handset is a great idea, and sure to find more than a few willing customers. While the Viewsonic V350 nicely executes switching Sims, as a handset it is just a bit too low-rent for comfort. For use as an extra or spare phone, it just about passes muster, but as your primary smartie, it's likely to get frustrating. ®
More Android Phone Reviews

HTC
Explorer
Motorola
Razr
Ten… Androids
to outshine
the iPhone 4S
Samsung
Galaxy
Nexus
Orange
San Francisco 2