Original URL: http://www.theregister.co.uk/2012/02/07/ipo_captures_govt/
UK's digital policy seized by fanatical bureaucrats, say MPs
'Hey... That's OUR job!'
Posted in Policy, 7th February 2012 14:29 GMT
Analysis The UK government's digital policy has been captured by ideological fanatics at the IPO, Parliament heard today.
The debate was tabled by Pete Wishart MP (Scot Nat, Perth) who devoted much of his speech to the agenda of the Intellectual Property Office (IPO), which is what the old Patent Office is now called. It can't have been comfortable listening for the IPO's head John Alty, or for copyright freedom fighter Ed Quilty.
Wishart said that despite its name – the IPO – which suggests it supports IP-based UK industry, the IPO now hatches policy hostile to IP and puts the rights of the user before that of the creator. "It's becoming a burgeoning front to devalue the people it's supposed to support in the first place," said Wishart.
The MP said that the idea of 'the creator as owner' had been discarded in favour of the view that "rights must be collectivised for 'the greater good'". Indeed, the IPO's zeal for collectivising individual rights might make Lenin blush.
"At ministerial level there hasn't been core attention paid, and the vacuum has been occupied by the IPO. Agencies should advise, and ministers decide." He recommended that the IPO be brought back into the Ministry of Fun, with a dedicated minister overlooking the whole digital economy.
He continued: "What we're finding now when the IP industries come to Whitehall and put their case, they're almost arrogantly dismissed." He added evidence that doesn't suit the bureaucrats' agenda is dismissed "lobbynomics". Other lobbyists, such as "West Coast United States companies like Google", were more successful in pleading for protectionism, he said. Wishart called them "self-serving protectionists".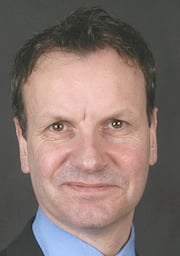 Pete Wishart MP:
Ideological bureaucrats are out of control
"People who invest in talent have become an afterthought, to be grudgingly managed."
The Scottish MP also raised the issue of No 10's close relationship with Google via David Cameron's director of strategy Steve Hilton.
Others raised similar concerns.
Kevin Brennan MP (Lab, Cardiff West) wondered why Consumer Focus – a quango falling under the Department for Business Innovation and Skills – was lobbying against British creative businesses. "They're more concerned with defending piracy than consumer rip-offs," he said.
Wishart said the "hand of the IPO" had hijacked No 10's review of IP, leaving Ian Hargreaves as "a figurehead".
The former musician (Runrig, Big Country) saved his scorn for the economic justifications made for Hargreaves. These have become a Westminster joke, and haven't helped the IPO's credibility much among neutrals. The numbers attached to the proposed changes were ludicrously exaggerated, and that there had been no calculation of any costs or threats to what is a significant sector of the UK economy. (The Thomas the Tank Engine franchise brings in £1bn, one MP pointed out)

Mitra-Khan
This economic impact assessment is largely the work of Ben Mitra-Khan, pictured, economist at the IPO, and a supporter of something called the "Post Autistic Economic Movement" – a fad among left-leaning economists a few years ago. (Here's Khan's page at the Soros-funded think tank INET). This impact assessment leaves the government in something of a pickle. Ministers endorsed Hargreaves, but they don't have an industrial-strength cost-benefit analysis to back it up.
Don Foster MP (LibDem, Bath) raised another stealth move advanced by the IPO: stripping authors of educational materials of their right to be paid. Under one proposal for an educational exemption, said Foster, "an author can write a textbook, and multiple copies can be made with no reward coming to the author. And therefore not a cat in hell's chance of that author ever bothering to write another book again".
It wasn't all one way, however. The freetards' friend in Parliament at last rose to his feet.
Stealing isn't theft
Eric Joyce MP [Lab, Narnia] said the Hargreaves review was a welcome attempt to modernise ancient laws, and emphasised that the internet should not be regulated. Steps to enforce IP rights were tantamount to censorship. "It's easy to label people as pirates – but it's just a fact that the internet is a fantastic copying machine, and if you want to criminalise it, you're on a hiding to nothing. It's a highly debatable that downloading is theft."
Brennan responded that it was hardly a victimless crime, and that just because it is hard to do something doesn't mean we shouldn't try. Google should show "corporate social responsibility" and direct people to licensed sites. While the debate progressed, one MP Googling for Empire State of Mind found the first five search results went to unlicensed sites. Google has filtered search results in other countries, but doesn't want to in the UK.
Joyce sits on the Advisory Board of the Open Rights Group. Voters sympathetic to the view that piracy isn't killing music might wish for a more convincing representative in Parliament. Joyce has claimed more expenses than any other MP, used taxpayer money to buy oil paintings "because they looked nice", and was the first to break the £1m expenses barrier. Maybe freetards get the MPs they deserve?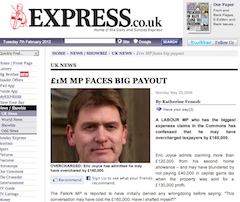 One of the most thoughtful contributions came from Mark Field [Con, Cities of London and Westminster], and it's worth quoting at length.
The West relies increasingly on intangibles, such as IP, as China produces more physical goods. We have to look after those rights, he said.
"Within 20 years, IP rights will be due for a philosophical shakeup," he predicted. China will begin to argue that traditional IP structures are no more than the West using its might to maintain economic dominance. "We should look out for China putting a more forceful argument during increasingly fraught WTO meetings in the years ahead," he predicted. "Our bargaining hand may prove to be much weaker," he added, as a result of China holding so much equity in Western businesses.
"Look out for the terms by which Chinese investments are made in our companies. Requests for technology transfer will be written into more and more contracts."
It's an interesting argument, and one made at El Reg before. While intellectual property debates tend to focus on the evils of the music business, or Google, the bigger picture is that IP is about all we do well now. The UK in particular exports more per capita than anyone else in the world. If we lose our ability to enforce UK IP globally, there will be no wealth to spread around.
The government responds
Responding for the government, BIS minister Mark Prisk [Con, Hertford and Stortford] argued the need to review IP – but conspicuously failed to defend the IPO.
He stressed how important IP is to the economy, highlighting that we now invest 30 per cent more in intangibles than we do on physical assets. He cited James Dyson and his vacuum cleaner as an example of how important IP is to growth, in quite unexpected ways.
Expect something on web-blocking quite soon, Prisk hinted.
As for the IPO, the absence of any defence at all – from the Minister in charge – was ominous. But then Quilty and Alty are lifelong civil servants who have broken a couple of the Mandarin's golden rules. Firstly, remain invisible at all times. And if you're visible, Never, Ever Allow Yourself To Become The Story. ®