Original URL: https://www.theregister.co.uk/2012/02/06/review_samsung_series_7_chonos/
Samsung Series 7 Chonos 15.6in Core i7 notebook
NOT a MacBook clone
Posted in Personal Tech, 6th February 2012 12:00 GMT
Review Surely someone is having a laugh. Having read nothing but five-star reviews of this luxury notebook on other sources, I find myself surprised to be staring at a four-star product on my desk. Four stars is pretty good, you know, but that's one less than five.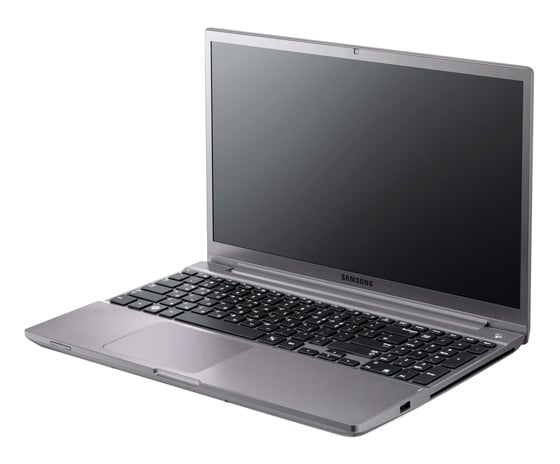 All in good time: Samsung's Series 7 Chronos
What am I missing with the Samsung Series 7 Chronos? Given that other reviewers were dribbling, going crosseyed and climaxing over its charms (hopefully not over the keyboard too), why am I not feeling the love when the real thing is straddling my own thighs?
To start with, contrary to what you might read elsewhere, the Samsung Series 7 Chronos looks and feels nothing like an Apple MacBook Pro. Any attempt to compare them and put the Chronos on some kind of MacBookinator ranking is misleading, patronising to Samsung and an utter waste of your time. I happen to like both products, but in different ways. My taste includes both snails and oysters, pal.

Two USB 3.0 ports on-board...
Secondly, it's not cheap. Unless you find it discounted somewhere, the Samsung Series 7 Chronos costs just under a grand. "Oh but it's so much cheaper than a MacBook," you cry. So the fact that it's cheaper than a stratospherically priced product that is nothing like it is signficant, is it? OK, well the Samsung Series 7 Chronos is also cheaper than a Chelsea townhouse. Five stars!
Please let's enjoy this refractory period to take a realistic look at this otherwise impressive, modern and thoroughly usable notebook computer.

...and an optical drive too, but no Blu-ray
The case appears to be covered with – as opposed to built from – an aluminium-magnesium alloy. It has smooth edges and gently curved lines, making it comfortable to carry. Despite the apparent metallic exterior, you can squeeze the case and hear plastic creaking underneath; with the lid open, you can tweak and bend the display just like you can with cheap plastic notebooks.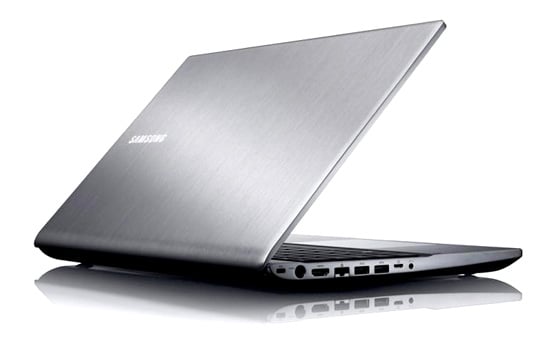 Although encased in a metallic alloy, the case can still be tweaked as if it was plastic
On that point, as you open the lid, the Samsung Series 7 Chronos remains glued to your desktop rather than tipping backwards. This is a sign of thoughtful hardware design.
Key feature
Inside is one of the most fabulous keyboards I have seen on a notebook computer. The keys have lovely action and scream quality. There is even a controllable backlight under the keyboard that illuminates not just the key edges but shines through the labels too, making it a wonderful notebook to use in dim lighting conditions. This is close to a full keyboard, too, complete with numeric keypad and cursor keys.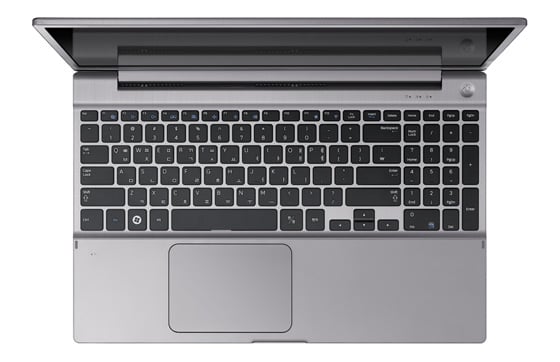 The beautiful backlit keyboard is paired up with a large and highly adept multi-touch trackpad
Switch the computer on – from cold, this takes 34 seconds – and I challenge anyone not to be impressed with the size of the screen. I realise it's a 15.6in display but it feels much more like a 17in, thanks to a narrow bezel and a generous 1600 x 900-pixel resolution.
With the screen titled in the perfect position, the image is bright, clear and very contrasty. Unfortunately, the display suffers from an acute viewing angle, the image turning dark as you tip it backwards or pale as you tip it forwards, and it is very difficult to read from oblique angles at the sides.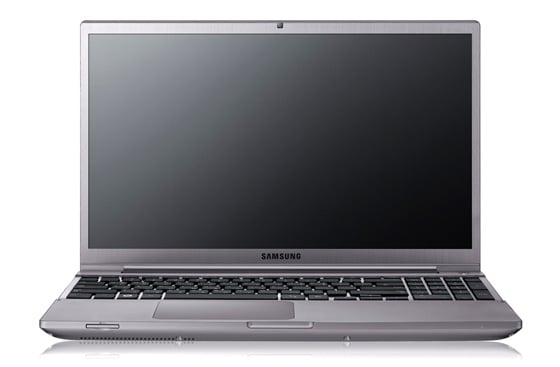 You need to view display in action to appreciate how big it really is
The onboard Intel HD Graphics chipset is partnered with an AMD Radeon HD6750M card, switching automatically between them to suit the software being run at the time.
I am led to believe that the computer will even switch to the Intel HD Graphics when it detects that you're on battery power rather than the mains, but this was not my experience. In fact, while running Futuremark's Powermark battery life benchmark, the switching of chipsets at the end of the first video playback test caused the Samsung Series 7 Chronos to crash. Once I disabled video enhancement in the Samsung drivers, everything worked much better.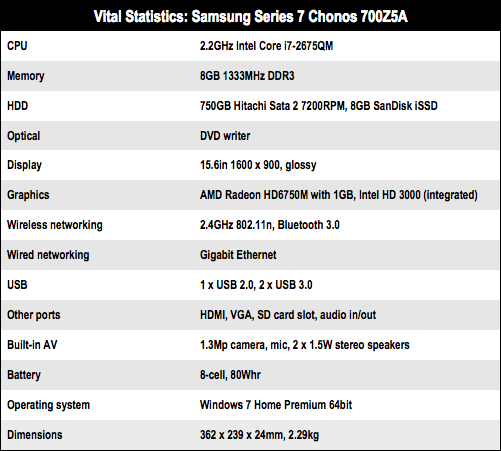 Tracking progress
There is a large (107 x 72mm) trackpad in front of the keyboard which, combined with Elan Smart-Pad drivers, supports a good range of multi-touch gestures. It takes some practice to learn how to perform the necessary gestures reliably but I found that they worked very well. The trackpad recognises one-, two-, three- and four-fingered swipes, pinches and rotations in more than direction, and very importantly, the drivers allow you to increase the pad sensitivity.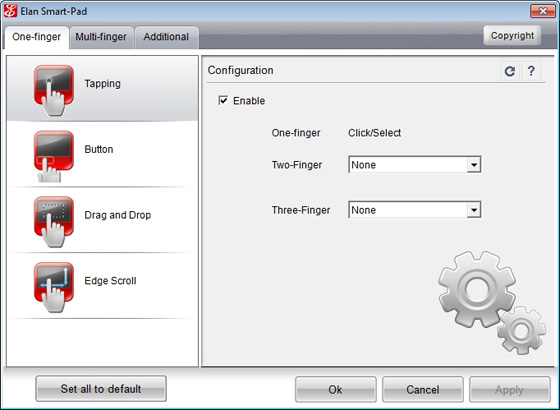 The trackpad support one-...
My only criticism of the trackpad, apart from its slight lagginess when scrolling, is that its option of letting you physically 'click' by pressing down (the whole pad depresses when you do this), rather than allow gentle taps to achieve virtual clicks, is uneven across the surface of the pad. Getting a physical click when pressing down at the near edge is easy but you need to press down much harder at the edge furthest away from you to achieve the same result.
That said, this design fault is equally evident on Apple's much-praised Magic Track Pad. Apple's is worse, actually.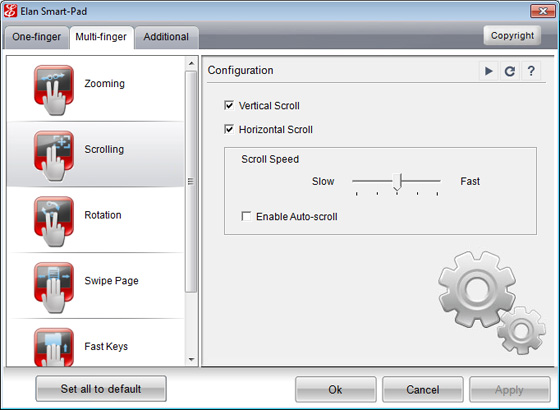 ...two-, three- and four-finger gestures...
I was pleased to discover a good set of connectivity ports on the sides, including not none but two USB 3.0 ports. Samsung helpfully includes the necessary VGA adapter for the mini display port too. I'm not so sure about the Ethernet port, though, whose minimised opening gapes open to full size only when you flip down a flap.
Port covers and hinged flaps are bad things on notebook computers. They break, fall off and get lost. Of course, none of these things happened while I was testing the Samsung Series 7 Chronos; I'm just saying.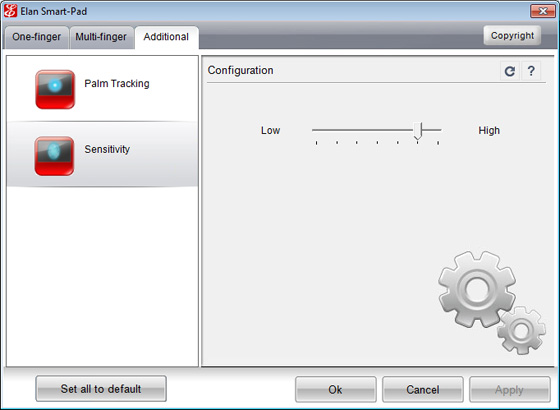 ...and has touch sensitivity adjustments too
In addition to a 750GB hard disk and a generous 8GB of RAM, Samsung has built in 8GB of solid-state memory to cache data between them. Often this works well to improve performance, and it certainly makes wake-up from Sleep mode speedy: around 7 to 8 seconds in tests.
Power ranger
All this is great stuff but not quite enough to stir my nerdy loins. The Samsung Series 7 Chronos's performance in the Futuremark benchmarks was good without being class-beating, and the Powermark automated battery test suggested a fairly average battery life of 125 minutes between recharges.
Benchmark Tests
PCMark 7 results

Longer bars are better
A long battery life is supposed to be one of the Chronos's big attractions so I don't know why Powermark doesn't back this up. It's not as if much power is being wasted as heat since the computer never gets more than slightly warm after intensive use.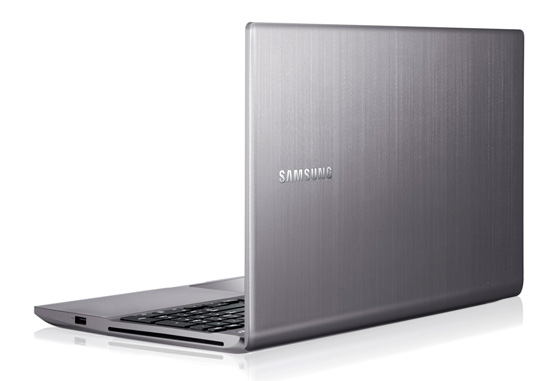 Samsung's understated logo makes its competitors look vulgar
Perhaps my tweaking of the graphics drivers to stop the benchmark crashing had a side-effect of disabling some of the power-saving triggers. Certainly, every time I started a video or played a game, the fan kicked in and stayed running until I stopped the video or quit the game. The fan is not particularly noisy but it was distracting when I was playing one video after another.
Talking of noise, the speakers produce enough volume to be heard clearly in a meeting room. Yes, the sound is tinny, but all notebook speakers are tinny.
Verdict
The Samsung Series 7 Chronos is a great notebook that offers a lot of the kinds of thing I tend to harp on about, such as a big screen, a full keyboard, USB 3.0 ports and a multi-touch trackpad. With so many competitively priced notebooks around, you might baulk at paying close to a grand for a product that is not particularly thin or light, but it looks well designed, is well thought-out and well built. It is also extremely comfortable to use – and surely this is the critical buying factor for a general-purpose notebook. ®
More Notebook Reviews

HP
Pavilion
dv6
Samsung
Series 9
900X3A
Asus
Zenbook
UX31E
Dell
XPS
14z
Acer
Aspire S3
Ultrabook