Original URL: https://www.theregister.co.uk/2012/02/06/oldest_animals_750_million_year_old/
'Oldest animals' show up in Namibian dig
Ancient sponge the granddaddy of us all
Posted in Science, 6th February 2012 22:30 GMT
For now, anyhow, the starting date for highly-organised life has gained a new record, with a dig in Namibia yielding up sponge fossils dated somewhere between 100 and 150 million years earlier than anything else yet found.
While the tiny sponges, turned up by British and African researchers in sites including Namibia's Etosha National Park, are only dust-speck sized, scanning electron microscope examination of them has turned up characteristics that suggest the fossils are sponges rather than non-biological features.
In particular, the researchers say, the Otavia examples found show pores (which allowed the sponges to feed on bacteria and algae), and are shaped in a way that would have allowed them to form raised mounds.
But it's the date that has the researchers buzzing. At around 750 million years old, the fossils are between 100 and 150 million years older than any other multicellular organism yet identified.
Very simple by today's standards – for example, it lacked a gut, so nutrients would have had to be absorbed directly into the cells for digestion – the Otavia was also tough. It survived in a lower-oxygen atmosphere that now exists, and also lived through one of Earth's biggest cold spells, dubbed the "snowball Earth" events that may have taken place 650 million years ago.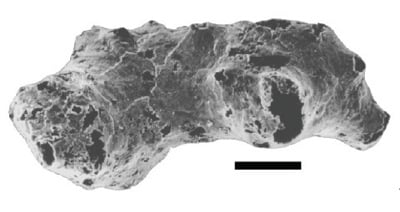 Otavia fossil from Etosha National Park showing "feeding holes".
The scalebar is 100 microns. South African Journal of Science
Otavia may have survived not one, but two such events.
Paleontologist and hominid specialist Dr Bob Brain, who lead the 10-strong team, explained to South Africa's The Star that he was looking for fossils to help illuminate the history of predation.
The research is published as an open-access article in the South African Journal of Science.