Original URL: https://www.theregister.co.uk/2012/02/03/samsung_galaxy_4s_smartphone_picture_leaks_onto_web/
Samsung 'Galaxy 4S' pic posted
Is S III stand-in snap real or Photoshop?
Posted in Personal Tech, 3rd February 2012 11:19 GMT
The Samsung Galaxy S II Plus, the smartphone the South Korean giant is said to be unveiling at this month's Mobile World Congress (MWC) show in place of the Galaxy S III, will be a skinny white boy.
Well, if a picture posted by Russian mobile phone blogger Eldar Murtazin on Twitter last night is anything to go by, it will be.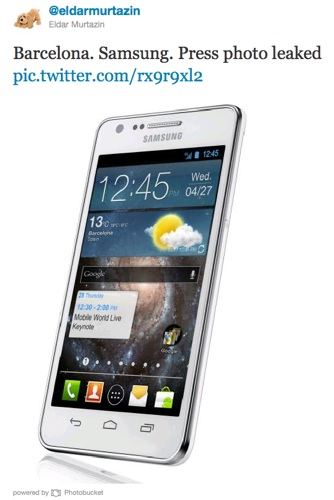 The S II Plus is being called Samsung's 'Galaxy 4S' - a reference to its role as a stand-in for the S III, seen as the equivalent of the Apple iPhone 5 that wasn't launched last Autumn as expected.
The pic shows nothing that identifies the phone specifically as the S II Plus, and there are already loud cries that the snap is just a bit of Photoshoppery.
Indeed, there are some distortions on the handset's sides the suggest someone has been tinkering with the image. Well, there it is - you decide.
The S II Plus hit the headlines yesterday when it appeared in an online collection of Android benchmark results. Samsung admitted earlier this week that the Galaxy S III will not debut at MWC. ®