Original URL: https://www.theregister.co.uk/2012/02/03/review_toshiba_regza_40rl858_led_smart_tv/
Toshiba Regza 40RL858 40in LED TV
Smart, but no mortarboard
Posted in Personal Tech, 3rd February 2012 12:00 GMT
Review Toshiba is a bit of a wild card when it comes to TVs. While some of its screens are genuinely exciting, others are merely bargain bin fillers. Buying a cheaper Tosh is a classic case of caveat emptor.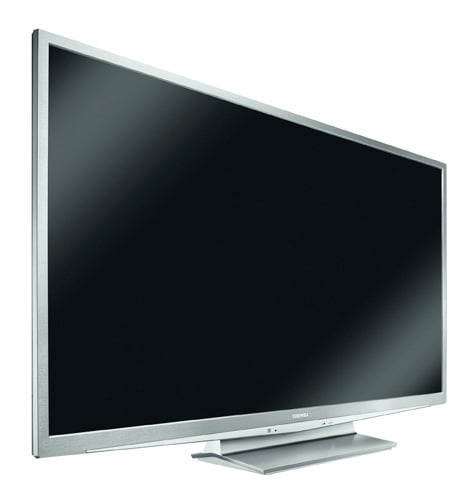 Media savvy: Toshiba's Regza 40RL858
But while this 40in slimline LED LCD sits at the affordable end of the brand's current range, it's not anonymous range fodder. It includes access to an online smart portal, has a Freeview HD tuner and knows what to do with a USB stick. So the 40RL858 should be a solid buy, right?
The TV certainly looks tidy. Rather unusually it's finished in gunmetal grey rather than gloss black – although Toshiba describes this optimistically as 'brushed silver' – and has a really thin bezel which could hit the right note with designer types.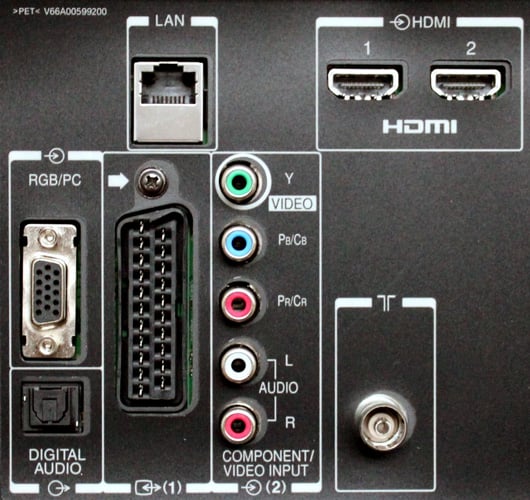 The interfacing on show round the back is complemented by side panel ports
Backside connections include a pair of HDMIs, Scart, component video and stereo audio, Ethernet, optical digital audio out and a PC D-Sub. These are bolstered by additional side-facing ports, comprising a third HDMI, USB, CI slot, headphone jack and some basic on-body controls.
The set's user interface consists of unfussy tabular text; it's easy enough to manage, but some of the more common controls are grouped under a self-explanatory Quick Menu too. While Toshiba has developed some super sophisticated picture processing, it isn't resident in the 40RL858. Still, the panel is intrinsically clear, with a native motion picture resolution of around 800 lines. Motion artefacts are not an issue, making for a pleasingly, filmic presentation.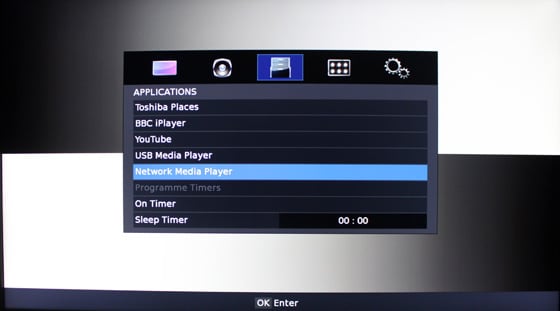 The Media Player accommodates a broad range of formats and works well with USB content
The set definitely benefits from calibration. Out of the box, colours have a luminosity that needs temperance and sharpness should be dialled back with a vengeance. Images are dynamic, at the expense of shadow detail. Still, low noise makes night scenes an enjoyable noir-ish watch.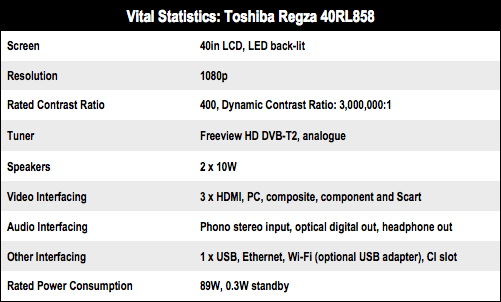 Bottom out
One inevitable consequence of the Regza 40RL858's thinness is that it sounds like an escapee from Alvin and the Chipmunks. There's no weight or roundness to its sonic output, which makes enduring anything other than Deal or No Deal a bit of chore.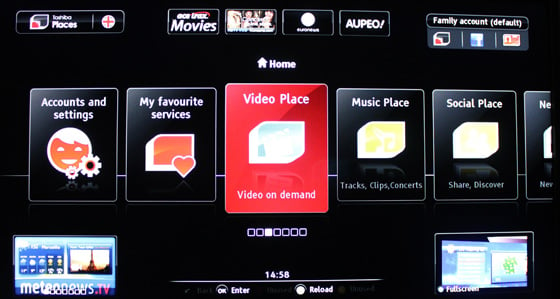 Toshiba Places portal
Hot IPTV buttons, YouTube and BBC iPlayer, are available direct from the Quick menu. For more net telly, you'll need to head to the brand's online portal, called Places. It's here you'll find VoD and free streaming services from Acetrax, Viewster, DailyMotion, Box Office 365, Woomi, Cartoon Network, HiT Entertainment, iConcerts and AUPEO!. There're also a couple of social media apps, for Facebook and Flickr.
While the set is DLNA compliant and has the chops to stream content across a Lan, its network media performance is a tad flaky. Not only did my review sample crash several times when in Network Media Player mode, requiring it to be unplugged, it exhibited a devil may care attitude to file playback.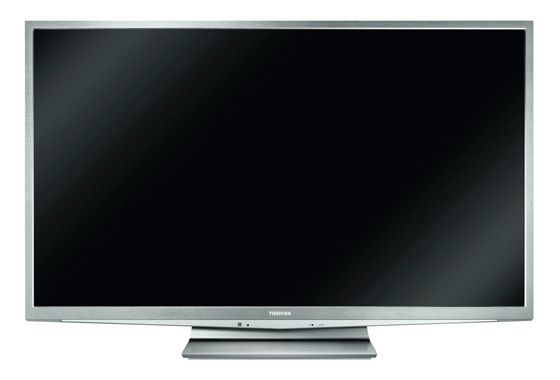 Ticks a lot of boxes but its performance with Nas boxes leaves room for improvement
Despite being offered a variety of Nas devices, it showed only passing interest in movies and music. Not only is video file support limited to MPEG derivations, the set seems to have a low tolerance of different media servers. Let's hope Toshiba improves this with a firmware update sometime soon.
Things improve with local USB media. MP3 (sans album art), MP4, AVI, WMV, MKV and MOV content all plays, however navigation on a USB stick isn't easy, as the reader uses a thumbnail display which refuses to reveal full file names.
Verdict

Undoubtedly, this 40-incher offers a lot of screen for the money. Image quality isn't too shabby and it wins brownie points for its IPTV offerings. However an unconvincing multimedia performance across a network could prove a bit of a deal breaker for some. All things considered, I'd rate the Toshiba Regza 40RL858 as a nearly, but not quite, decent TV. ®
More TV Reviews

Ten...
smart TVs
Samsung
PS64D8000
LG
42 LW650T
Sony
Bravia
KDL-55HX923
Ten...
monster TVs