Original URL: https://www.theregister.co.uk/2012/02/02/review_lg_hlx56s_network_3d_blu_ray_home_cinema/
LG HLX56S net savvy 3D Blu-ray soundbar combo
Smart deco
Posted in Personal Tech, 2nd February 2012 07:00 GMT
Review LG's HLX56S is an audacious all-in-one home cinema system, cast in the guise of a mild-mannered soundbar. With integrated 3D Blu-ray player, copious amplification and IPTV portal, it's got everything you need for the upmarket man-cave, in a package easily parked beneath a 40in or larger flatscreen.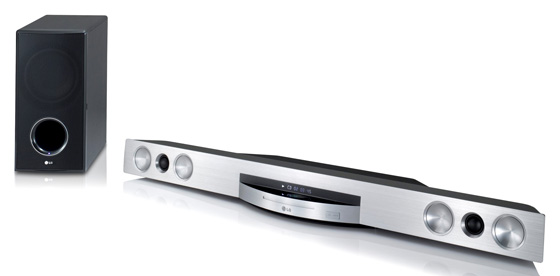 All bar one: LG's HLX56S 2.1 AV combo
Gimmicky it may be, but the HLX56S is well-made and exhibits boy-toy polish. Touch sensitive controls sing out with appreciation when stroked and the disc loading mech is as smooth as Clooney.
 Connections include two HDMIs and optical digital, with HDMI and phono video outs and Ethernet LAN. Wi-Fi is built-in. A separate wired iPod dock is included in the box.
This is a two-piece system. Partnering the main unit is a wireless, active subwoofer. It uses the 5.8GHz band, rather than a cable, for a connection and sports a 150W (into 3 Ohms, ahem) amp. Once powered up, the sub automatically handshakes with the main 'bar, making installation a snap.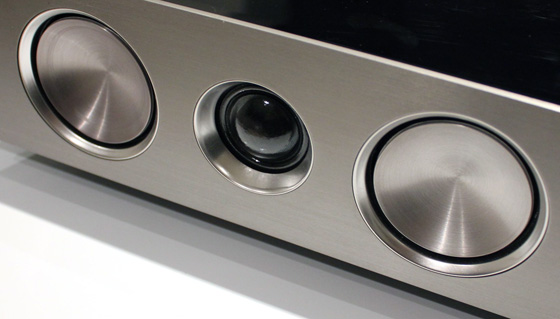 Not so shabby drivers on the soundbar
The cable-free nature of the sub also permits a certain amount of freedom when it comes to placement. LG quotes the sub's wireless range at 20m, although for best results don't locate this boom box too far from the main unit. A blue conformational light glows when a bass signal is detected.
The HLX56S isn't an exact mirror of LG's regular connected BD players (there's no MediaLink support), but there is app and IPTV access from the brand's Smart TV portal. Top line attractions here include BBC iPlayer, YouTube, Dailymotion, Cinetrailer, PictureBox, Acetrax and Box Office 365.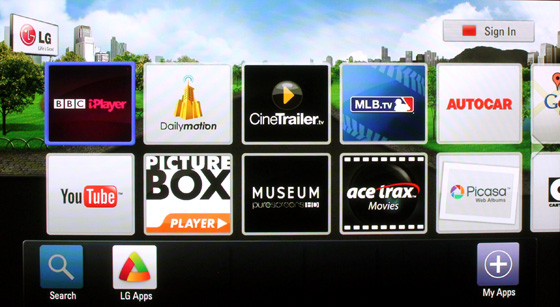 LG's Smart portal offerings
While there's an FM tuner on-board, better radio performance and more listening choice can be had from the smart portal's vTuner and Aupeo internet radio clients. There's even a lightweight web browser on board.
Fall from Gracenote
File support across a network is also strong. The system plays MKV, AVI, AVCHD and MOVs content without issue. Music support extends to MP3, WMA, WAV and AAC.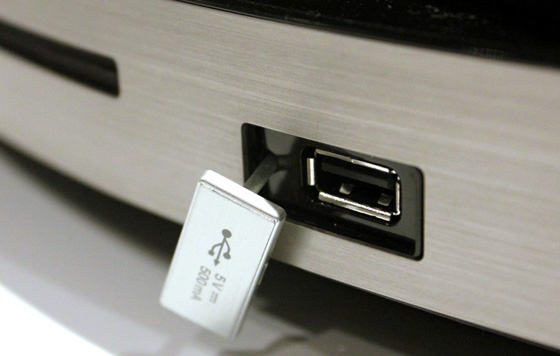 Aesthetically pleasing? The front mounted USB port features a captive cover
The Blu-ray component within the HLX56S is 3D compatible and comparable in performance to other LG disc spinners. It's a slow loader though, taking upwards of 70 seconds to deliver the menu on the Java heavy Goldfinger disc. Simpler platters, such as Lou Reed's Berlin, are good to go in 32 secs.
Incidentally, I used the aforementioned Lou Reed concert disc to trial the system's Gracenote powered Music ID service, designed to identify music snippets from TV shows and movies. You might think that a concert disc would make track identification ridiculously easy, but the Gracenote media database came back blank. Obviously not a fan of The Velvet Underground.

The usual suspects plus an interface for the supplied iPod dock cradle interface
Blu-ray image quality is great, with plenty of fine detail and image depth. The player doesn't exhibit any foibles with 3D content. Sonically, the HLX56S is a real surprise. Thanks to that spirited Class D amp, the system has genuine presence and represents a serious sonic upgrade for wafer-thin TV sound systems.
You can tinker with audio presets, but these generally undermine rather then enhance. Clear Voice, Bass Blast and Clear Voice all thicken or thin the soundstage. I found it sounded best left in Bypass for stereo content. Multichannel source material can be decoded for a faux surround effect. Taken more as an extended soundfield than genuine surround, this is rather effective.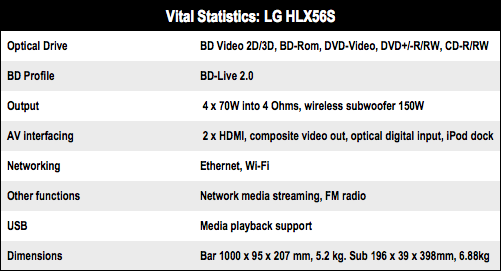 Companion combo
With music and movies, the system exhibits a good midrange, while the sub delivers appropriate cinematic slam. The HLX56S had no problems with the opening sequence of the Jurassic Park Blu-ray, a classic surround mix of jungle ambiance, urgent vocals and sharp dynamic retorts.

Smart choice, sound option
Verdict
All-in-one cinema systems inevitably involve a degree of compromise, but this well-executed twin set offers fewer than you might imagine. Partner with a larg-ish flatscreen, for a thoroughly acceptable home cinema experience. ®
More AV Gear Reviews

Panasonic
SC-BTT270 Blu-ray
home theatre
Ten… mini hi-fi
systems
Ferguson Hill
FH009
home theatre
Ten... Blu-ray
disc players
Yamaha
RX-V471
AV receiver