Original URL: https://www.theregister.co.uk/2012/02/02/review_game_final_fantasy_xiii_2/
Final Fantasy XIII-2
Terminal illness
Posted in Personal Tech, 2nd February 2012 12:29 GMT
Review Is it just me who remembers Final Fantasy III – actually, that's FF VI if you're Japanese – the mercurial tale of the evil Kefka and heroes Sabin, Edgar, Terra, et al? I recall the brilliant use of magical espers, its line-up of amazingly distinct fighters – Sabin even channelling Street Fighter-style special moves in a clever bid to keep the players on their toes – and all wrapped up in a genuinely touching fairy-tale.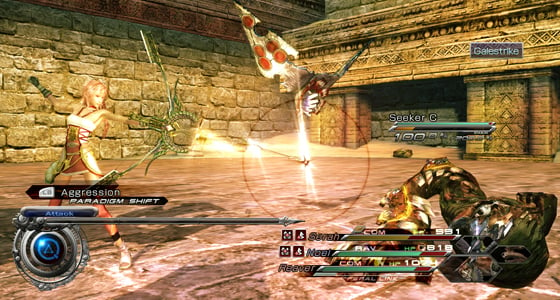 The golden shot
That was Final Fantasy at its best; reliant on strong storytelling and dynamic combat in order to grip the user. Back when a few boxes of text said more than a hundred hours of pre-rendered CGI ever could, and when a pixellated tear rolling down the cheek of a 2D sprite would convey the kind of emotion that Final Fantasy XIII-2 constantly strives for, but never comes close to achieving.
Now, I'm aware that putting out a retro-styled game in this day and age might not be smart move if Square Enix expects sales, but FF XIII-2's over-reliance on pre-rendered cutscenes is simply impossible to ignore.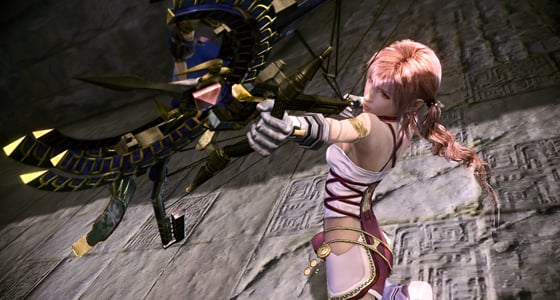 Upshot fantasy
Take the game's initial video that I stupidly sat through, an impressive 20 minute battle scene featuring FF XIII's heroine, Lightning, clashing swords with a typically anime-esque bad guy to a soaring orchestral score.
The trouble is, that once you watch it and press start, the damned thing plays out again, albeit this time complete with the character's voices – that's 40 minutes of my life gone with barely a button pushed, whatever happened to user input? Worse follows, as the player is placed in the unfeasibly slender frame of Serah, sister of Lightning, and she who spent the vast majority of the first game mercifully frozen in crystal.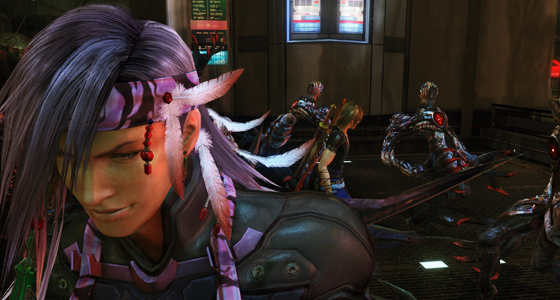 Purple gaze
Very nearly every line of dialogue Serah utters, whether during playable sections or within the confines of CGI, is supercharged with emotion – but emotion directed at whom exactly? Certainly not an audience who have been given not one reason to care as to whether Serah, her friends or her world lives or dies. Much like a frustrated actor working with a poor director, I'm left asking: Where's my motivation here?
Can I get a rewind?
As far as the story goes, FF XIII-2 is a true sequel to its predecessor, beginning just a short time after events of the previous game and once more set across the worlds of Pulse and Cocoon.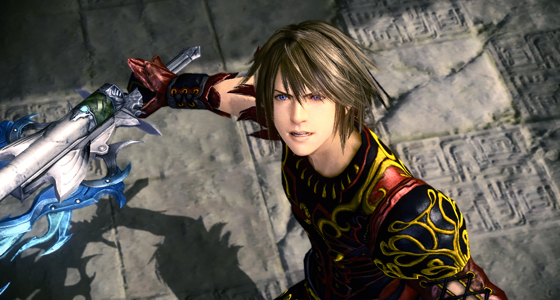 Just as things were looking up...
To be precise, it begins within a beachside village, as a mysterious spiky-haired, dual-sword wielding chap from the future, one Noel Kreiss, appears as if from nowhere. A good job too, given Serah and the rest of her fellow villagers have come under sudden and violent attack.
It's the first time you'll get to experience the games 'Paradigm Shift' combat, a system much debated when it debuted in FF XIII and a system which, once again, removes the need for any genuine user-participation.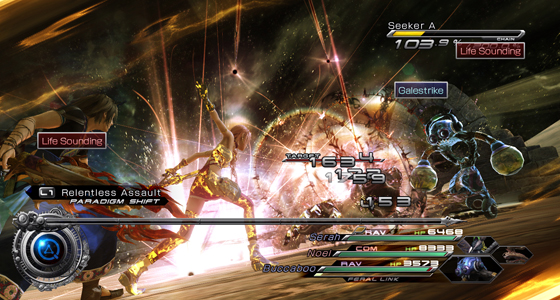 Lights, paradigm, action
That's not to say you'll do nothing, there's still the action button to hammer as you hit the auto attack choice – the AI nearly always picking attacks most effective against your current foe.
Paradigm shifting itself is perhaps where the player has most impact – much as a football coach might change tactics mid match – as you're able to swap character roles on the fly. For instance, turning one of your charges into a medic and the other into a sentinel (a defensive role) when the going gets tough.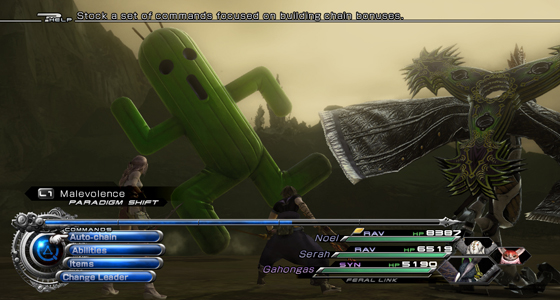 You'll peyote for your crimes!
For those who delight in this managerial type role, it's all well and good, but as a veteran of Final Fantasy games past, it all feels rather removed and impersonal – a complaint made of its predecessor. In a failed attempt to paper over the cracks, larger foes can trigger quick time events – the successful completion of which causes damage to said foe, but it's really nothing particularly game changing.
Beastly sidekicks
The other big addition to combat is Serah's ability to unleash monsters during fights, up to three customisable beasts can be integrated into your line-up. Yet it's a premise more exciting in principle than in practice, because, once more, you have no direct control over them. Indeed, only Serah and Noel are controllable directly but never simultaneously.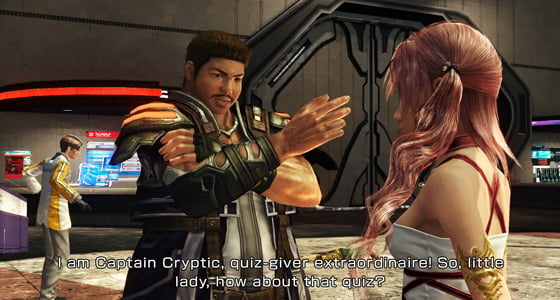 Talk to the hand
Once the adventure-proper begins our heroes band together in a bid to traverse time to save Lightning and, you know, save life, the universe and everything. The unique aspect being that the same areas can be revisited during different time periods, in a nod to the likes of Majora's Mask. It's by far the best aspect of the game and an idea which might have been best utilised to form an entirely new entry into the franchise.
Admittedly, the game's beautiful environments are a joy to behold, but their exploration is less rewarding than you'd hope and certainly not in the same league as FF VII's locations, to once more compare to this entry to its rich heritage.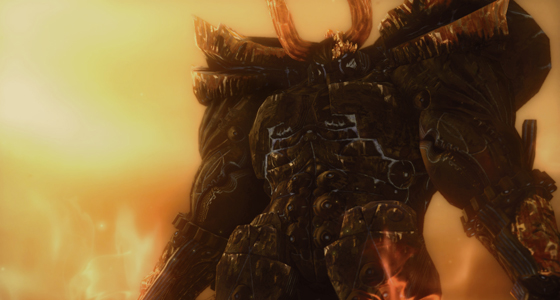 My my, what big horns you have
On occasion, NPCs might task you with random errands, but never anything that takes any thought beyond following Mog – Serah's pet moogle – to the exact location, before fighting yet another monster guardian.
Verdict
I went into Final Fantasy XIII-2 of a mind to have a fantastic time. I'd been blown away by the many trailers of the game, was excited by the noises emanating from Square Enix – regarding how determined it was to make up for the wishy-washy FF XIII – and was all set-up to rediscover my love for one of gaming's most treasured franchises.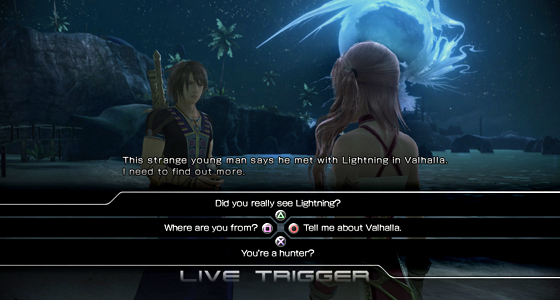 Light topic of conversation
Yet despite featuring some gorgeous visuals and mind-blowing effects, there's nothing beneath the exotic exterior, nothing to make you want to explore the game fully, or to return for the 50 hours or so of plodding gameplay. If Square had decided to go the whole hog and simply put out a CGI film as sequel to FF XIII, I'd have been all over it, if only for the action sequences. Sadly, that's kind of what has happened, the problem being that Square Enix is trying market it as a game. ®
More Games Reviews

Soul Calibur
V
Star Wars:
The Old Republic
Need for Speed:
The Run
Saints Row:
The Third
The Legend of Zelda:
Skyward Sword