Original URL: https://www.theregister.co.uk/2012/02/01/review_car_kia_rio_crdi_ecodynamics/
Kia Rio 1.1 CRDi EcoDynamics
Very clean, very green three-pot diesel
Posted in Science, 1st February 2012 12:00 GMT
Review A Kia? Reviewed by Reg Hardware? No, we've not taken leave of our senses, because the new Rio EcoDynamics is being pitched as the most fuel-efficient and least-polluting car - when it comes to CO2, anyway - you can buy without an electric motor poking its nose into the drive train.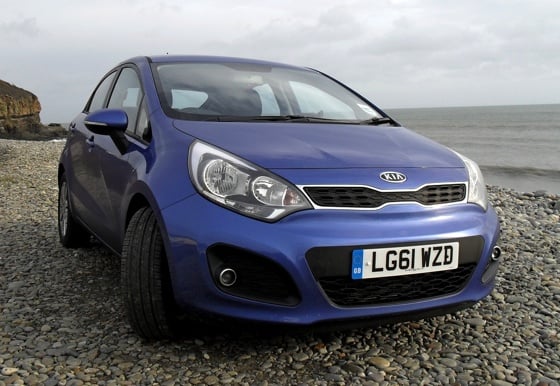 Not a bad looker
It's also a graphic - not to say frightening - demonstration of how far the Koreans have come as car makers. Less than a decade ago, South Korean motors where a bad joke, bought because they were cheap and had long warranties. They were also styleless, primitive and utterly wretched.
You only have to take a quick look at the exterior of the new Rio - partly styled at Kia's German studio - to see things have come on a way. It's not the most individual of shapes but it's far from unpleasant to look at and more thoughtfully sculptured than some of the recent efforts from the likes of Nissan and Toyota.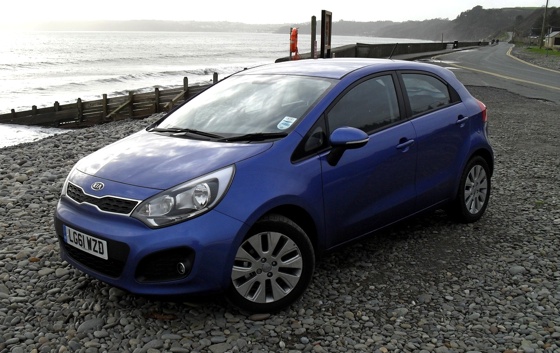 Tight lines and shapely headlights
The Eco promise in the name is delivered by a 1.1-litre three-cylinder diesel engine which, on paper, returns an average fuel consumption figure of 88.3mpg and emits 85g/km of CO2. It's a pretty hi-tech oil burner too, packing twin cams, common rail injection and a variable vane turbo charger.
My test car was the slightly less efficient CRDi 2 Air with 16in alloys, air conditioning and a combined economy figure of 74.3mpg. On a trip from Manchester to Swansea and back - down along the M6/M5 and back up the A483 - I averaged 67mpg on the motorways and 58mpg on the A-road return journey, and I wasn't hanging about.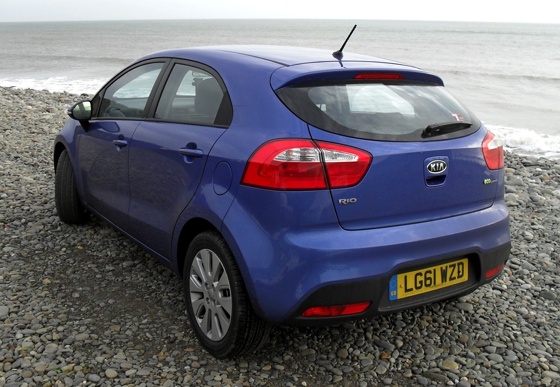 The rear spoiler design is unique to EcoDynamics
The only engineering rough edge rears its ugly head when you first turn the key. When started from cold, there is rather more noise and rattle than you get from the best small diesels made by Citroën or Renault.
Long range runner
On the brighter side, the engine warms quickly, revs willingly and is impressively quiet at cruising speeds. And it delivers a handy 125 lb-ft of torque between 1500rpm and 2750rpm, making it reasonably flexible despite longer gearing than the other models in the range.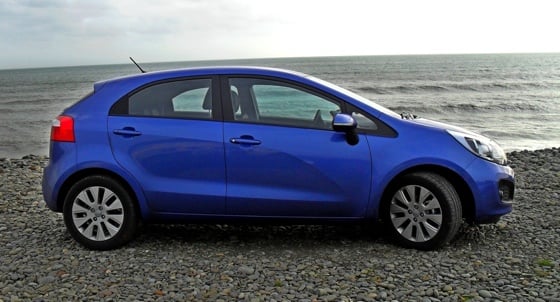 Put your foot down at 60mph in fifth, and while the Rio doesn't exactly surge towards the horizon like Usain Bolt, there is still a noticeable increase in speed. So keeping up with the reps in their Vauxhall Insignias isn't a problem.
Absolute performance is less impressive. With only 74bhp on tap, the 0-60mph sprint takes a leisurely 15 seconds, and the top speed is only 98mph. Still, on the open road the 9.5-gallon fuel tank gives a real-world range of well over 600 miles, so think how much time you will save not standing about in petrol stations.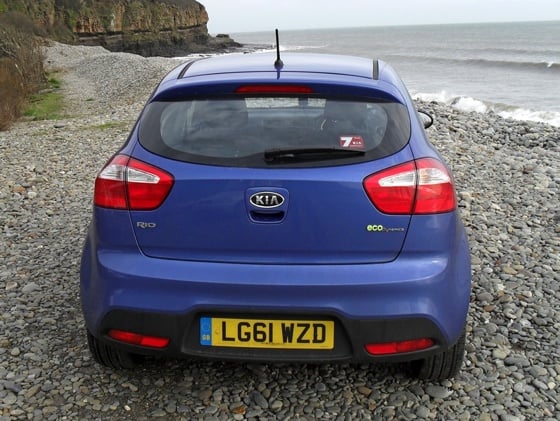 The get the maximum from each drop of juice, the Rio Eco rides on low-resistance tyres, sits a few millimetres closer to the road than its less green siblings, and has been aerodynamically fettled with a modified front air-damn, wind-cheating wheel covers and a rear spoiler. It also comes with a start/stop system and a gear-change nagger.
The interior is very spacious, as you'd perhaps expect for a car that is on the large side for a supermini and is rather well trimmed. OK, the plastics and fabrics aren't quite up there with the best from Ford or Volkswagen, but there really isn't much in it.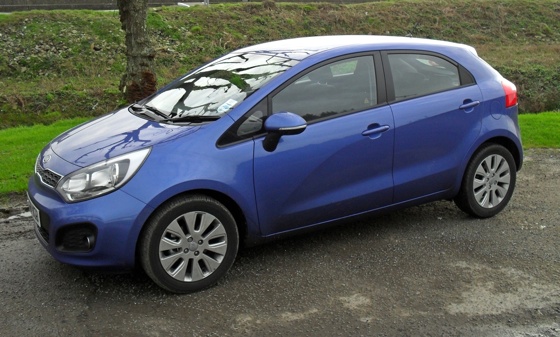 You don't get climate control unless you go for the one of the EcoDynamics Air models. That's not because Kia is being tight-fisted but because using it cuts fuel economy to 78.5mpg and increases CO2 emissions to 94g/km.
Inside the Kia Rio EcoDynamics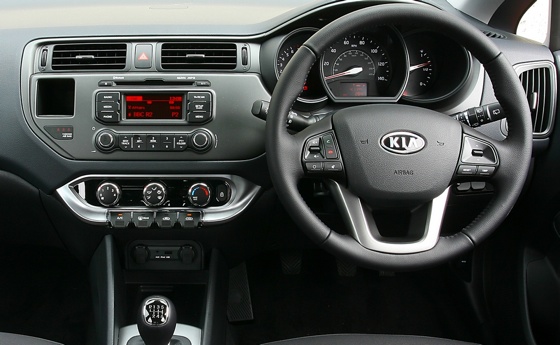 Six-speed box, two 12V chargers, USB and 3.5mm and a foot rest - nice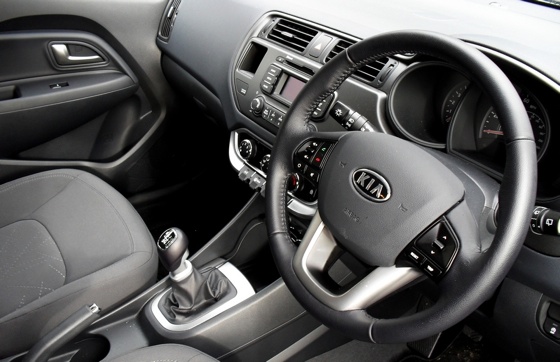 Cabin quality not too shabby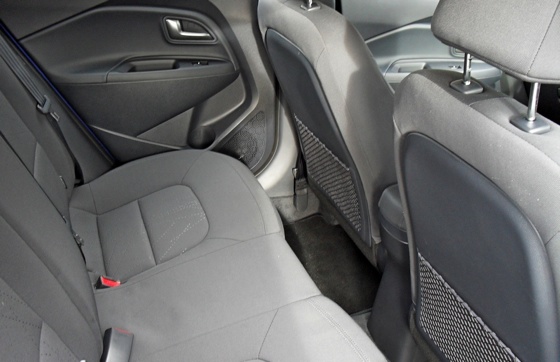 Room in the back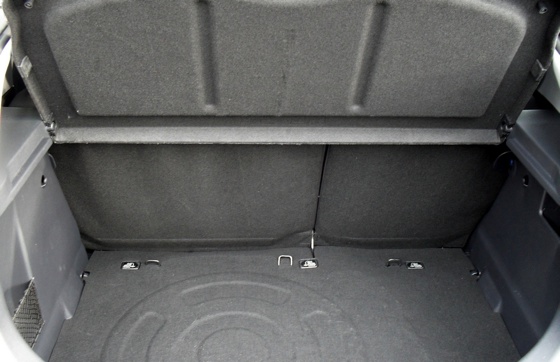 Boot impressively deep
Attention to detail
Climate control aside, the basic model has a decent amount of kit, including a USB port and 3.5mm socket for your music - though the sound the stereo makes can only be described as acceptable - Bluetooth phone connectivity, folding wing mirrors, and all the cubbyholes, cup-holders and airbags you could wish for.
The seats are comfortable, and the driver's footrest is perfectly sized and placed. The gear change for the six-speed box is slick and precise, and the pull-to-engage-reverse collar on the gear knob superbly engineered.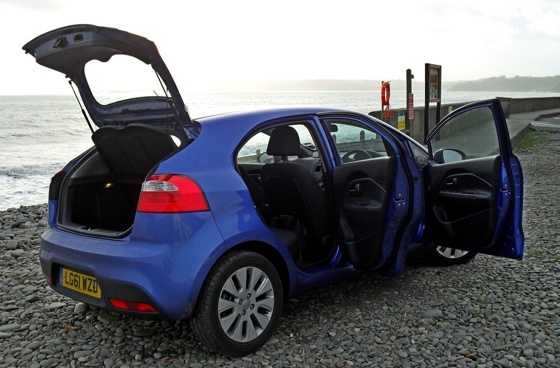 Five doors for good access
There are also other signs of serious attention to detail. The steering wheel and stalks are laid out in a manner that lets you easily see the latter through the former, and there are two 12V outlets so there are no arguments about who gets to charge their mobile phone first.
Get out on the open road and again things are again surprisingly good. Ride and handling are both perfectly competent, and road noise is kept well at bay. The steering feels a bit vague around the dead-ahead mark but you never get the felling that things aren't heading in the direction you intend.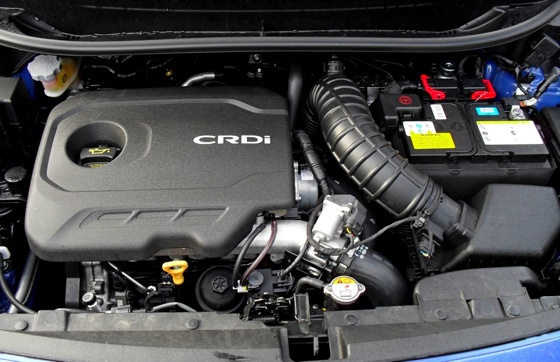 The 1.1-litre three-cylinder diesel is very economical - and pretty refined too
At just shy of twelve grand - the air conditioned model is £800 more - the Rio EcoDynamic isn't a cheap car though pound for pound you do get a lot more space than with a five-door diesel Vauxhall Corsa or Ford Fiesta, neither of which will get as far down the road on a gallon of derv as the Rio.
Verdict
Extremely frugal, well made, not unreasonably slow and impressively spacious - not the most exciting epithet a car can have, I grant you, but the Rio is still a thoroughly competent piece of engineering that will appeal to anyone who wants a versatile five-door hatch with a cast-iron warranty along with minimal fiscal and environmental impact. ®
More Car Reviews

Nissan Leaf
2011's Best...
cars
Toyota
Yaris
Smart
Fortwo
Fiat 500
TwinAir