Original URL: https://www.theregister.co.uk/2012/01/31/sgi_mis_server_jbod/
SGI slings out departmental filer box
Modular InfiniteStorage
Posted in The Channel, 31st January 2012 21:02 GMT
SGI has produced a modular version of its InfiniteStorage product for the departmental NAS market that comes as a storage server or a JBOD.
SGI's InfiniteStorage line is a set of high-end storage arrays delivered as RAID-ed arrays or simple JBODs (Just a bunch of disks). They range from the entry-level 4100 – with up to 122 disks and 224TB capacity – to the 16000, which has up to 1,200 SAS, SATA and SSD drives in 60-bay drawers, 300,000 random IOPS to disk, and 3.6PB maximum capacity.
There was a with a BlueArc-based file serving version as well but that product arrangement terminated 18 months ago.
Set besides the current 16000, the SGI MIS systems have increased the drive packing density. The SGI MIS Server can have 72 x 3.5-inch drives (to 243TB) or 144 2.5-inch ones in its 4U enclosure, while the MIS JBOD can have up to 144 x 9mm 2.5-inch drives, filling up the space taken by the MIS Server's processor cards.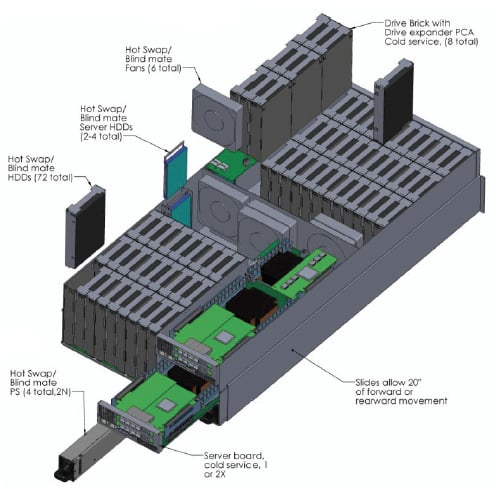 SGI Modular InfiniteStorage schematic
The servers, NAS controllers, are 1 or 2-socket Jefferson Pass motherboards with LGA Xeon ES-2600 CPUs and 4, 8, or 16GB of DRAM per processor. With two server controllers, a high-availability configuration, the array drives are accessed through a SAS switch with failover.
Supported access protocols are NFS and CIFS.
The drives come inside modular drive bricks which can be stuffed with 9 x 3.5-inch disk drives or 18 x 2.5-inch disk or solid state drives. the MIS Server can have 8 drive bricks (216TB max) and two motherboards plus up to four processors in its 4U enclosure. Customers and SGI partners can stuff the thing with 144 SSDS instead of the 72 x 3.5-inch HDDs to get the maximum possible IOPS performance instead of the highest capacity.
The JBOD version can pack in nine drive bricks. You cannot mix SAS and SATA disk drives in the same enclosure but you can mix SSDS and disk drives. The drives are hot-swappable as are the power supplies and other components.
The network connectivity includes 2 Gbit E ports per motherboard and up to 4 PCIe cards offering two 10Gbit E ports, 2 or 4-port GbitE or four 8Gbit/s Fibre Channel ports. RAID levels 0, 1, 5, 6 and 10 are available.
An SGI D-Rack can have up to 2.37PB of capacity and 40 processors using the MIS enclosures, with SGI saying this is great for data centres that need to optimise their use of floorspace and cooling costs. The components are hot-swappable from either the front or rear of their containing rack. SGI makes the point that customers can adapt this product as needs develop and change.
O/S support runs to Windows 2008 R2 SP1, SLES 11 SP1, and RHEL 6.2. VMware certification is in process.
Rod Evans, SGI's EMEA VP, said the MIS Server and JBOD are release one of a product that is going to be developed more. A coming phase two will see thin provisioning, snapshots and replication added. Data can be tiered across drive tiers today using SGI's DMF facility.
Future developments in phase two include more integrated, appliance-like systems with a focus on Gluster, OpenStack and Hadoop, and possibly Nexenta (ZFS). There will be a focus on selling the systems through OEMs and VARs because of their configurability. For example, media VARs could build Sun Thumper-like systems to support media-processing applications.
Both the SGI MIS Server and JBOD are available for pre-order with pricing available on request. ®