Original URL: https://www.theregister.co.uk/2012/01/31/product_round_up_ten_a3_printers/
Ten... A3 inkjet printers
Poster campaigners
Posted in Personal Tech, 31st January 2012 12:00 GMT
Product round-up The most probable reasons for printing A3 documents are 1) posters or folded A4 newsletters, and 2) large photos. The types of printer needed for these two requirements are different. For posters and newsletters you want a machine intended primarily for plain paper print and it will save time if it can print duplex. For photos, you're more interested in high quality output, often with more than four ink colours in the mix.
Both of these requirements are covered here and we look at single-function and all-in-one devices, too. Prices vary widely, so you need to match the machine as tightly as you can to your printing needs.
Canon PIXMA iX6550


This is a five-ink, medium-format printer which can handle paper up to full-bleed A3+. Paper trays are telescopic, so you can save space if you only print A3 occasionally. Physical controls are minimal and there are no card slots or a USB/PictBridge socket. The rear USB is the only data connection. Plain paper print at up to 9.3ppm is good and photo print, at 52s for 15 x 10cm and 2:33 for A3 is very good. Page costs are around 3p for ISO black and 8.2p for ISO colour. Print quality is up to Canon's usual high standard and the typical price of £160 is low for this class of printer.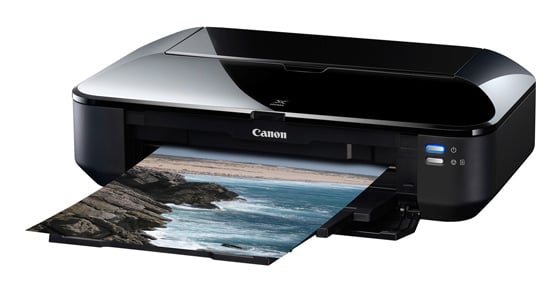 Reg Rating 75%
Price £199
More info Canon
Canon PIXMA iX7000


Although primarily aimed at small office print, this A3+ printer can also put out very respectable photos. There are three paper paths, including a 250-sheet cassette, though again no card or PictBridge connections. You do get Ethernet as well as USB sockets, though. I saw A4 print speeds of up to 8.6ppm, a 15 x 10cm print took 53s and an A3 photo completed in 2:50. Print quality is good on both plain and photo stock and running costs are fair, at 2.4p for ISO black pages and 5.5p for colour. This machine is heavily discounted, so you should be able to pick one up for around £300, though this is still not cheap.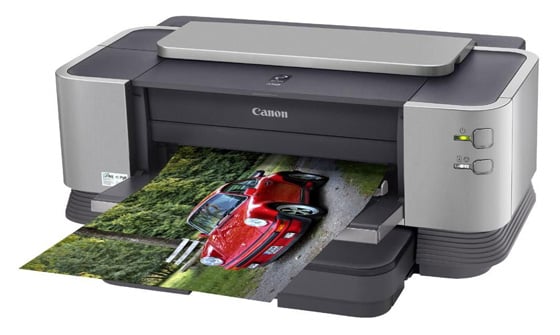 Reg Rating 70%
Price £429
More info Canon
Epson Stylus Office B1100


Another primarily SOHO machine, capable of A3+ print, this printer has a couple of interesting takes on wide-format print. For a start, it's five ink cartridges include two identical blacks, which feed the print head simultaneously – a higher capacity single cartridge would make more ecological sense. No card slots on this machine and just USB at the back, but plain paper print speed, at a measured maximum of 12.2ppm, is higher than the competition. Photo prints are slower though, from 2mins 13s for a 15 x 10cm to 4:48 for A3. Black text quality is a bit rough round the edges, but photos are good. Running costs are comparatively low with ISO black costing 2.5p and colour costing 5.8p.
Reg Rating 70%
Price £240
More info Epson
Epson Stylus Photo R2000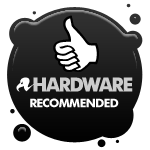 One of few A3 printers designed specifically for photo print, it has a full complement of eight inks. As well as the normal CMYK, it adds red, orange, photo black and a gloss optimiser. This makes the printer particularly good at skin tones and its photo output is the best in the group. It also has a front panel PictBridge socket and a CD-DVD carrier, so you can print direct to disc. Speeds are fair at 59s for 15 x 10cm and 3mins 56s for A3. Running costs are surprisingly low, even with the extra inks, at 1.8p for ISO black and 4.9p for ISO colour. The printer itself is pricey, though.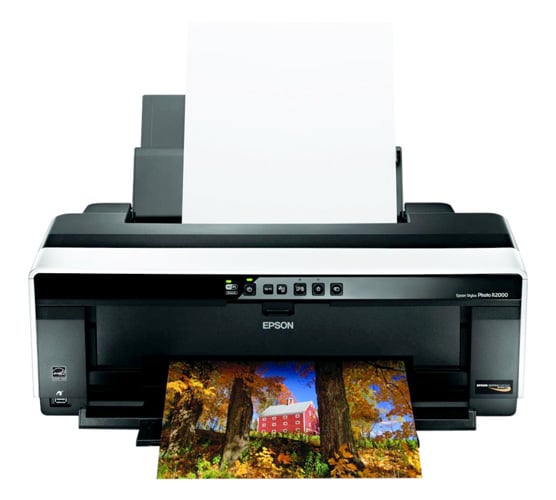 Reg Rating 80%
Price £420
More info Epson
HP OfficeJet 7000 Wide Format


This is a fairly conventional design for HP, with a telescopic feed tray at the front and an output tray positioned directly above. There's no single-sheet feed and there are no card or PictBridge sockets. The four ink cartridges make this small-business-based printer straightforward to maintain and it comes with network as well as USB connections. The top speed we measured was 8.8ppm, though HP claims 33ppm in draft mode. Since the printer can take up to 52s before starting a print job, this is more daft than draft. Print quality is not up to HP's normal standard, though print costs of 1.8p and 5.7p for black and colour are good.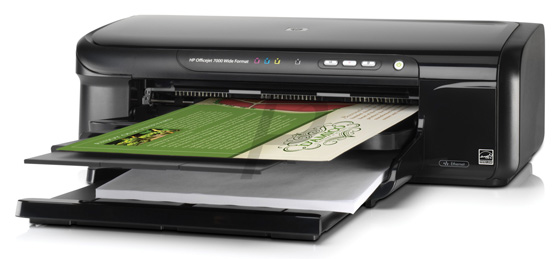 Reg Rating 60%
Price £179
More info HP
HP Officejet Pro K8600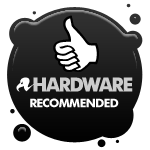 This printer uses HP's high-capacity ink system, where the cartridges sit behind a smoked cover at the front of the machine and are attched by tubes to the print head. This means its running costs of 0.9p and 3.6p for ISO black and colour are easily the lowest in this group. The machine itself is conventionally designed, using a front feed tray with an exit path on its top cover. We saw a maximum speed of 11.3ppm, which is comparatively fast and print quality from the 1200dpi heads is well up to general SOHO use on both plain and photo paper. A discount price of around £200 makes this a good A3 printer for higher workloads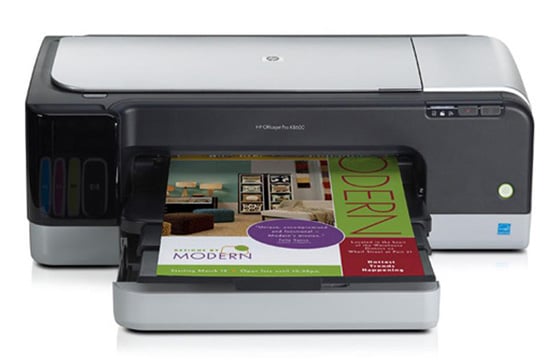 Reg Rating 80%
Price £292
More info HP
Brother MFC-J5910DW
 all-in-one

Brother makes a substantial range of SOHO A3 all-in-ones, with this machine sitting at the lower end of the range. It's similar to some of the company's A4 alternatives, but with a wider carriage – its scanner is only A4, so it can't scan or copy anything larger. However, it can handle duplex print and offers full fax iPhone and Android wireless print. It prints at up to 10.4ppm and can produce a five-page A3 print in 2mins 13s. Print costs, at 1.1p and 4.6p for ISO black and colour pages are very good, but plain paper print quality lets it down, with a degree of fuzziness and jaggies.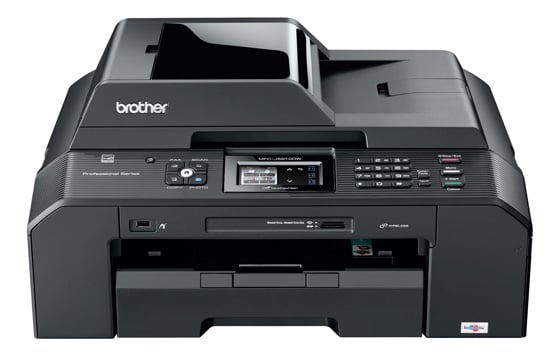 Reg Rating 65%
Price £215
More info Brother
Brother MFC-J6510DW all-in-one


This machine is a step up from the MFC-J5910DW, as it offers an A3 scanner as well as a wide carriage printhead. Like the cheaper machine, it offers photo card and PictBridge sockets and this one has Brother's trademark wide-aspect LCD display, too. Both machines have the advantage of a wireless connection, and this one has Ethernet as well as USB. It prints at up to 9.1ppm and can produce a 15 x 10cm photo in 1:10. An A3 photo print took 3mins 38s, which is also very reasonable. Page costs are good at 1.1p for ISO black and 4.8p colour. Unfortunately, again, the print quality lets the machine down, producing plain paper prints which looks fuzzy and imprecise.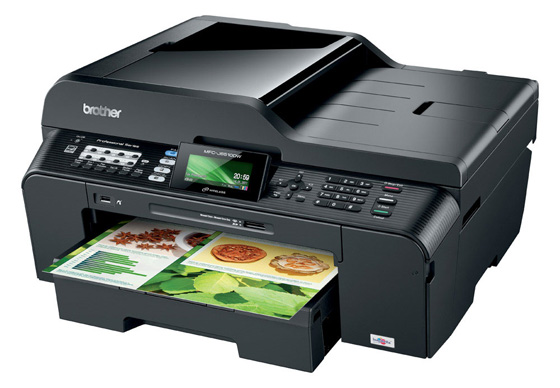 Reg Rating 60%
Price £331
More info Brother
Brother MFC-J6910DW all-in-one

One step up again and this wide carriage all-in-one has everything the Brother MFC-J6510DW has, with a couple of refinements to justify the higher price. Perhaps the most valuable is a duplex scanner, so you can scan and copy duplex documents up to A3, in a single job. Its wide-aspect LCD display is a touchscreen and it has twin, 250-sheet paper trays, so you can load A3 and A4 paper simultaneously. Top speed is 10ppm and a 10-page A4 duplex copy took 4:03. Print costs are the same as for the MFC-J6510DW, as it uses the same cartridges, but again it's the overall print quality which prevents a recommendation.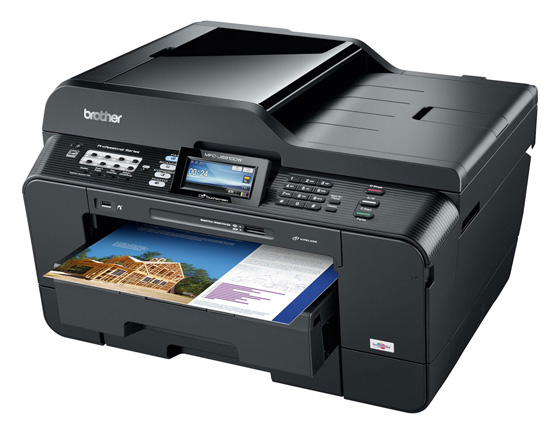 Reg Rating 70%
Price £479
More info Brother
HP Officejet 7500A all-in-one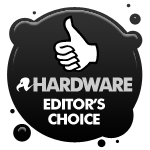 The only other major manufacturer to offer an A3+ all-in-one is HP. This machine, like Brother's MFC-J5910DW, is a halfway house, with an A3 print engine but only an A4 scanner. It's a lot better looking than the Brother machine, and incorporates a full touchscreen control panel. It also includes card readers and wireless connection and adds in HP's ePrint Internet printing. It doesn't offer duplex print, though its normal print speed of 9.0ppm is some compensation. It can also produce a 15 x 10cm photo in 40s and an A3 photo in 3mins 30s. Print quality is much better than Brother's and running costs, at 1.6p ISO black and 5.8p colour, make it cost-effective. ®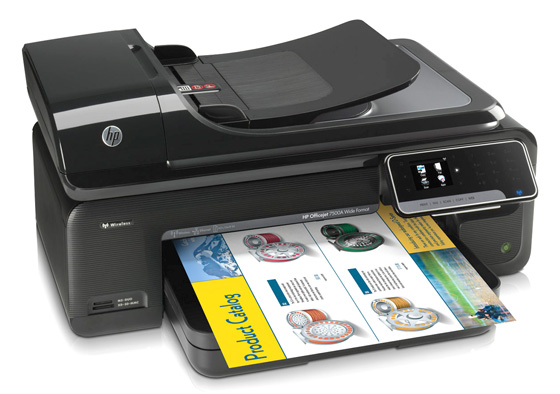 Reg Rating 85%
Price £169
More info HP