Original URL: https://www.theregister.co.uk/2012/01/31/amazon_retailer_eyes_dim_rich_buyers_with_million_pound_laptop/
Dim-but-rich buyers targeted with million pound laptop
Hang on, it's only a Samsung...
Posted in Personal Tech, 31st January 2012 10:27 GMT
Can this be the world's most expensive laptop?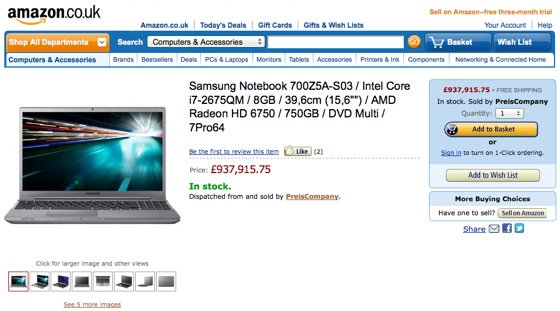 Certainly anyone mad enough to cough up almost £1m for this Samsung Series 7 notebook will only get themselves a machine with a standard spec: 2.2GHz Core i7 CPU, 8GB of memory, 15.6in screen, AMD Radeon HD graphics and all the other stuff you'd expect to find on a mainstream laptop these days.
At least Amazon-hosted retailer PreisCompany - based in Klettbach, Germany and by run by one Matthias Nauber, according to Amazon's seller crib sheet - has the decency to include free delivery in that bonkers price.
PreisCompany has a second Series 7 up for grabs for the 'discount' price of £650,772.00, but the spec isn't as good as the more expensive, £937,915.75 model.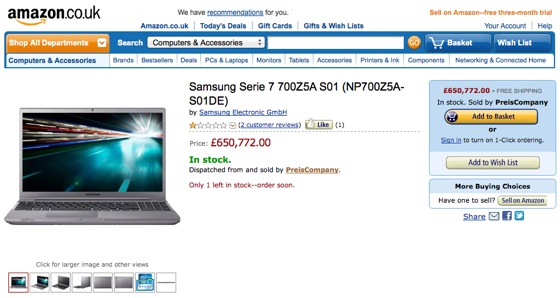 Decimal point cock-up? We reckon so.
Canny consumers will instead buy from Amazon itself. Shop around and the higher-spec machine can be yours for a penny under a grand. ®
Thanks to Dermot for the tip