Original URL: https://www.theregister.co.uk/2012/01/30/review_games_soul_calibur_v/
Soul Calibur V
Blades of glory
Posted in Personal Tech, 30th January 2012 12:07 GMT
Review Ah, Soul Calibur, a game where over-muscled beefcakes and scantily clad teen girls clash in violent, weaponised mortal combat. Then, having ripped each other a new one, said combatants dust themselves off ready to battle the next day. Maybe it's just me, but I'm having a little trouble with the believability factor here; mind you, at least the fighting part is entertaining enough.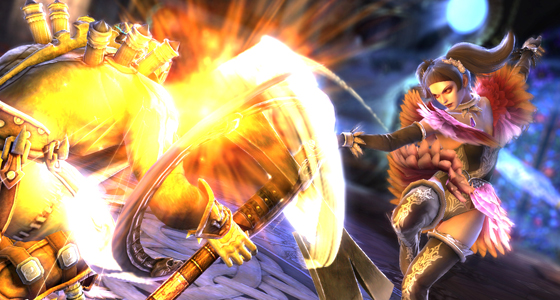 Face the light
Once more the series tries to absorb us in its tale of chosen warriors, magical swords (Soul Edge, Soul Calibur), good versus evil and yada, yada, yada... To be honest, the mythology and character relations are, by now, sufficiently muddled that it would take a complete reboot to have the story and its world have any real impact.
Suffice it to say that a bad guy wielding the cursed sword Soul Edge holds the land in his iron gauntlets and can only be stopped by a brave and destiny-filled knight. Step in Patroklus, a new addition to the series roster who, shock of shocks, gives said bad guy a whupping, all in the name of saving his sister Pyrrha.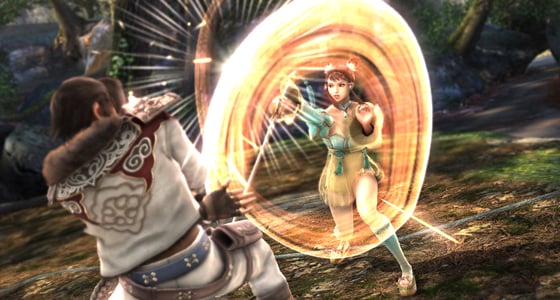 Circle of strife
For most, the story is merely a conduit enabling encounters with very nearly the complete list of Soul Calibur fighters. If nothing else it acts as a training centre where the comprehensive character move lists and combos can be learned and skills honed before plunging into local or on-line multiplayer.
Soul Calibur's fighter line-up has always benefited from a diverse array of body types, weapon types and disciplines and does so here. In fact, some of fights you'll witness are downright comical – a waif-like girl going up against a hammer wielding giant standing twice her height and of four time her girth, for instance.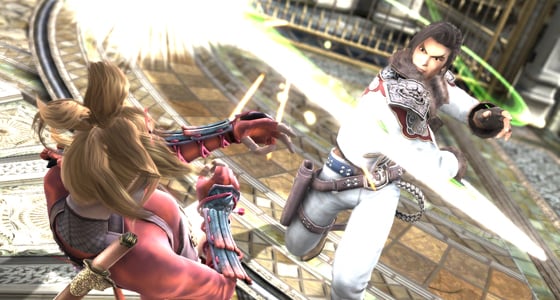 Go for a slash
It's testament to the developers that – rather than such battles descending into complete farce – the animation, character models and relative speed and strength of each fighter somehow balances out.
Mix and match
More impressive still would have been the integration of fluid move animations and stances depending on the opposition – so that the mere scrap of a girl couldn't fling the 500lb behemoth ten foot into the sky, like so many rags.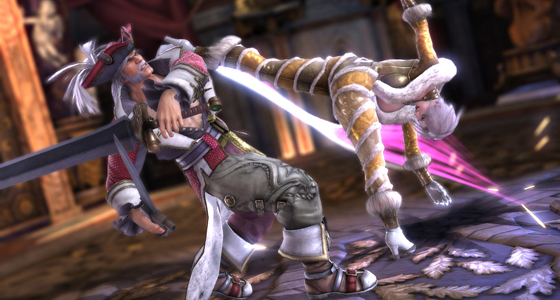 Heel some wounds
However, with that still seemingly impossible with current technology the balancing at least ensures that his might is undone by her speed, at least, it can be in the hands of a talented enough player.
Those who have seen the game's box art will know, Assassin's Creed stalwart Ezio Auditore fills the cameo role once played in previous Soul Caliburs by Link, Darth Vader, Spawn and more. Sensibly, Ezio is reasonably simple to direct and so a perfect choice for first time adopters. He's also a natural fit and hoot to play as, combining as he does ranged attacks with his patented hidden blade swipes when up close.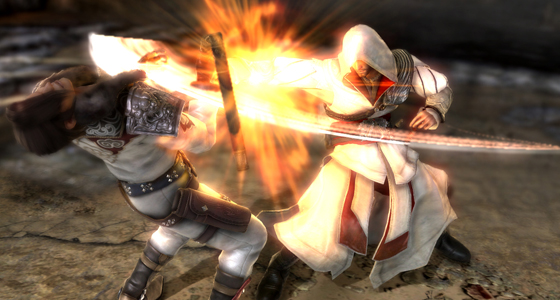 Assassin's bleed
Other new characters can be a tad trickier to perfect, the werewolf spirit unleashing Zwei, for instance, demanding a real grip of his repertoire of moves before combos and specials can be delivered with anything like success.
He does, like all characters, have the standard button combination when it comes to releasing the game's great leveller, the 'Critical Edge' attack, which is charged and delivered in the same way Ultras Combos are in Street Fighter IV.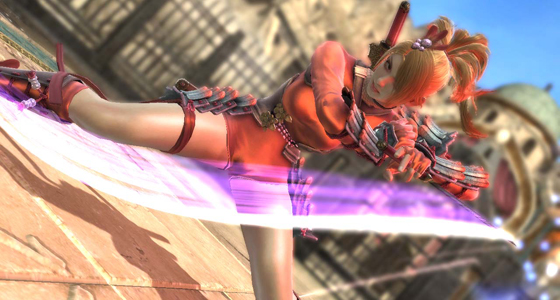 Purple haze
More subtle – and economical on the power bar – than the 'Critical Edge' is the 'Brave Edge' attack which can be used to beef-up a strike or even prolong combos with practice. As a self-confessed Street Fighter aficionado however, the links between combos never feels as deft here, while the integration of a block button never feels as natural as simply pressing away from your opponent. It's almost as if such divergence from Capcom's classic is in a bid to force distinction rather than add benefit.
School of block
Animations between attacks are swifter than in SCIV though, leading to a welcomed increase in tempo throughout; while load times between rounds and bouts are similarly streamlined – it's as if the game is daring you to have that 'one last fight' which inevitably becomes twenty.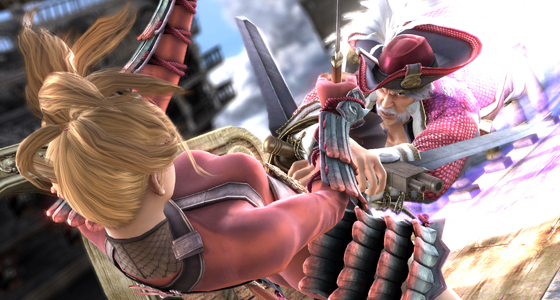 No country for old men
Another clever feature is the integration of a pretty exhaustive training mode which can be configured to teach combos, moves, counters, you name it – perfect for those looking to hone their skill with any or all fighters. There's even a visual guide to ease of use of fighters on the character select screen so newcomers might at least pick those fighters for whom button mashing will do.
As with all beat-em-ups these days, its success will be dependent on its generation of an on-line community. Developer Project Soul has stated time and again that Soul Calibur V's on-line code will be more rigorous than that of its much complained about predecessor.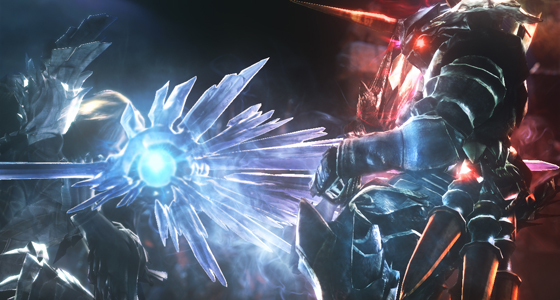 Ice to beat you
While a lack of players on-line at the time of review means I can't state that all is 100 per cent tickety-boo, my forays on-line have all proved smooth enough. The bespoke character creation options come into their own here too, the chance to create a unique fighter as ludicrous as you'd want is a game in itself, and an important one given the lack of a Ryu or Ken like figurehead for the fan base to muster around.
Verdict
Soul Calibur has always been a series which has put giant swords and half-naked female posteriors above the subtleties of the more nuanced fighters out there, and number five proves no exception to the rule. This time, however, a vibrancy of animation, a speed of sword thrust and depth of move repertoire mean it's more in line with the rest of the beat-em-up crowd.
For those willing to put in the hours, there's a fun and tactical fighter to be discovered, though only time will tell whether the on-line scene will blossom as Project Soul would hope. ®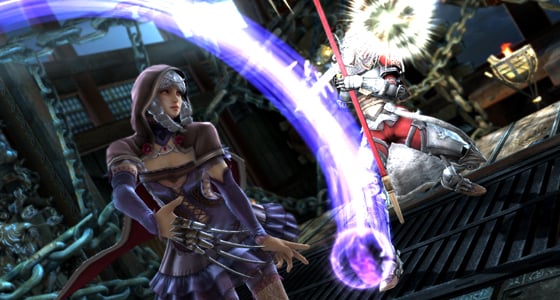 Problem with purple balls
More Games Reviews

Star Wars:
The Old Republic
Need for Speed:
The Run
Saints Row:
The Third
The Legend of Zelda:
Skyward Sword
Assassin's Creed
Revelations