Original URL: https://www.theregister.co.uk/2012/01/26/iptv_week_netflix_vs_lovefilm_review/
Netflix vs Lovefilm
Streaming giants go head to head
Posted in Personal Tech, 26th January 2012 07:00 GMT
IPTV Week

This month, at long last, US video streaming giant Netflix finally arrived on UK shores, with a £5.99 all-you-can-eat offering. It was swiftly matched by the local incumbent, Lovefilm. The Amazon-owned company pitched a streaming-only option at an introductory £4.99.
But which is the best option for Reg Hardware readers, and is there really much difference between the two best-known names in video streaming?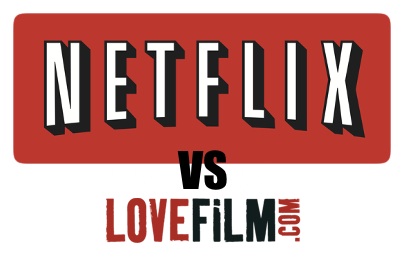 First things first, if you want physical DVDs, or games rentals, then your only choice is Lovefilm. For a few pounds more than the streaming package, you can add postal DVD and Blu-ray Disc rentals, a market Netflix isn't addressing in the UK.
But beware, some of Lovefilm's cheaper postal options include only a limited number of hours streaming per month.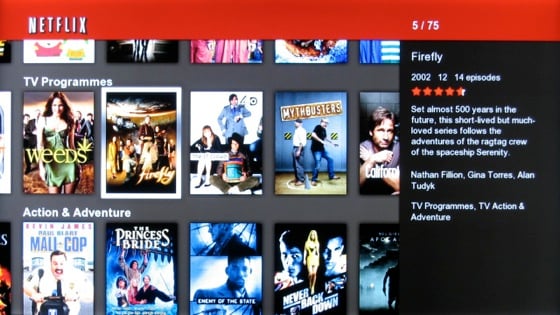 Browsing Netflix on the Samsung 8000
I tested both services head to head on a Samsung 8000-series TV connected by HomePlug AV powerline network tech to a broadband connection that averages a 16Mbps download speed.
Setup
Netflix was a simple service to set up, though the TV app directs you to the website. As you create your account, Netflix asks about various genres of film and whether you watch them 'Never', 'Sometimes' or 'Often', to help provide recommendations.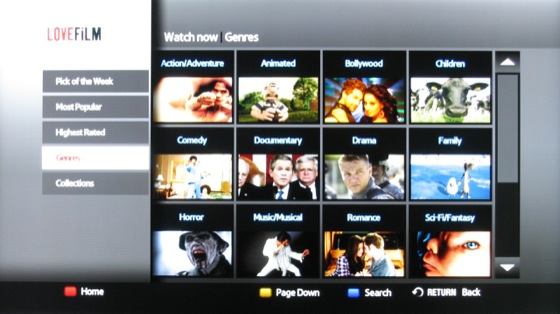 Browsing Lovefilm on the Samsung
Lovefilm can – apparently – be set up from the TV. But since I once tried a service called Sofa Cinema, owned by The Guardian but run by Lovefilm, I couldn't use the same email address. My postcode wasn't recognised, and the on-screen package choices didn't have the new streaming-only service. It was only by calling customer support that I was able to get up and running. Frankly, if I wasn't writing about it, I'd have given up with Lovefilm then and there.
Netflix
Price £5.99 per month unlimited streaming
More Info Netflix
LoveFilm
Price £4.99 per month streaming only (introductory price)
  £7.99 per month unlimited rental of one disc, with unlimited streaming
  £9.99 per month unlimited rental of two discs, with unlimited streaming
More Info Lovefilm
Interface
Both services have a broadly similar, grid-based interface, and navigating round them is straightforward, though Lovefilm provides extra options for its rental service, allowing you to select a film and request that it's delivered to you by post.
As is very often the case with online video services, I saw some odd categorisation errors. I'm mystified as to why Diana Ross vehicle The Wiz was in the Science Fiction category on Netflix, and how exactly Whoopi Goldberg's Fatal Beauty can be said to be like Starship Troopers.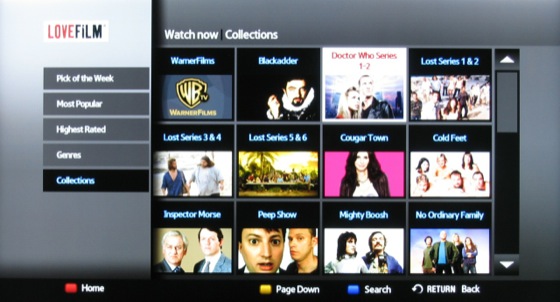 These quirks aside, Netflix does a good job of presenting content that you might want to watch, based on what you've recently viewed, and when you watch one episode of a series, the next will be cued up, so just a couple of clicks on the remote will play it.
However, at times, I did find myself caught by the slightly odd way in which the highlighted video is the second item from the left, not the leftmost, or the central one.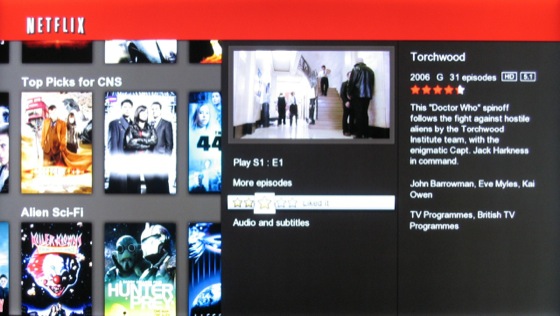 For TV series, Netflix auto-cues next episodes if they're available
Lovefilm's grid, by comparison, is a little less showy, and perhaps doesn't look quite as up to date. It also doesn't present TV series – where it has them – as elegantly. It also takes a few more clicks of the remote to get to, say, the genre listing.
But really, there's not a huge amount to choose between the two. Both offer a search facility to save you browsing through page after page of listings, with an on screen keyboard and instant search as you select each letter.
Content
Content is of course where these services live or die, and both firms have been announcing deals with film and programme makers recently. If it's films that you enjoy watching, then Lovefilm probably has the edge. It has all the Swedish Millenium Trilogy films, for example, while none of them is available on Netflix. similarly the Jake Gyllenhall flick Source Code is only on Lovefilm.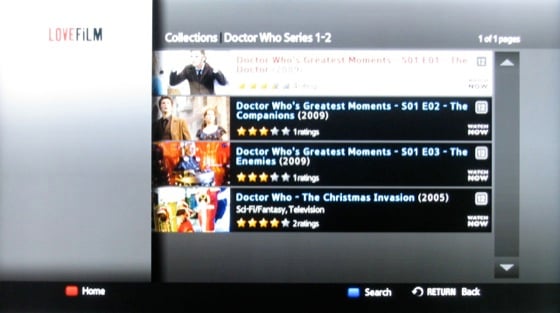 But, if you fancy catching up on, say, Doctor Who, you'll find all the new series on NetFlix. While Lovefilm's 'Collections' says it has series one and two, what actually appeared on my TV were three episodes of Doctor Who's Greatest Moments and one Christmas special. Another issue affecting Lovefilm is that not all content is available on all devices. For example, though the 1996 Doctor Who TV movie is available to "watch now" on the website, as are some other episodes, it's not accessible through the TV, surely where many users will want to see it. It's an area that Lovefilm says it's working to improve. For now, this is likely to confuse quite a few users.
Quality
Picture quality is another big issue, and Netflix has plenty of content that's billed as being in HD with 5.1 sound. The HD version of Armageddon certainly looks crisper than the standard definition alternative on Lovefilm, but – perhaps due to the use of Dolby Digital Plus – there was no sign of 5.1 audio via the HDMI-ARC connection back to my AV system.
Lovefilm doesn't yet offer HD, though it says it's hoping to roll it out as more of its customers get decent broadband.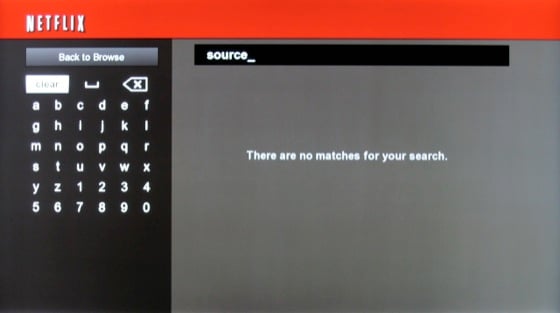 It's worth noting that neither service looked quite as slick when watching on the Mac as it did on the TV. The opening time vortex on the Doctor Who TV movie via Lovefilm was tremendously blocky. Overall, I'd class Netflix as slightly above DVD quality, if you pick an HD film, and Lovefilm as slightly below. But remember, the content itself will have an impact. A 1976 Johnny Cash concert i's never going to look as slick as more recent material.
Devices
Another consideration, of course, is whether or not you have a device that works with one of the services.
Netflix is available on some Samsung smart TVs, as well as the PlayStation 3, the Xbox 360, the Wii, and media players from Apple, Philips, Roku and Western Digital, plus Android and iOS, and some LG disc players.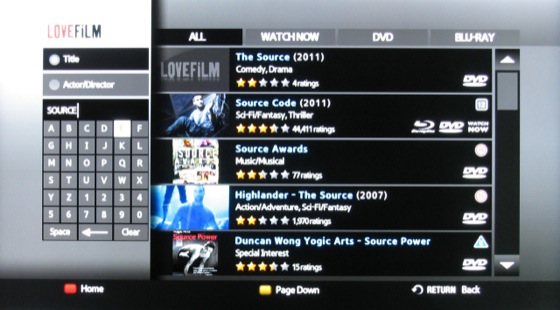 Lovefilm is on some Samsung, Sony and Cello TVs, the Sony and Microsoft games consoles, the iPad, a Digital Stream IPTV box, and various other bits of Sony home entertainment kit.
It's worth noting too that users of Linux and older Apple kit have been left out in the cold recently by Lovefilm's switch to Microsoft's Silverlight from Adobe Flash. Netflix too uses the Silverlight plugin for PC and Mac viewing, so open source fans will likely have to opt for disc rentals rather than online viewing.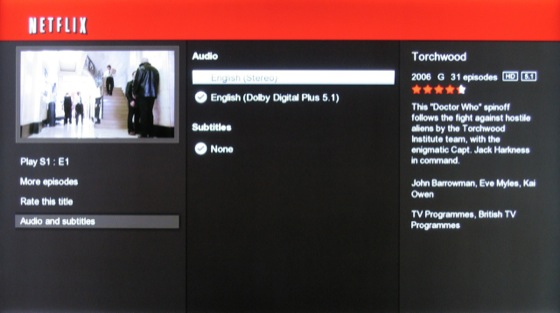 Netflix has HD and Dolby 5.1 options for some content
Making the choice
So, which should you go for? Ultimately, it will probably be the content that's the decider for many. Of course, you could pick both, and still not be breaking the bank. My personal choice would be Netflix, thanks to the larger number of TV shows available. But for others, the extra content available on disc from Lovefilm will make it much better value. ®