Original URL: http://www.theregister.co.uk/2012/01/25/review_orange_tahiti_android_tablet/
Orange Tahiti 7in Android tablet
Freshly squeezed fondleslab, anyone?
Posted in Personal Tech, 25th January 2012 07:00 GMT
Review

The iPad is all very well, but with its 9.7in display it can be just too big to cart around. Something lighter and more luggable could be the answer. Since there's no 7in iPad – and the BlackBerry PlayBook has very few apps – we're left with Android and even this smaller size is still relatively rare on Googleslabs.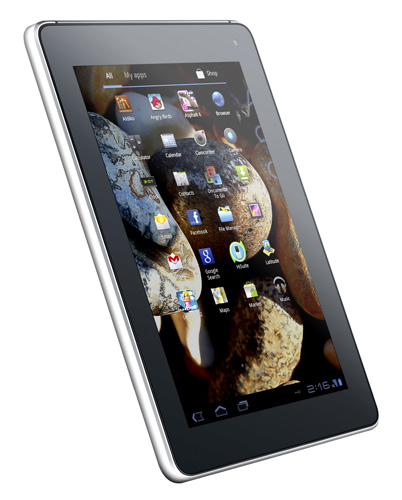 Handy Honeycomb: Orange's Tahiti
Sure, there's the underrated but pricey HTC Flyer with its curious stylus, but that's still only boasting the earlier version of Android intended for phones. If you want Honeycomb, the edition designed with larger devices in mind, it's hard to find many options (though more are imminent). Orange consistently produces affordable smartphones with its own footprint stamped onto it and this tablet is the logical development.
The Tahiti is a classy looking device and, at 390g, eminently carryable. Not super-slim like the Apple iPad 2 or Samsung Galaxy Tab 10.1, but it fits the hand well. Most of the cachet comes from the metallic back and edge, sitting round the screen in a way that looks slightly Apple-like, though don't tell the lawyers. The buttons are sparse but well-placed with the power button easily located. It's on the right edge in portrait use, or top if you're handling it landscape-wise.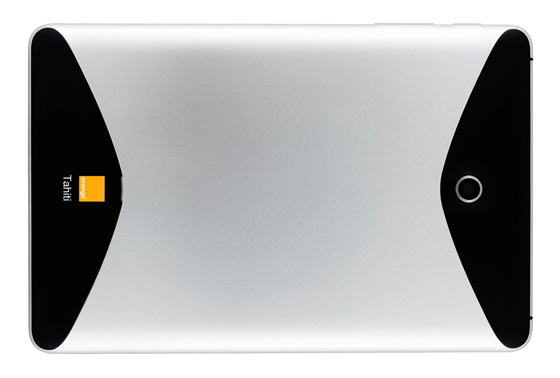 5Mp camera on the back and there's low-res one on the front for video messaging
Either way, it's better than Motorola's backside arrangement on its Xooms. Apart from the volume rocker, there are no other buttons, not even those backlit panels for Home, Back and so on that pre-Honeycomb tablets and phones often have. From Honeycomb onwards those buttons are part of the display. They sit at the bottom left of the picture alongside that recent and running apps shortcut.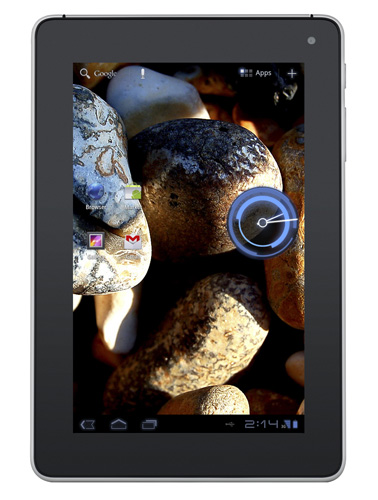 Home screen
The Tahiti's display is another reason it looks high-end. The 1280 x 800 resolution or around 215ppi, makes the screen look pin-sharp and while it's not AMOLED, it's bright and vivid. There's even a choice of resolutions: standard and high. The higher resolution does mean the shortcut icons are quite titchy, though you can see more on the screen at a time. Standard resolution is 1024 x 600.
Charging points
Like most tablets, the Tahiti charges from a dedicated charger rather than standard micro USB. And like many tablets it will last you days if you use it moderately or a decent number of hours (six or more) if you use it continuously. Of course, with Android, the basic OS is only part of the story. It's up to companies like HTC, Samsung and Orange to tweak and improve the system. But there's not much beyond vanilla Android here.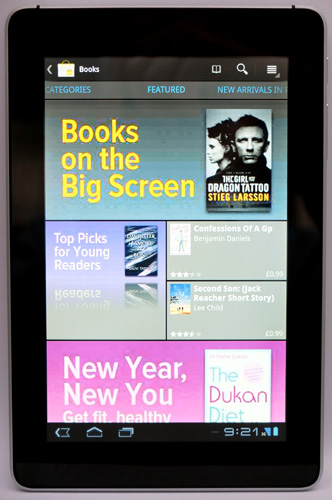 A good size for e-book reading
This is a shame. One of the things that sets Orange's own-brand smartphones apart is the range of Orange-only Android apps like HD Voice which offers crystal-clear call quality (when talking to another Orange HD Voice user).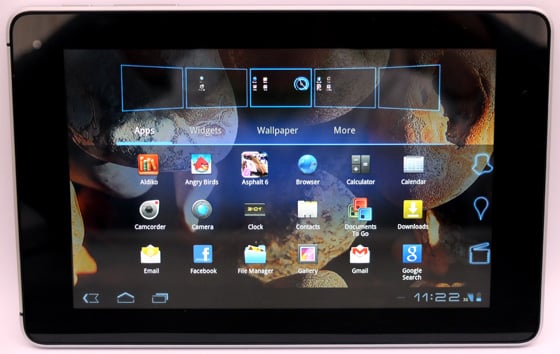 Landscape mode with Honeycomb window panes in the background
Then there's Signal Boost which enhances poor signal quality through your home wi-fi, also for Orange users only. Those wouldn't work on a tablet but I'd have liked some other Orange specials. Still, there are all those Android apps ready to add to your tablet's capabilities, even if the number of tablet-native apps is still small.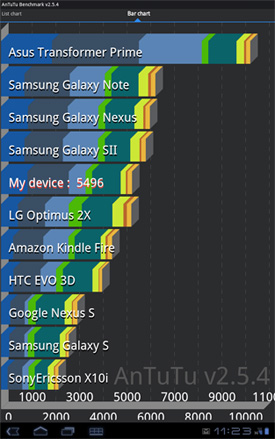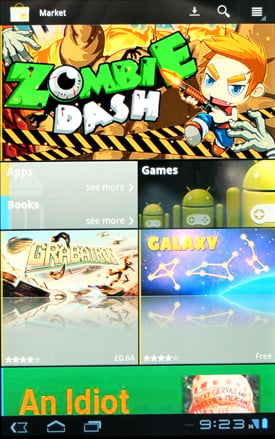 AnTutu benchmarking and gaming options abound
The Tahiti 1.2GHz dual-core Snapdragon CPU is quite nifty, and it shows. It notches up an AnTuTu score of 5496, which is a bit last year, but even so, where many tablets stutter and slow as demands increase, this 7in slate seemed to run swiftly, with no dawdling. The Orange Tahiti is a performer, no doubt, and its responsiveness makes it enjoyable to use.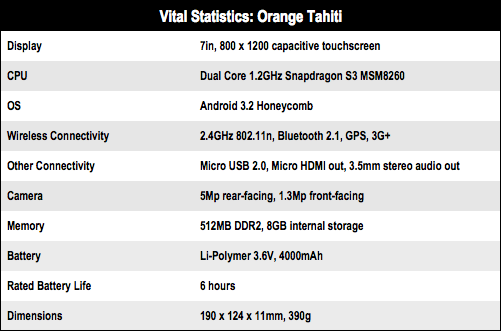 Contractual obligation
When it comes to browsing, it's pretty impressive. Log in to a Flash-heavy site and the video plays smoothly. In fact, in tests the playback was flawless, even at full screen and over 3G. Loaded with movies files, playback was similarly robust, although sound from the built-in stereo speakers was adequate at best, which is no great surprise for a tablet. It's also easy to muffle the output with your hand when holding it. Headphones, anyone?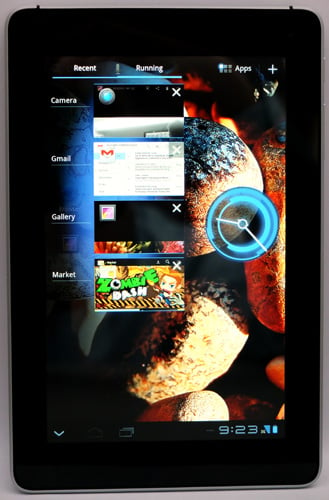 Widgets provide content overviews for different services
The camera is a more than respectable 5Mp, though there's no flash and shutter lag isn't entirely absent. Of course, a tablet remains one of the least manageable forms for a camera, so you'll only be using it for snaps. There's a micro SD card slot so you can expand on the built-in 8GB of memory – you'll need to if you plan on downloading a lot of apps or music.
Not every tablet features a front-facing camera so Orange should be applauded for including one here. It's a 1.3Mp snapper, so more than enough for shooting video of yourself or, more importantly, video calls. Skype video calls only arrived on Android tablets late last year, so this camera makes the most of it.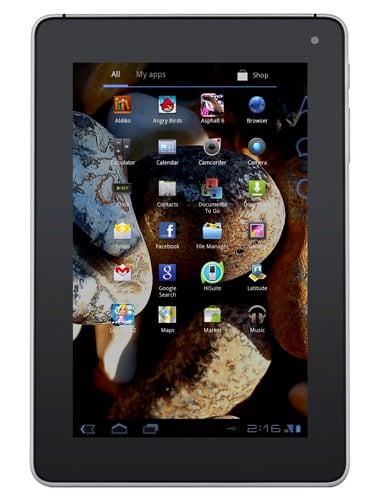 Neat and tidy tablet tie-in
So why would you buy the Orange Tahiti? It's good value if you don't want a big initial outlay – a two-year contract at £25 a month gives you 2GB of data a month and an initial price of £69. Of course, over the two years, this does add up. And while a lot of tablet data usage is from wi-fi sources, the increased portability of the 7in Tahiti means you may have more use for data on-the-go with this machine.
Verdict
This is an accomplished and attractive tablet that is easy to carry and use for extended periods. It has a great screen and an adequate camera. Though it doesn't yet have the latest Ice Cream Sandwich software, its hardware makes it capable of the upgrade. My only reservations are with the occasionally unintuitive Android methodology, rather than the tablet itself, as this is a neat piece of kit. ®
More Tablet and Reader Reviews

Asus
Transformer
Prime
Motorola
Xoom 2
Media Edition
Ten high-end
Android
tablets
Archos
G9 101
Sony
Tablet P