Original URL: https://www.theregister.co.uk/2012/01/25/iptv_week_tv_manufacturers_aim_to_put_oled_in_your_living_room_in_2012/
Telly makers aim to put OLED in your lounge in 2012
Another five years to wait for the tech to mature?
Posted in Personal Tech, 25th January 2012 16:12 GMT
IPTV Week

Five years ago, the display technology on the consumer electronics industry's lips was OLED. Screens made from an "active" matrix of organic light-emitting diodes - tiny components that contain molecules which emit light when an electric current passes through them - could produce a more colourful, higher contrast picture than those based on liquid crystal display technology - and consume less energy to do so.
And not merely ecologically more kind, OLEDs were hailed as better for your personal environment too. Mere millimetres thin, they would help make all our living rooms as minimalist as an Ikea catalogue showspace.
It didn't happen, of course. By the time Sony released the first commercially available OLED TV, the XEL-1, in Japan in October 2007, LCD technology was already improving to the point where only the most eagle-eyed of consumers could really tell the difference.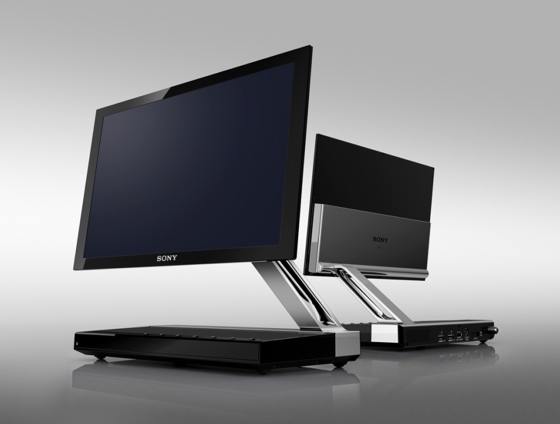 Pioneer: Sony's XEL-1
But it wasn't just LED array backlighting - smaller, less power hungry and whiter than the previous generation of fluorescent backlighting - that did for OLED. The XEL-1 may have been merely 3mm thick, but it was also only 11in in the diagonal. It size was inversely proportional to the price: Sony wanted more than ¥200,000 - more than £1500 at the time - for it.
Fine for the ultra rich and hotels with so many stars they've stopped counting, but not for Joe Public, keen to buy his first flat-panel television and eager to upgrade from an old 28in CRT to a 40 or 50 inch monster.
Sony pursued its OLED interests, bring the XEL-1 to the US in 2008 - retail price: $2500 - and to the UK the following year for a staggering $3500 a pop.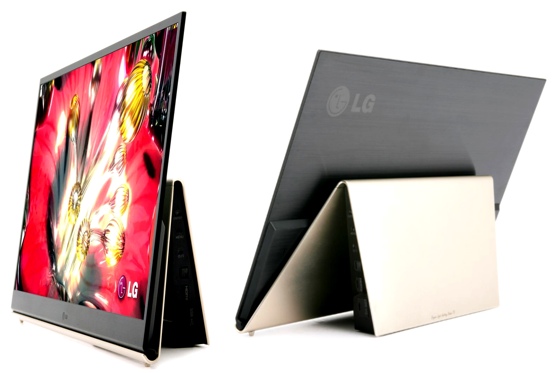 Getting bigger: LG's 15in OLED
Other screen makers were keen on the technology too. LG released a 15in OLED TV in 2009, and promised a 20-incher in 2010 and to add ten inches more in 2011. Long before then, Sony was scaling back its OLED plans as, seemingly, was Samsung and others.
Skip forward to 2012, and both Samsung and LG are once again shining a light on OLED technology. Both demoed 55in panels at this month's Consumer Electronics Show (CES) and promised to offer their screens commercially by the end of year.
Will they be any more successful than Sony's groundbreaking XEL-1? The size is right. Consumers have been keener of late on larger TVs, eyeing up 46in and bigger models on the back of prices driven right down by the vigorous competition in the generally loss-making LCD TV business, says market watcher DisplaySearch.
'Orribly Large Expensive Device?
But there lies the rub: a 55in LCD TV costs, on average, $3700 (£2375), says IHS iSuppli, another market watcher, whereas the first 55in OLED TVs are likely to set punters back around $8000 (£5134).
No wonder, iSuppli reckons only 34,000 of them will ship during 2012. Yes, it forecasts spectacular growth for the technology - shipments will rocket to 2.1m units in 2015, iSuppli predicts - but that's in the context of a flat-panel TV market of in excess of 300m units that year.
OLED will have less than a percentage point of market share three years from now.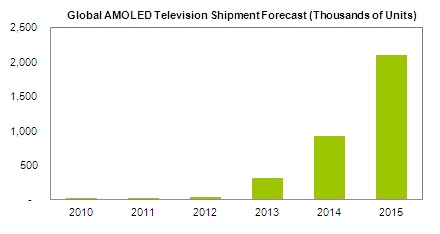 Source: IHS iSuppli
OLED panel prices will not fall until manufacturers mature their production processes. OLED panel yields are unlikely to reach LCD levels for three years at least, reckons iSuppli.
One hope is that existing LCD plants kitted out to produce eighth-generation LCD panels can be converted to punch out OLED screens. LCD generations are essentially a measure of the size of panel a plant can produce, the bigger the better, to allow companies not only to make large screens but to cut many more smaller screens from the big multi-metre panels.
Adapting LCD plants, whether they use amorphous silicon or low-temperature polysilicon processes, should enable the greater degree of competition that is also needed if the price gap between LCD and OLED is to be narrowed.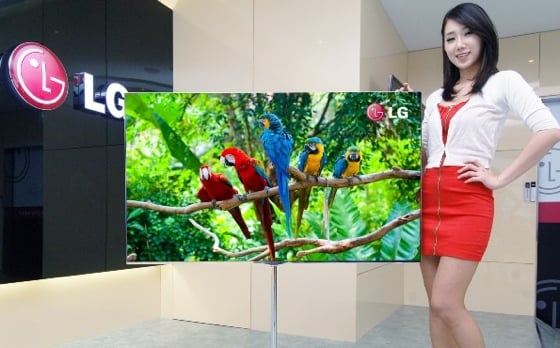 Work detail: LG's 55in OLED TV has a 3840 x 2160 resolution
iSuppli believes punters will pay perhaps 20 per cent extra for OLED's low energy consumption and better-than-LCD picture quality, but no more.
Samsung and LG seem to be attempting to make that happen. LG said it hopes to sell its 55in OLED TV for $4000 in 2013, although similar size LCDs will be down to $1000 by then.
And Sony? At CES, it reiterated that it will continue to explore OLED as the basis for future flat-panels. But then it also used the show to demo a screen based on regular, inorganic LED it calls "Crystal LED".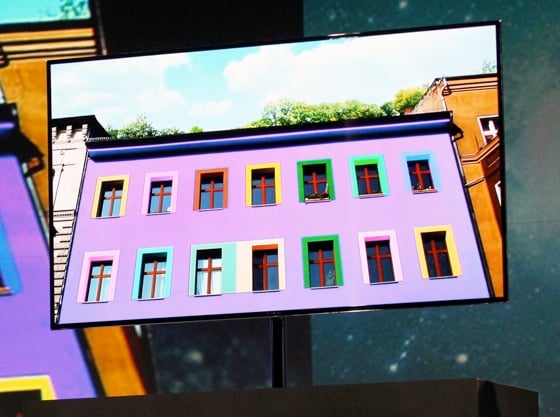 Samsung wants its 55in OLED TV in your house this year
That's a term conjured up by marketing people not scientists, and Sony admitted that it was unable to say when the release of a Crystal LED screen might become commercially feasible. Sony, like other TV makers, loses money on its LCDs, and demos like Crystal LED are more about persuading financial markets that the company has a future in the business than telling punters what they'll have in their living rooms many years hence.
Hopefully, the more concrete plans of Samsung and LG will ensure OLED TV technology doesn't have to go through another five-year hiatus before becoming ready for the rest of us. ®