Original URL: https://www.theregister.co.uk/2012/01/25/igamer_review_infinity_blade_2_ipad_iphone/
Infinity Blade II
In need of a quick slash?
Posted in Personal Tech, 25th January 2012 10:00 GMT
iGamer I liked the original Infinity Blade when it arrived just over a year ago, but it seemed to fall short of classic status due to the repetitive nature of the combat, the rigidly linear exploration and threadbare fantasy storyline.
This sequel does try to add a bit more variety to the formula, although I still found the continuous conveyor belt of demonic foes a tad tedious at times.
I was also a little miffed at the price increase: £4.99, compared to £3.99 for the original. And I'm no great fan of games that tempt you with in-app purchases for weapons and other items either – although, to be fair, you can still get by perfectly well without having to cough up extra cash for the Super Sword Of Thumping+3.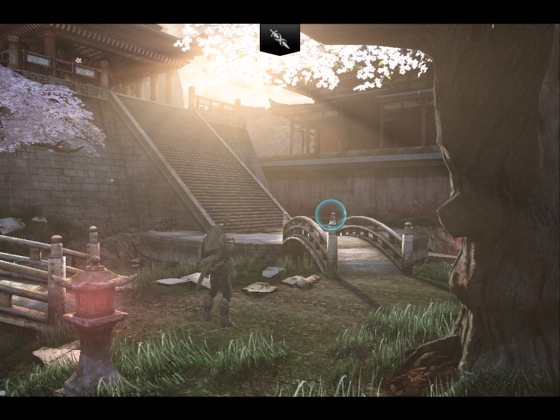 Blinded by the light: optical effects abound in IB II
The original Infinity Blade looked wonderful, and Infinity Blade II goes even further thanks to the A5 processor in the latest iPhone and iPad.
Developer Chair has really gone to town with the lighting effects, with endless shafts of light streaming through foliage and epic vistas with castles perched on craggy mountaintops.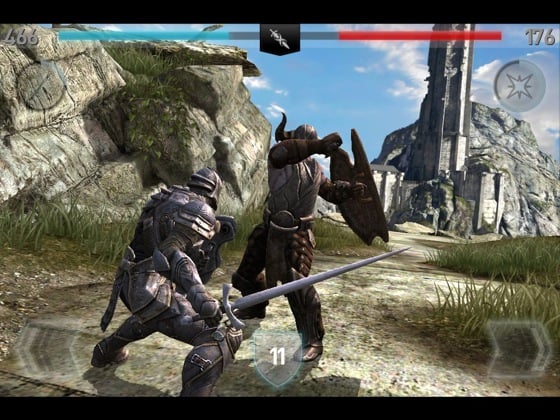 The swipe'n'slash combat remains - but with a few new twists
In fact, it got so carried away with the lens-flare effects that there were times when I felt I needed sunglasses to go into combat.
And why is there lens flare anyway? Do games developers only see the real world through a camera's optics? My eyes certainly don't bring their own Photoshop filters with them.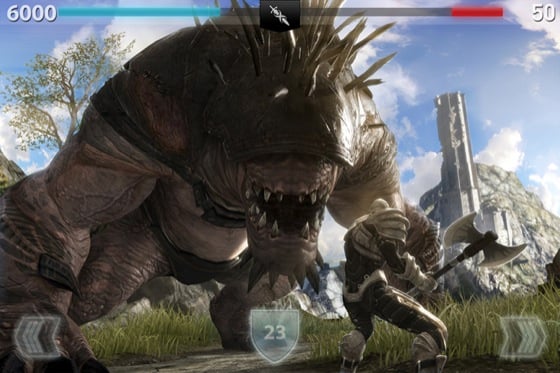 You can now use two-handed hardware
The storyline follows straight on from the original game. You've wrested control of the mighty Infinity Blade sword from the God King and now you're heading off in search of the mysterious Worker of Secrets for some reason that I didn't entirely understand.
Fortunately, there's a tie-in paperback advertised within the game to shed some light on the finer details of the plot. And a soundtrack album too.
Ker-ching!
Fight is right
If you haven't played the original game then Infinity Blade II offers you an introductory tutorial that shows you how to string together chains of attacks by flicking your finger back and forth across the screen, as well as other techniques such as dodging, parrying and blocking.
This is where the main changes in the game appear, as you now have a choice of three different types of weapon. You can stick with the standard sword and shield combo, play a nimble rogue type with a pair of daggers, or weigh in with a massive two-handed weapon for extra damage.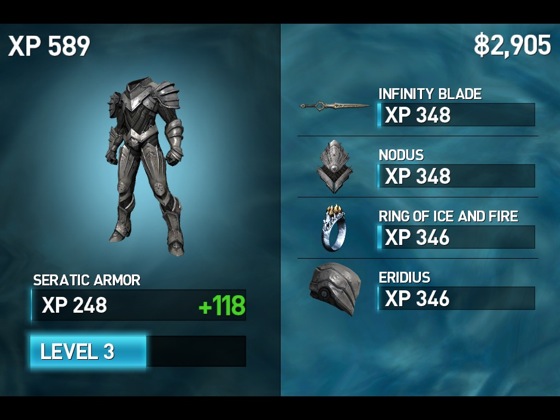 Score points, find gold, buy more kit
Your choice of weapon affects other aspects of combat too. Bulky two-handed weapons are useful for blocking your opponent's blows, but you can't block with little daggers so dual-wielding warriors will have to move more quickly and dodge from side to side.
You can also customise weapons with gems that do more damage, or add elemental effects such as fire injuries.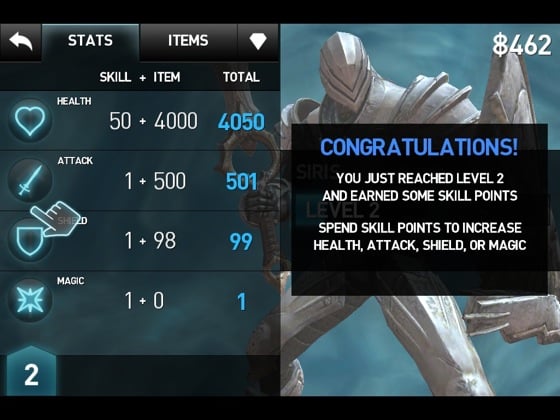 On the level
But while the combat mechanics are more varied and challenging, I simply didn't find the storyline particularly engaging. The game essentially boils down to killing a bunch of bad guys then getting a cut-scene that tells you where to go in order to kill the next bunch of bad guys.
As a result, Infinity Blade II is a great game for playing in short bursts when you're sitting on the tube or in your doctor's waiting room, but it lacks the depth that would allow you to immerse yourself in it for a long stretch of time.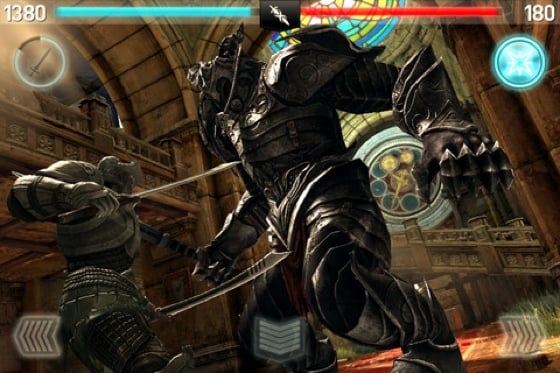 Armour gonner here...
There is, however, one new option looming on the horizon that could take Infinity Blade II into a whole new dimension. The developer is planning to use Apple's iCloud tech to add a feature called 'clashmobs' – large-scale online battles involving groups of players battling against powerful new enemies.
This would allow Infinity Blade II to combine its single-player storyline with an engaging multiplayer element. That could be a really potent combination, but no definite release date for this feature has been announced as yet. So for now you'll just have to stick with the pretty-yet-one-dimensional charms of Infinity Blade II's single-player game. ®
iGamer covers the latest in mobile gaming on Android and iOS, every other Wednesday. If you think there's a great game we really should cover, please let us know.
More iGamer

OnLive
The Dark
Meadow
Epoch
Five great
network games
for iOS
Another World
20th Anniversary
Edition