Original URL: http://www.theregister.co.uk/2012/01/23/iptv_uk_whats_on_tonight/
IPTV UK: what's on tonight?
Worth watching yet?
Posted in Personal Tech, 23rd January 2012 12:00 GMT
IPTV Week

2012 looks like it stands a good chance of being the year that IPTV really starts to go mainstream, with more services and a good range of content appearing built in to TVs and other devices, not to mention the web.
And, of course, the launch of YouView will help raise the profile of IPTV still further in the UK.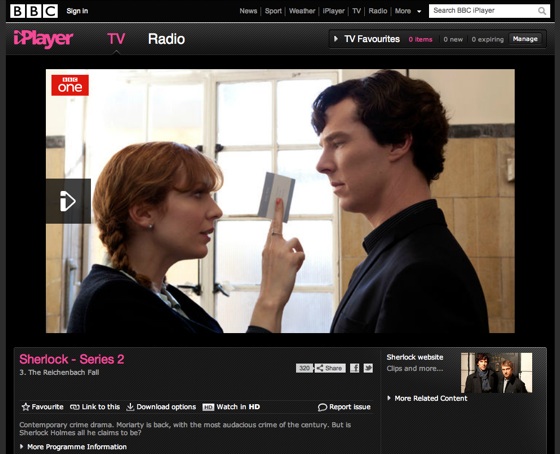 World+Dog is familiar with BBC iPlayer on the web...
That's not to say that IPTV has been hidden away. The BBC's iPlayer has done much to make watching TV shows online a normal experience for many. Some shows, like Doctor Who, now get a large proportion of their audience that way.
What's on the box
Most Reg Hardware readers will be familiar with BBC iPlayer, along with 4oD, ITV Player and Demand 5. BBC iPlayer and Demand 5 are built in to some TV sets, though the other broadcasters have yet to make that leap.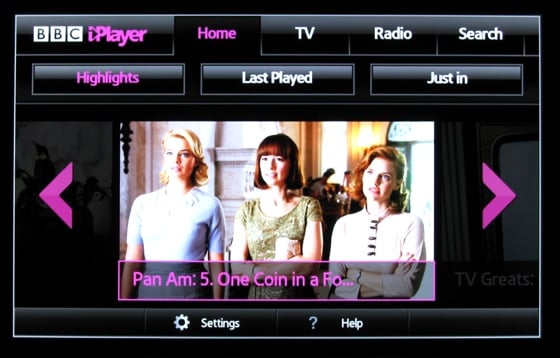 ...fewer know it's also available on some smart TVs
The launch of YouView this year is likely to help that, providing seven-day catch-up for all the main broadcasters through a unified programme guide, rather than the current collection of disparate interfaces.
But there are plenty more ways of getting extra telly from the net – Apple's iTunes, Lovefilm and the newly launched Netflix are the obvious choices, but there's also Acetrax, BT Vision, BlinkBox, Boxee and more specialist services for lovers of Indian cinema and other genres.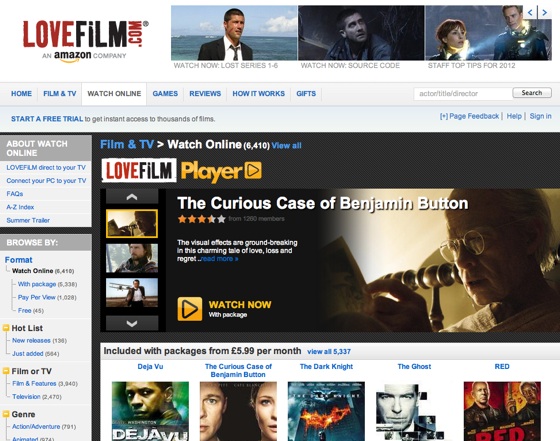 Content catch: not all the material available from a service on the web...
So, what's on offer, and what's it going to cost you?
Service selection
To a degree, what you can watch depends on the devices you're using. If you regard Apple as the spawn of Satan, you'll miss out on the content available on iTunes, and on Apple TV and iOS devices. BT Vision's movie library is only available through BT's own set-top box, while FetchTV can be accessed with the company's own Freeview HD boxes, or an app on recent Panasonic Viera sets, with Samsung to come soon.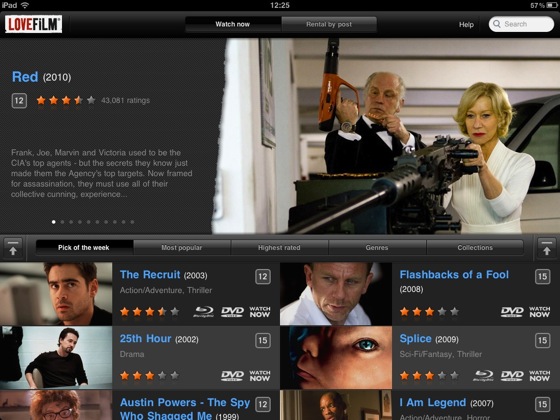 ...is also available on other devices
Acetrax, BlinkBox, Lovefilm and Netflix can all be accessed on Windows machines and Macs using Microsoft's SilverLight software. Linux users are out of luck as a result, but they can make use of dedicated streaming devices that support these services.
When it comes to TVs, you'll find Netflix and BlinkBox only on Samsung TVs so far, while Acetrax is on some LG, Panasonic, Philips, Samsung and Toshiba sets. Meanwhile, Lovefilm makes an appearance on Samsung, Sony and some LG devices.
Paying the price
If you're using a set-top box, or a games console, the selection changes again.
But what of the content? Most of the services are based around major movies, though Netflix, Lovefilm and BlinkBox all have a selection of TV content too. There are also some notable niche options like FetchTV's live Hellenic TV, concerts and music, and indie movies packages, which provide all-you-can eat streaming of sections of their content. BT Vision similarly has themed categories in addition to its pay per view content.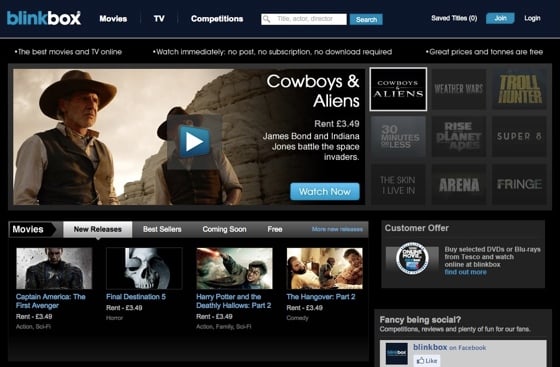 BlinkBox appears on the web and on some smart TVs
While catch-up services are available for free, most of the others – though see below – expect you to buy or rent content. iTunes, for instance, allows both rental and purchase of films, but doesn't have TV rentals in the UK.
AceTrax and BlinkBox both have some items to rent and some to buy. Annoyingly, sometimes you can only buy when you might want to rent. The Danish series The Killing is for sale on BlinkBox for instance, at £17.99 for series 1 and £14.99 for series 2, but you can't simply rent it.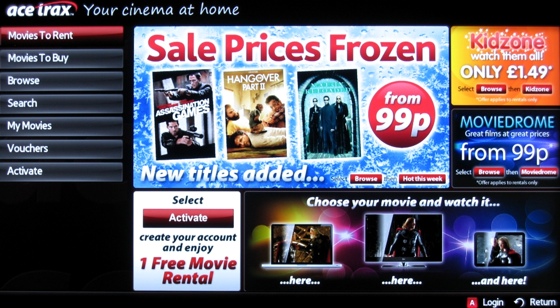 Ditto Acetrax
If you're a 'box set' type of person, prices can vary quite a lot, and Netflix has a lot of material available to stream. Series 1 of Spooks is available on Netflix; you can also buy it for £7.99 on iTunes, or £9.99 on BlinkBox.
iTunes has plenty of classic Doctor Who, at around £4.99 a story, with the new series coming in at £20 for the lot. BlinkBox has series 4 at £1.89 per episode, while Netflix has seasons 1 to 4.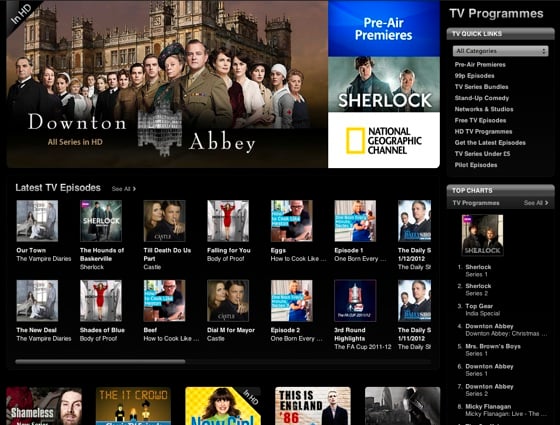 iTunes' music may be DRM-free, but its video content isn't - but there's a lot to buy
The more criminally inclined will find shows like Morse at £4.99 and Prime Suspect at £2.99 per series on iTunes, or on Netflix. Film prices vary too; the Swedish version of The Girl with the Dragon Tattoo with English audio isn't available on Netflix, but it is available with Lovefilm's streaming service. You can rent it from AceTrax for £2.49 or buy it for £8.99, rent from BlinkBox for £2.99 or buy for £6.99, while iTunes offers it to rent at £2.49 in SD and £3.49 in HD and buying prices of £9.99 or £13.99, respectively.
Also worth noting is that some new material appears on sites like iTunes very quickly. You can buy the recent series of Sherlock on iTunes for £10.99 in HD. At the time of writing, however, you could also watch it on iPlayer completely free, though only for a short time.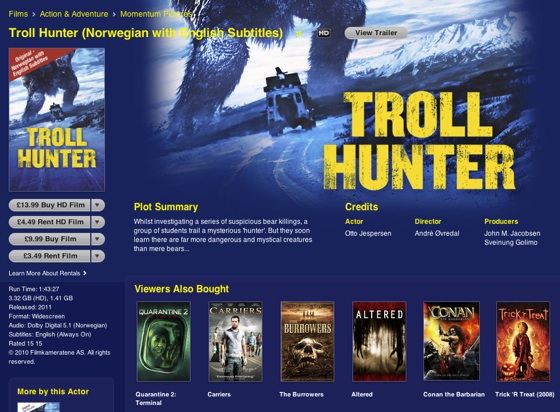 iTunes has SD, HD; buy and rental options
Check too how buying works. iTunes provides downloads, tied to your Apple Store account. BlinkBox and Acetrax allow you to watch online from your digital library, or you can download to a single PC. If such a service disappears and you've not already downloaded your purchases, you may well lose them altogether.
Low rent
There are free programmes available too. The Boxee box, for instance, makes a large number of free films accessible, though you won't find new releases there.
It's worth checking to see what offers are available too. Registering for AceTrax on a Samsung TV gives you £4.50 credit, for instance, while setting up FetchTV on a Viera will give you your first film free.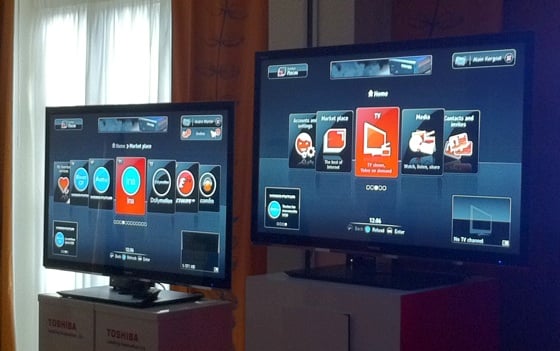 Toshiba is rolling out its own content store set, Places
BlinkBox has a whole section of free content, which includes some older British TV series such as The Young Ones and Bad Girls, and SF like Andromeda and Mutant X. But the quality's not always good – I found the first episode of Andromeda sounds like it's playing from a slightly stretched VHS copy, for example. The alternative, however, is to page £1.49 per episode on iTunes, or £15 per series.
Besides quality, rights remain a niggle, with some content only available on certain devices and not others. For instance, while 4oD has plenty of material available on YouTube, a lot of it can't be accessed by YouTube apps on TVs. Some Lovefilm streaming content suffers the same problem, too. You can watch it on the web, but not on your TV.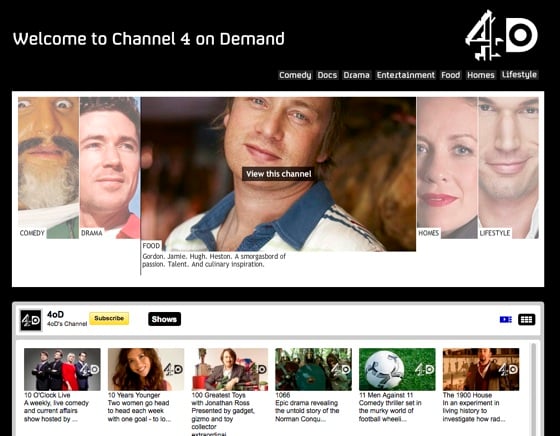 4oD has plenty of shows on YouTube, but a lot of it can't be accessed by YouTube apps on TVs
Remember too that while shopping around is fine in principle, in practice it's not quite so simple. If you want to watch on a smart TV or set-top box, you'll be restricted to the services supported by that platform. Not everyone is prepared to connect their computer to the TV to give them access to the whole range of sites.
Ready for primetime?
There's little doubt that the range of content available now is such that many people who want just a bit more than Freeview may well consider an IPTV service as an add-on, rather than switching to pay TV. And, given a reliable broadband connection, services like Netflix, Lovefilm and BBC iPlayer can give a great experience, with 'HD' streams matching DVD quality.
If you want more than catch-up, then Netflix is probably your best bet for 'box set' type material, while Lovefilm is more suited to cinephiles – though both will doubtless adding more to their libraries. Reg Hardware will be running a more in-depth comparison of these two services later this week.
Remember, though, for only a few pounds more than a streaming only service, you could add disc rental too, and fill in the content gaps.
And, of course, when it comes to streaming there are still glitches. Some days, it just doesn't work: video freezes up, programmes skip or jump right back to the start. You often getr error messages that are inexplicable. I've even had days when the BBC iPlayer app on my test TV stopped working until I rebooted the set.
For the tech-savvy Reg reader, these things can be lived with and worked around - though less so when you're paying to watch. But perhaps it's worth waiting a little longer before you urge your less technical relatives to jump on the IPTV bandwagon. ®