Original URL: https://www.theregister.co.uk/2012/01/20/review_iomega_tv_network_media_player_storage/
Iomega TV with Boxee
If, at first, you don't succeed...
Posted in Personal Tech, 20th January 2012 07:00 GMT
Review I've reviewed various models in Iomega's ScreenPlay range in the past and, to be honest, haven't been wildly impressed by any of them. Weaknesses such as the inability to list album tracks in the correct order suggested that Iomega's designers hadn't exactly thought things through properly.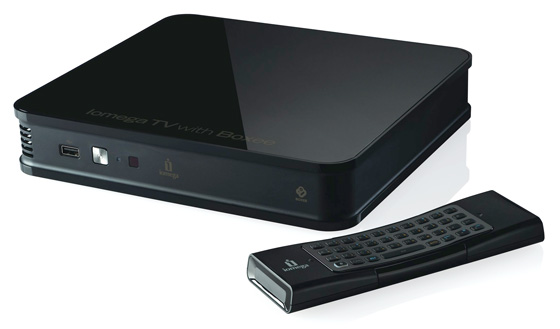 Getting there: Iomega's TV with Boxee
I wouldn't say that they've completely nailed it with the new Iomega TV, but at least it plays songs in the right order. As that cumbersome name implies, the Iomega TV can be used as both a NAS drive and a network media player. It's available with either 1TB or 2TB of internal storage, with both options seeming rather pricey at £350 and £389. You can also buy it without a hard disk for £220, which isn't exactly a bargain either – Western Digital's WD TV Live is £100 cheaper.

Bare essentials in the way of ports – alas, no SD card slot
The glossy black box was larger than I'd expected, but is very slim and comes with a stand so that you can place it upright beside your TV without taking up too much space. Round the back you'll find HDMI and composite video ports, analogue stereo and SP/DIF, and a Gigabit Ethernet port for connecting to your home network. There's a USB port on the back, and another on the front, and Iomega also throws in a USB adaptor for 802.11n wireless networking too.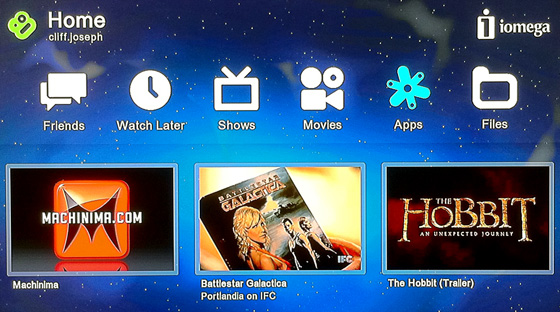 Home screen
When you turn the Iomega TV on you see the device's Home screen, which provides four main options – Shows, Movies, Apps and Files. Those first three come from the Boxee service, which basically just rounds up a bunch of films, TV programmes and other content from around the web and then drops you into a web browser in order to view them.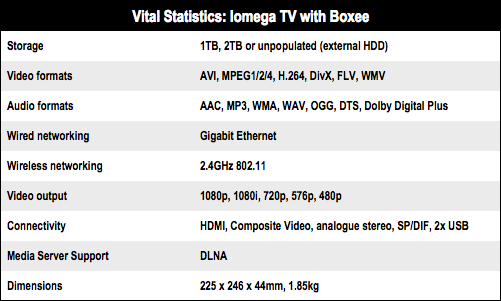 There's some fun stuff on there, but the unusual remote control – which has a miniature Qwerty keyboard on one side and a set of media player controls on the other – feels rather clumsy when trying to select options on a web page. It's all very US-oriented too, with no sign of the BBC iPlayer, or even the recently launched UK version of Netflix. There's also an annoying amount of advertising on some of the TV shows – which you can't skip past either.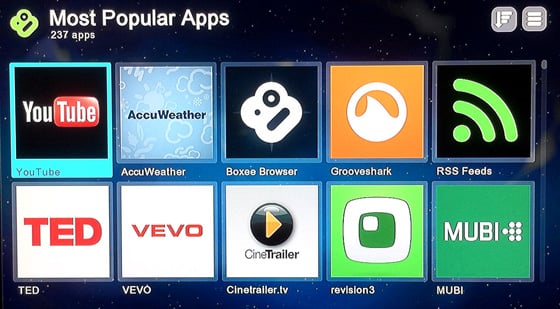 App choices
You can put your own music, photos and videos on the Iomega TV as well, and these are accessed through the Files option on the Home screen. This leads to another menu containing options for browsing your personal music, photos and video files. Thankfully, the Iomega TV does provide both 'album' and 'artist' views for your music – although the process of switching between them is rather unintuitive. You have to press the 'Back' button on the remote control in order to activate the search tool and then specify which viewing mode you prefer.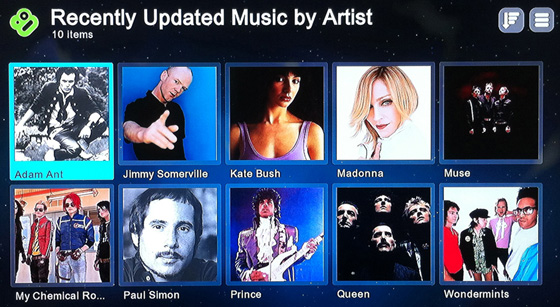 Music presentation
The Iomega TV coped with all the audio and video file formats that I tested it with, and its 1080p video output was smooth and clear – you can view the full list of supported formats here.
There is, however, one big omission from the options on the Home screen. There's no Setup menu where you can adjust settings such as the video output or network details. I initially had problems connecting the device to my home network simply because I couldn't find the network settings menu. It took a call to Iomega to find out that the Settings menu can only be activated using that darn 'Back' button on the remote control and then locating the tiny icon that leads to the Settings menu.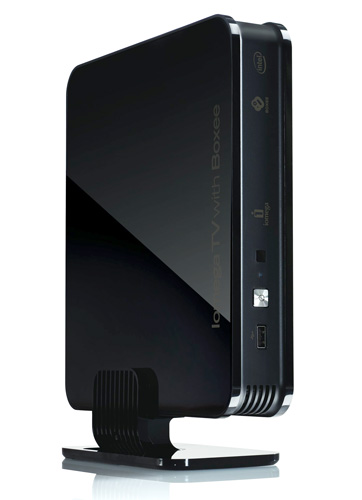 Functional, pricey and still in need of refinement
Verdict
The Iomega TV is certainly a more respectable streaming media player than the old ScreenPlay range, but it does still leave room for improvement. The Boxee content is hardly essential, and I'd happily swap most of it for the BBC iPlayer. The device's graphical interface is functional enough, but still lacks the slickness of rivals such as the Apple TV or WD TV. It's also very expensive, even taking into account recent increases in the cost of hard drives. ®
More Storage Reviews

Netgear
ReadyNas Duo v2
Ten…
Desktop
USB 3.0 HDDs
Western Digital
My Passport
Studio
Ten…
Portable
USB 3.0 HDDs
LaCie
LaPlug