Original URL: https://www.theregister.co.uk/2012/01/20/microsoft_windows_phone_to_overtake_apple_ios_in_2015/
Windows Phone to overtake iOS in 2015
MS swallows smartphone share
Posted in Personal Tech, 20th January 2012 13:30 GMT
Nokia's ever-expanding friendship with Microsoft means that come 2015, the Windows Phone platform will overtake Apple's iOS as the world's second most-favoured operating system after Android.
That's according to research firm IHS iSuppli, which this week forecast a positive outlook for the Finnish phone giant.
According to the market watcher, Android was on 47.4 per cent of the smartphones that shipped during 2011, with iOS at 18 per cent and WinPho on just 1.9 per cent of the super handsets.
But, thanks to Nokia's adoption of Microsoft's platform, WinPho will have gained 16.7 per cent of the market in 2015.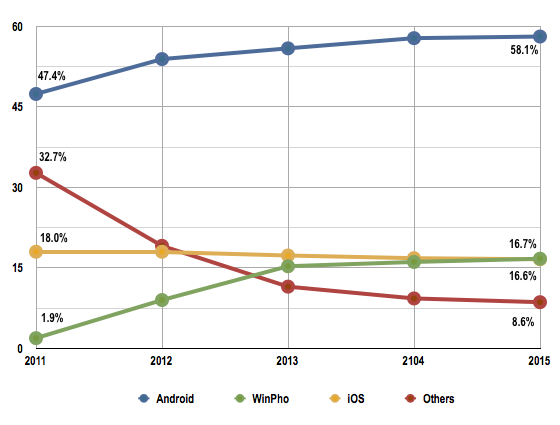 Source: IHS iSuppli
This will leave Apple with a 16.6 per cent piece of the pie. Android will have scoffed up even more of it by then, accounting for 58.1 per cent of the market in 2015.
But the real losers will be RIM's BlackBerry OS, Samsung's Bada, Linux and other smartphone operating systems. Last year, they had a combined share of 32.7 per cent, said iSuppli. Come 2015, their share will have plunged to 8.6 per cent.
iSuppli reckons Nokia's new Lumia 900 smartphone will boost the company's presence in the US. The LTE-equipped handset will be able to tap into Americans' keenness on 4G tech.
By next year, iSuppli believes, Nokia will have a 62 per cent share of the entire WinPho range, which should help the Finnish outfit claw back a reasonable chunk of a trade it once dominated.
The claims draw parallels with those made by market watcher Gartner, which said Microsoft will have a 19.5 per cent share of the smartphone market by 2015 in comparison to Apple's 17.2 per cent. ®