Original URL: https://www.theregister.co.uk/2012/01/19/thousand_first_person_shooter_players_set_to_battle_simultaneously/
Thousand-gamer FPS fragfest shoots for world record
Gib to go
Posted in Personal Tech, 19th January 2012 14:42 GMT
A Swedish tech outfit is to pit no fewer than one thousand first-person shooter players against each other simultaneously in a bid to set a world record.
Uppsala-based outfit MuchDifferent reached out to the gaming community this week to gather interest in Man Vs Machine, an event which will see developers fight it out against regular gamers in a web-based FPS. Those who would like to guarantee a place in the brawl can pick up one of 100 tickets for €23. All proceeds go to charity.
The Man Vs Machine tickets that are up for grabs will provide early access to the game page, assuring paid-up users a spot in the battle 40 minutes before it starts. All other spaces will be available free on a first come, first served basis, with links provided publicly 15 minutes prior to kick off.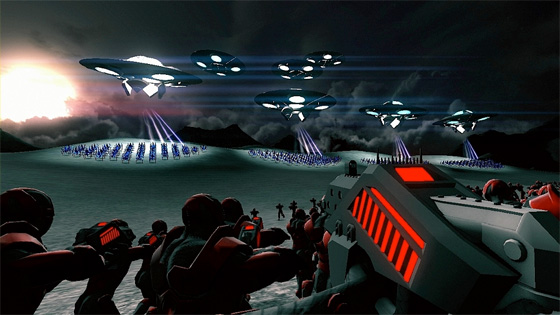 MuchDifferent crafted a dynamic traffic router, PikkoServer, which is able to divide a game between different servers, gluing the results back together and running it all smoothly, it claims.
According to the company, while Man vs Machine runs on a Unity Engine, any game engine could be retrofitted with its technology, expanding capabilities and the maximum number of users a game can handle.
As it stands, the company says the most players ever in a single FPS game is 399, as supported by the commercial game PlanetSide. Time to smash some records then.
Those on PCs and Macs with fast enough internet and a machine good enough to power modern first-person shooters will be able to run the one-off game through their browsers. Check out MuchDifferent's Man vs Machine page for further information. ®