Original URL: https://www.theregister.co.uk/2012/01/19/review_asus_eee_pad_transformer_prime_tf201_docking_android_tablet/
Asus Eee Pad Transformer Prime Android Tablet
First Nvidia Tegra 3 five-core fondleslab
Posted in Personal Tech, 19th January 2012 12:43 GMT
Review It's only been a little over six months since the original Eee Pad Transformer landed but Asus has already launched a new model that advances the breed to such an extent that the original model appears obsolete and with it every other 10in Tegra 2 Android tablet on the market.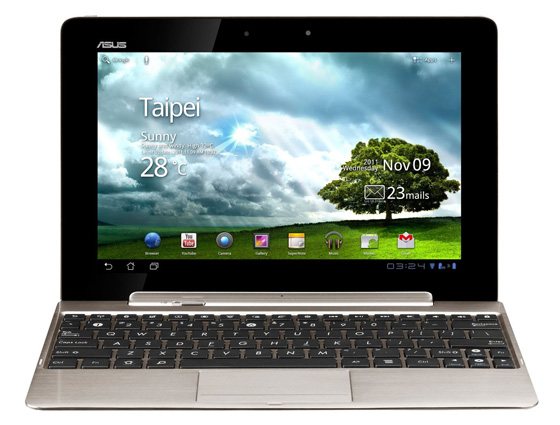 Asus Eee Pad Transformer Prime TF201 Android tablet and dock
In every way, from power to design, from build to performance, the Transformer Prime redefines what we can expect from a top-end Android tablet and, to cap it all, the price isn't too steep either.
To earn it's epithet Asus has put the Transformer on a crash diet resulting in a class-best thickness of 8.3mm, 0.3mm less than Samsung's Galaxy Tab 10.1. At 586g the Asus gives away 21g to the Samsung, but what's virtually nothing between friends? The Prime is both thinner and lighter than Apple's iPad 2 though.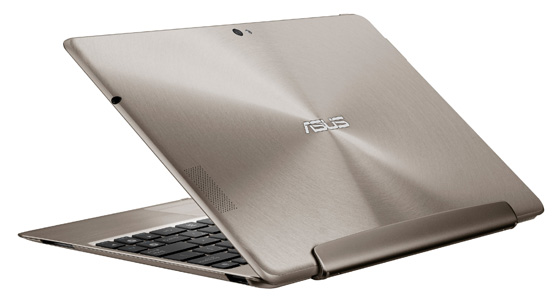 Zenbook styling adds a touch of class to the tablet
To keep everything solid the Prime has an aluminium chassis complete with Zenbook-like pattern on the back. It all looks and feels quite superb. The quality of manufacture continues to the dock, which is also built like a brick outhouse and the speakers which deliver a rich and punchy sound.
The screen hinge-cum-dock connector is especially worthy of comment - it holds the tablet firmly in place at all times but is still easy to unlock and remove. Fold the whole thing up and there's no fear of the "screen" coming adrift. The Prime's connectivity suite is rather limited compared to fatter tablets like the Toshiba AT100 so you have to make do with just micro-HDMI, 3.5mm audio, Asus' own 40-pin dock/charge/data connector and a MicroSD slot.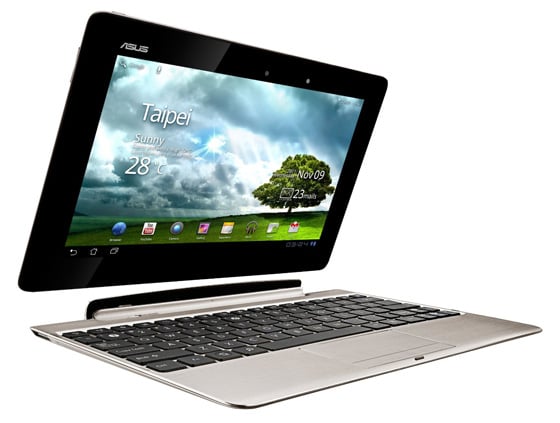 The Mobile Dock offers additional connectivity and battery power
As I've said before, I'd never buy a tablet without built-in and full-sized USB and HDMI ports but perhaps that's just me being an old fart. On a more positive note the dock adds an SD card and USB port to that list.
The fifth element
There's nothing new about the screen size or resolution but the new Super IPS+ panel is an absolute cracker. With 178 degrees of viewing angle on tap the thing looks perfect no matter how you hold it. It's also very colourful and very, very bright. With a maximum 600nits of luminance available in "Super IPS" mode you really can use the Prime in direct sunlight. You could probably even do so while standing on the surface of Mercury.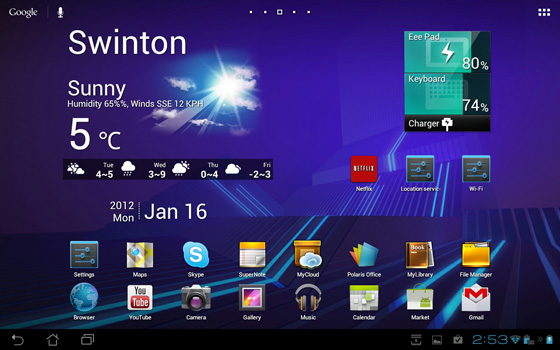 ICS home screen – note dock charging tablet
Lurking within the Prime's sleek shell is Nvidia's new Tegra 3 or Kel-Al chipset featuring a quad-core ARM Cortex-A9 CPU that can run at up to 1.3GHz in multi-core mode. The graphics coal is hauled by a multi-engine GPU which means the Prime will play any and all HD video files thrown at it and laughs in the face of graphically demanding games.
To avoid excessive power use Tegra 3 features a fifth 'companion' core that is limited to 500MHz and looks after the housekeeping when nothing else of interest is happening. It's all fiendishly clever stuff and results in a machine that goes like blazes but uses surprisingly little power.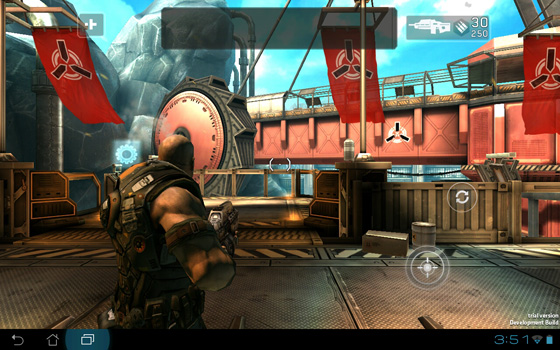 ShadowGun looks good, goes like clappers
When review samples first arrived in the UK late last year they ran Honeycomb but I decided to wait until the promised Ice Cream Sandwich update arrived to avoid coming to a conclusion based on a version of the operating system that was already a bit passé.
Do ICS and Tegra 3 work well together? Hell yes. Think Morecambe and Wise, David and Bacharach, beans and toast. The UI now glides about with a baby oil smoothness that makes even iOS 5 on the iPad 2 look jerky. Apps open and close in an instant and web pages load and scroll like there's no tomorrow.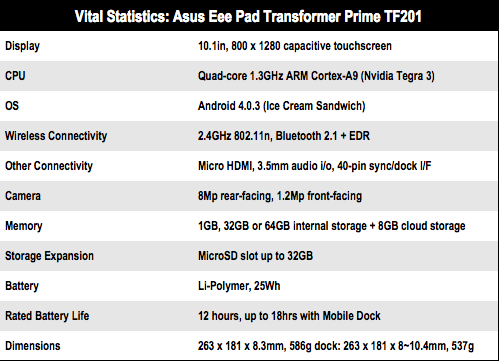 The quick and the dud
Run the AnTuTu benchmark app and you will get a score well over 10,000 which is so far above of any other Android device as to make comparisons meaningless. What we have here then is a whole new performance paradigm for tablets.
Loop a 720p MP4 video and the 25Wh battery will see you to the 7 hour mark. Use the juice from the dock battery as well and that number stretches to over 12 hours. The sticker on the dock says 18 hours of continuous use is possible which tallies with my experience of a mixture of gaming, browsing, reading and watching a mix of SD and HD video.
Along with a improved screen and chipset the Prime also has a better camera. The main unit is now an 8MP affair with an LED flash and a back-illuminated CMOS sensor with an F2.8 aperture. You will still look like a spanner taking pictures with a 10in tablet but at least the end results will now match those from a good phone camera. Video can be shot up to 1080p through the main camera and at 480p through the front facing 1.3Mp web cam which also supports Skype video.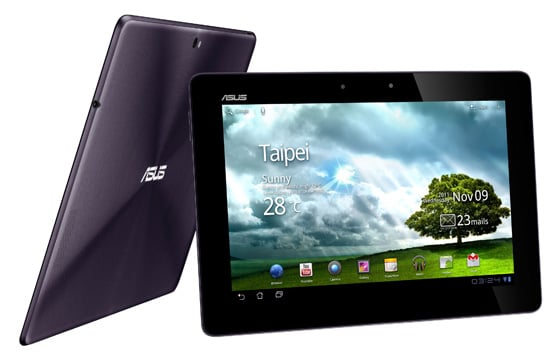 The camera resolution has been upped to 8Mp, if you're ever inclined to use it
Most of you will no doubt be familiar with the complaints about poor or non-existent GPS reception of the Prime. My own experience was more of a mixed bag. Away from any Wi-Fi signals my review unit sometimes locked onto the GPS signal in under 2 minutes but at other times took up to ten minutes and then dropped it for no apparent reason. In short the GPS works but it is flaky. Asus has a patch on the way, but it wasn't available in the UK at time of writing.
There are other instances of form getting in the way of function too. Like the tablet the dock has been ruthlessly slimmed down with the result that the keyboard now as a shallower pitch, only one rather than two USB ports and a smaller battery – 22Whr compared to 24.4Whr in the original Transformer dock. The rubber grommet that covers the USB port is a sod to remove too, but thankfully it's not tethered so you will lose it within a day or two and that will be the end of that problem.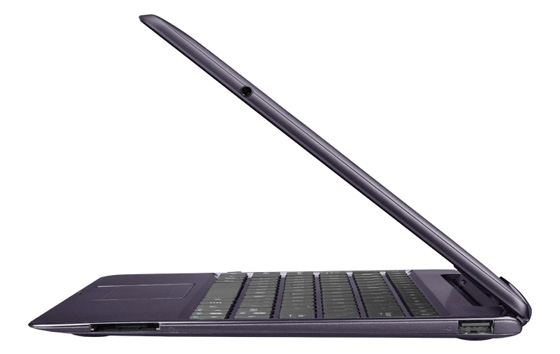 USB port cover missing already
None of these things are deal breakers though and the dock is still a perfectly decent device to do some serious typing on and all the USB peripherals I plugged into the dock worked perfectly but it does make me wonder is this headlong gallop towards reduced size and weight is always such a good thing.
Verdict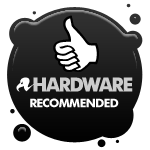 Aside from the skinny dock, which is actually a bit of a step back from the Transformer 1 and wobbly GPS reception – but a patch is on the way – the Prime is an impressive bit of kit. The blazing fast hardware, superb screen, lightness, thinness and bang-up-to-date version of Android and decent price combine to make this the best Android tablet yet. ®
More Tablet and Reader Reviews

Sony
Tablet P
Ten high-end
Android
tablets
Archos
G9 101
Ten budget
Android
tablets
Motorola
Xoom 2
Media Edition