Original URL: https://www.theregister.co.uk/2012/01/18/review_netgear_readynas_duo_v2_network_attached_storage/
Netgear ReadyNas Duo v2 network storage
ARM twist tactics
Posted in Personal Tech, 18th January 2012 07:00 GMT
Review Netgear's ReadyNas Duo v2 appears to be identical to its predecessor from the outside, yet it actually represents a rather radical shift in hardware design for the company. This dual bay ReadyNas model does away with the Infrant Technologies IT3107 SPARC processor featured on earlier models and replaces it with a 1.6GHz ARM CPU in the form of a Marvell 88F6282.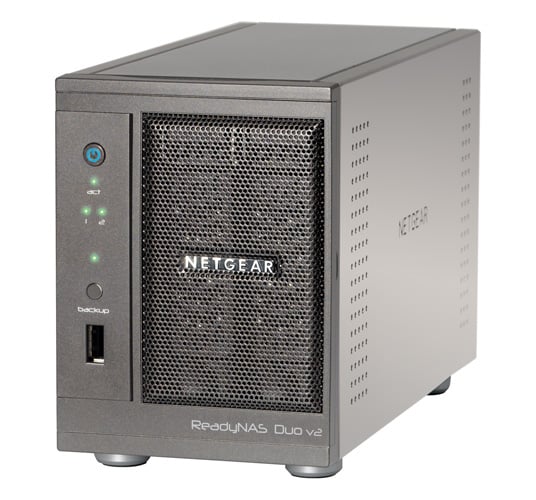 ARM workout: Netgear's ReadyNas Duo v2
While ARM chips on Nas boxes are nothing new – Qnap has used them for some time – their use on the ReadyNas range is a recent switch. Netgear reckons that using this system-on-a-chip platform should be capable of achieving 96MB/s reads and 60MB/s writes over its gigabit Ethernet connection.

RAIDar detects ReadyNas gear, gives a status overview and offers setup options
Click for a larger image
In addition to the ARM CPU, the updated ReadyNas also sports something I've been waiting far too long to see on a Nas box; USB 3.0. Finally, it is possible to perform a full external backup of your Nas within the lifetime of the average 'prosumer'. Aside from these new features, the hardware remains essentially the same; two hotswappable SATA 3Gb/s bays, front USB 2.0 port, 10/100/1000 Ethernet, 265MB RAM and 64MB of firmware flash.
Netgear will flog you a ReadyNas Duo v2 with either a single one or two terabyte drive inside or none at all if you prefer. Regardless of capacity, a single drive will still leave you with one empty bay for future expansion. This all falls hand in hand with Netgear's implementation of Flex-RAID and X-RAID2.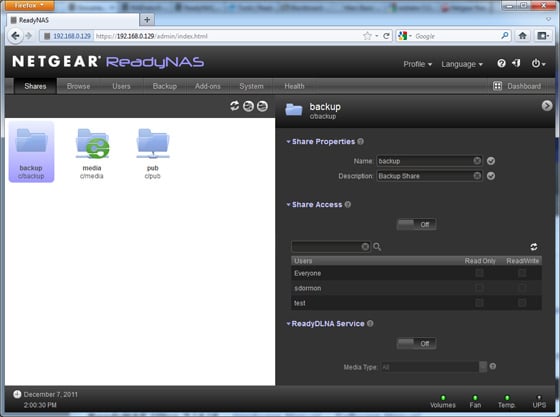 Shares
Flex-RAID is effectively your usual RAID0/1/JBOD system with added autoexpansion capability. Having only two drive bays Flex-RAID on the Duo is rather limited, as it can only be used to expand on RAID0 and JBOD arrays, given that RAID1 would already be using both bays. X-RAID2, on the other hand, dynamically adds storage capacity or data protection depending on the number and size of the disks you add.
Community centre
All of these configuration choices are gracefully handled by the RAIDar software that's available in Windows, Mac and Linux flavours. RAIDar locates and helps you configure any ReadyNas device on your network. Although the setup itself is relatively easy, I had to leave it overnight to complete a full restore to factory defaults and configure a new X-RAID2 array.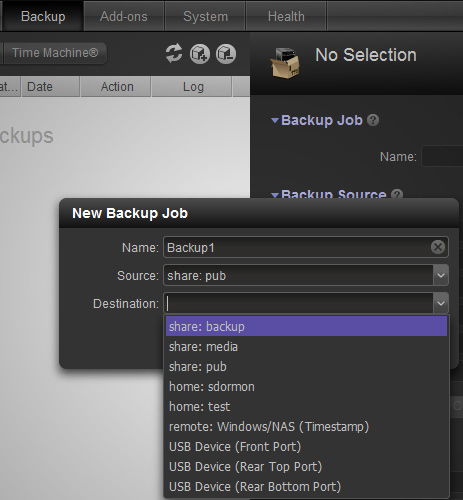 Backup location
Once you're up and running the FrontView web interface takes over for the rest of your ReadyNas journey. This latest version is considerably smarter in appearance than that featured on earlier SPARC and x86 models. It's also considerably faster, with the ARM chip proving very snappy and responsive and it's a quiet box too, thankfully. Browse around FrontView and you'll find all the usual compliment of Nas features such as user configuration, filesharing, DLNA media streaming, personal web hosting and more.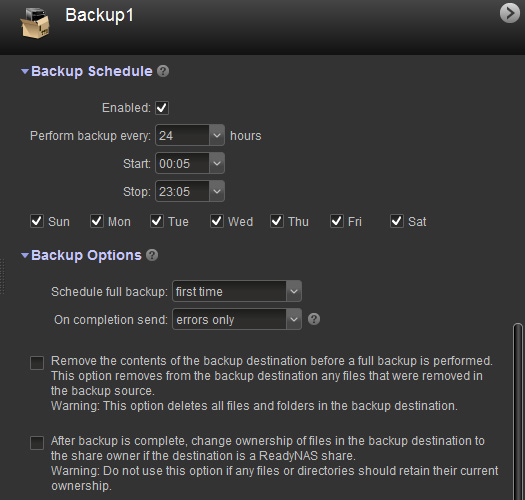 Backup schedule
Previous models have notched up quite an extensive library of third party software add-ons courtesy of the ReadyNas developer community. What's on offer has taken somewhat humble hardware to levels of functionality Netgear likely never imagined. I was looking forward to all of this and more with the Duo v2, only to be disappointed that the introduction of the new ARM CPU has rendered nearly all of these software add-ons incompatible.
At time of writing there were just a handful of ARM-compatible add-ons: ReadyNas Photos II, ReadyNas Remote and Transmission (the popular BitTorrent client) as well as PHPMyAdmin (browser-based SQL manager) and Sabnzbd a binary newsreader.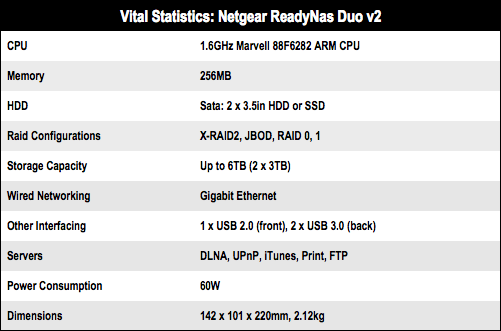 Remote control
ReadyNas Photos II is Netgear's Flickr/Picasa/Photobucket replacement, essentially a photo sharing service that you run from the comfort of your own home. I can certainly understand the appeal to folks who don't like giving their intellectual property away to third parties, such as Facebook. You also get iDevice and Android support to view and upload directly from your mobile as well as the ability to network with Eye-Fi equipped cameras.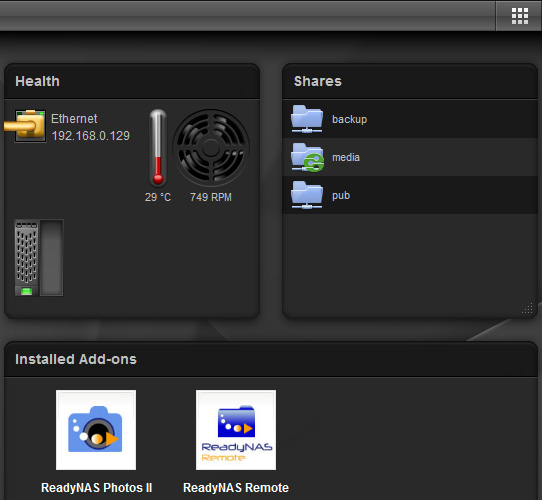 Dashboard
ReadyNas Remote is a neat little service that runs on both the ReadyNas server and the PC/Mac you want to connect with. As the name implies you get remote access to your files anywhere with an Internet connection, and best of all you don't even need a static IP or dynamic DNS service.
As the service runs on the ReadyNas it connects to Netgear's servers allowing any authorised client to also connect to it using the ReadyNas service. It's also very unobtrusive, just a small popup window to let you know that the connection is established and the ReadyNas shares will appear as folders in Windows Explorer (or Finder if you're a Mac user).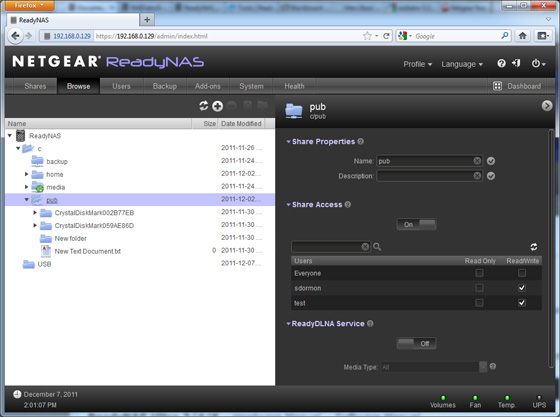 File browsing
To test Netgear's claim of 96MB/s reads and 60MB/s writes I ran Crystal DiskMark to find that the sequential read ability isn't quite up to par at 64.2MB/s, but the writing ability certainly is at 67.9MB/s. I also tested the USB 3.0 performance using a Kingston DataTraveler drive. This combination sped along such that taking the latest copy of your multi-gigabyte project with you is no longer the transfer tedium it used to be.
While the read performance and current lack of add-ons for the new ARM platform are disappointing, I still think I would be keen to recommend the ReadyNas Duo v2 in its diskless form that can be yours for £150. I'm not convinced the populated options are really worthwhile given the rather high cost compared to buying separate disks, just bear in mind that with this particular model there's a 6TB storage limit, although that has more to do with 3TB being largest capacity of 3.5in drives that are readily available.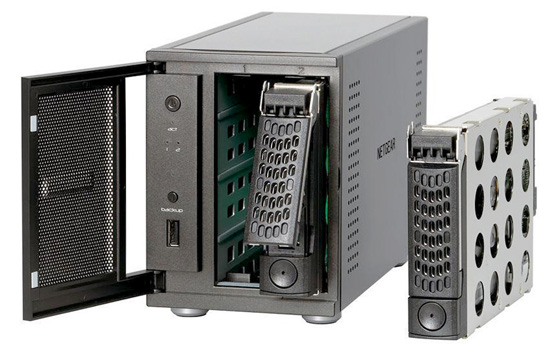 A nifty Nas with a lot of potential
Verdict
The one thing that I can say for sure is that the Duo v2 has the potential to go from being a good Nas box to an excellent one, provided the community can catch up and bring ARM support to the vast library of add-ons that have defined the ReadyNas line. ®
More Storage Reviews

Samsung
SSD 830
LaCie
LaPlug
Western Digital
My Passport
Studio
Ten…
Desktop
USB 3.0 HDDs
Ten…
Portable
USB 3.0 HDDs