Original URL: https://www.theregister.co.uk/2012/01/17/chicken_mcnuggets/
McDonald's punters offered sex in exchange for Chicken McNuggets
Drive-thru strumpet cuffed for fast food indecent proposal
Posted in Bootnotes, 17th January 2012 14:42 GMT
A Los Angeles woman earned herself a cuffing for allegedly offering McDonald's drive-thru punters "sexual favours" in return for Chicken McNuggets.
According to this report, Khadijah Baseer made her pitch at the fast-food outlet in West Olive Avenue, Burbank, last Wednesday night. She "opened customers' car doors" and suggested fowl-based McNourishment in payment for unspecified acts of intimacy.
One customer confirmed to cops he'd been pitched by the hungry strumpet, but had declined the invitation. Baseer was arrested "on suspicion of prostitution".
For the benefit of those of you who've been struck with the sudden desire to get your teeth into something tasty, here's the scene of the outrage: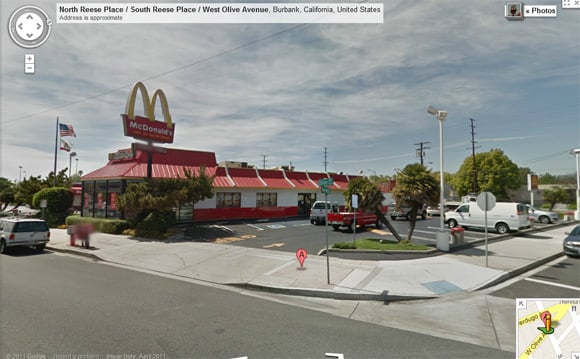 ®
Bootnote
Thanks to Pat Coughlin for the tip-off.