Original URL: http://www.theregister.co.uk/2012/01/14/ten_stars_of_ces_2012/
Ten... stars of the Consumer Electronics Show
Las Vegas eye-catchers
Posted in Personal Tech, 14th January 2012 08:00 GMT
CES 2012

Las Vegas, gambling's natural home played host to 2012 Consumer Electronics Show (CES) this week. Here, the technology giants placed their bets and showed their hands with the launch of hundreds, nay thousands, of new technology products. On the table, PC manufacturers were upping the stakes with Ultrabooks aplenty – each trying to outdo the other with innovative form factors. And when it comes to tellies, Samsung and LG were betting the farm on OLED technology – it looks great but it'll cost ya. As always, innovation abounds at CES with prototypes aplenty, some we'll be able to buy one day and others we'll never see again.
Indeed, the biggest tech treat show in the world is truly a mixed bag and here is Reg Hardware's pick of pack. In alphabetical order: the stars of CES.
Acer Aspire Timeline Ultra

No, not an Ultrabook – or at least Acer's avoid the Intel trademark here – but a still impressively slimline 15in notebook computer based on the latest Intel chippery and packing all the parts you'd expect from a modern machine: USB 3.0, HDMI, solid-state storage, Dolby Home Theatre surround sound and large multi-touch touchpad. Unlike most Ultrabooks, this boy still manages to squeeze in an optical drive. And it can boot up in 1.5 seconds.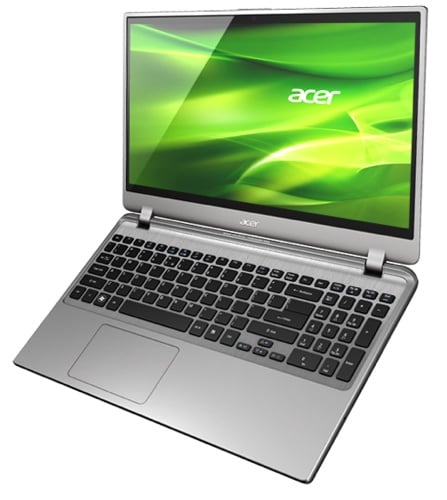 Price
TBC
Available
Q1 2012
More Info
Acer
Asus Eee Pad Transformer Prime TF700T

Asus' current Transformer Prime, the TF201, is impressive enough, but the company showed off one of the follow-up products it's working on. Like the TF201, the TF700T is based around a 10.1in touchscreen. But this one has a Full HD 1920 x 1080 resolution. Like the current Prime, the new model sports an Nvidia five-core Tegra 3 processor. It'll run Android 4 Ice Cream Sandwich too. Tasty.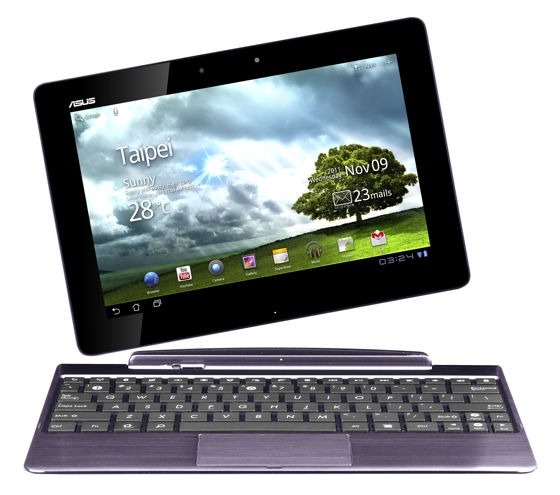 Price
TBC
Available
Q2 2012
More Info
Asus
Behringer iAxe

Guitar fan and iDevice buff? Now you can indulge both passions, thanks to high-end audio company Behringer. The iAxe has space not only to slot in an iPad, but there's a iPhone holder on the headstock on which you can display your chord charts. Strumming a touchscreen rather that strings may take some getting used to, but Behringer reckons you can work your way up to a become a sophisticated guitar player on this boy. Total beginner? Download the free guitar tutor app.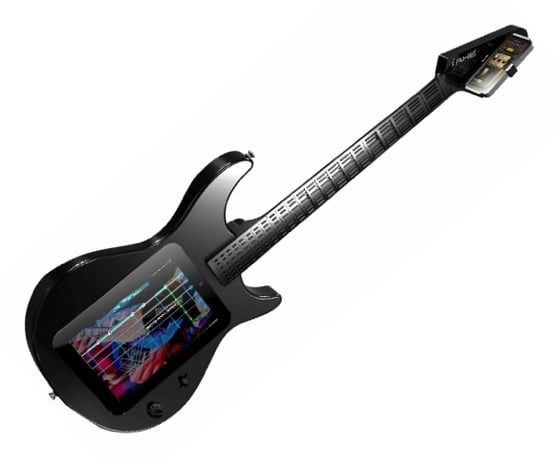 Price
TBC
Available
Q1 2012
More Info
Behringer
Dell XPS 13

Ultrabooks played a major part in CES this year, so it's no wonder there are a couple here. The first is Dell's new XPS. Not only is it reasonably stylish, but it's more compact than almost all of its rivals, Dell claiming the machine packs a 13in screen into an 11in form-factor. Well, almost. It won't challenge Apple's 11in MacBook Air, but it will take up less space than other 13in Ultrabooks.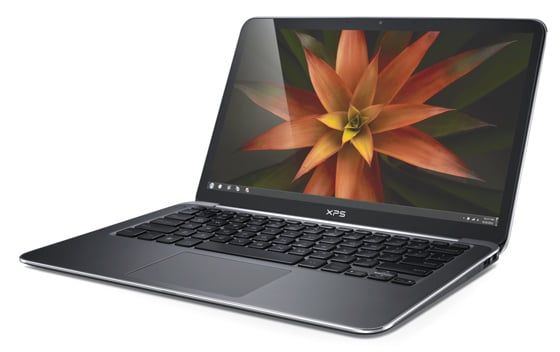 Price
TBC
Available
March 2012
More Info
Dell
HP Envy 14 Spectre

Our second Ultrabook here, the Spectre scores not by being the slimmest or most powerful laptop in its class but because of its novel construction. Perhaps taking design cues from Apple's iPhone 4S, HP has equipped this boy with a glass-topped lid and a glass-covered wrist rest area and touchpad. Beneath the glass: Intel 'Ivy Bridge' chips, USB 3.0 and HDMI – plus everything else you'd expect from a modern machine. No optical drive, mind. But it does sport a 14in screen in a 13in chassis.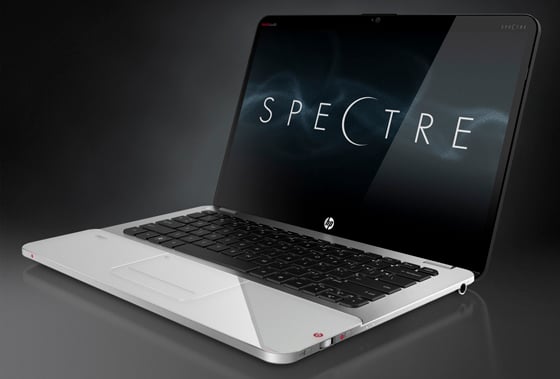 Price
From £1200
Available
March 2012
More Info
HP
Intel Nikiski Ultrabooktab

Bit of a cheat this one. It's an Intel prototype and, as such, will never come to market. Well, none of the countless other concept design laptops the chip giant has flashed at shows ever have… But we digress. Nikiski is an Ultrabook with a full-width, two-sided transparent touchpad that allows you to view and interact with half of the notebook's display when the machine is shut. So it's a laptop that gives you a sort of tablet user experience too – handy for all those folk wedded to the former, fancy the latter but don't want to carry two devices around.
Nikiski is a region in Alaska, since you were wondering.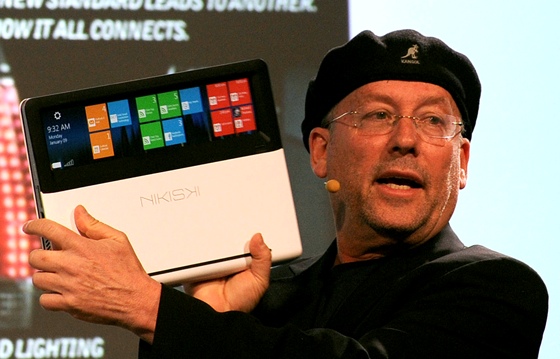 Price
Priceless
Available
Never
More Info
Intel
Lenovo K91

Lenovo caught our attention with this 55in 1080p smart TV for a couple of reasons. First, its got an In-Plane Switching (IPS) LCD panel, and that's the same near-OLED quality tech used in the iPad and other tablets. Second, it runs Android 4.0 Ice Cream Sandwich. It's got a 5Mp camera on the front for video calling. All it needs is multi-touch and it'd be the world's biggest tablet. Alas, Lenovo didn't say when this IPTV-oriented offering will be out over here.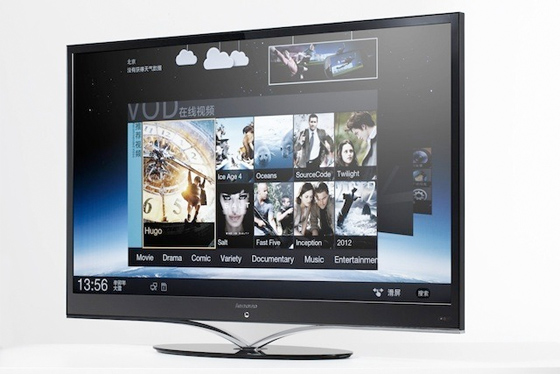 Price
TBC
Available
Now, if you live in China
More Info
Lenovo
Parrot AR.Drone 2.0

Parrot controlled the CES airspace with the latest version of its AR.Drone quadricopter, a four-engine, eight-blade toy chopper controlled through its own Wi-Fi network with an Android or iOS smartphone. We loved the original, and the new model improves on it with better, 720p HD on-board cameras; a more aerodynamic design; and a superior control systems. This one you'll be able to create your own apps for too, thanks to the software development kit Parrot plans to post when the 2.0 debuts.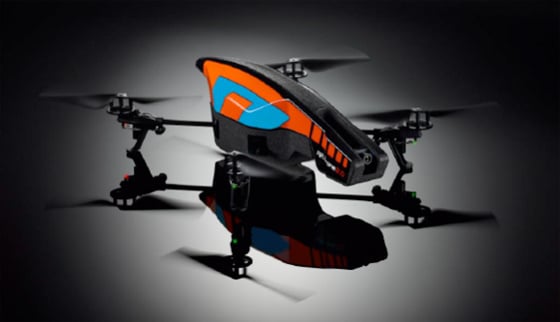 Price
TBC
Available
Spring 2012
More Info
Parrot
Samsung 55in OLED TV

CES is dominated by TVs: if nothing else, every booth has one, and the big names in the business have dozens, racked high. This year, OLED technology made a big return to the show, with sets from Samsung and LG, both 55-inchers – a long way from the tiny, 15in screens we saw a few years back. LG's telly has a negligible 4mm bezel, but it was Samsung's offering that most impressed us, thanks to the buckets of tech built in: IPTV, voice and motion control, 3D. Can't deny, though, both produce gorgeous pictures.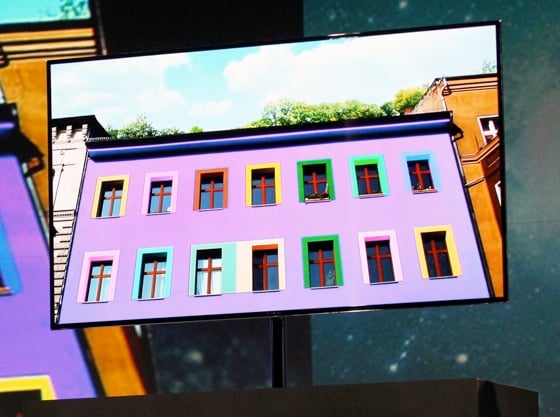 Price
Lots and lots
Available
H2 2012
More Info
Samsung
Sony Crystal LED TV

Samsung and LG may have picked OLED tech for their next-gen, post-LCD tellies, but Sony's latest thinking takes a more inorganic line. Enter the "Crystal LED Display", a 1080p set packed with more than six million "ultrafine" LEDs, three each of red, green and blue hue to create each of the panel's 2m-odd pixels. Visitors' eyeballs confirmed the picture it produces is stunning, but the big challenge for Sony is matching the price of its rivals' OLED offerings.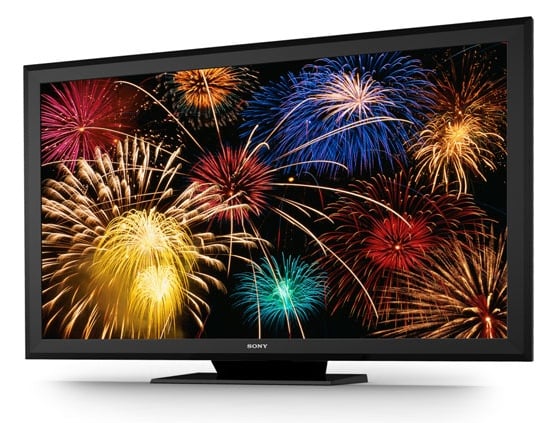 Price
More than you can afford, mate...
Available
Sony's not saying
More Info
Sony