Original URL: https://www.theregister.co.uk/2012/01/12/review_lindy_wps_1_wireless_vga_extender_and_projector_server_pro/
Lindy wireless extender and projection server
Putting on a display
Posted in Personal Tech, 12th January 2012 07:00 GMT
Review

With the demise of the traditional overhead projector, conference rooms and the like are typically found equipped with a multitude of easily accessible and switchable AV inputs for hassle-free presentations. Yet not all facilities offer cabling contentment and for the poorly-wired projectionist, the Lindy Wireless Presentation System (WPS) offers a tidy alternative.
Over the air broadcast: Lindy's Wireless VGA Extender
This neat little box of tricks has been available for a while but a recent firmware update allows quad viewing as well as Android and BlackBerry connectivity too – more on this later. The unit itself connects to a projector (or other display system) using a VGA cable and has a 3.5mm audio output. The unconventional aspect of the WPS is in the use of either a wired or wireless network connection to relay the display data from a Mac, PC or mobile screen at a resolution of 800 x 600, 1024 x 768 or 1280 x 768.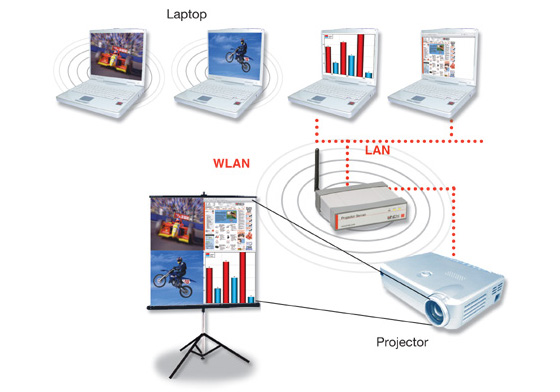 Wired or wireless connectivity is available for projection
As the user you have a choice between hardwiring the WPS into your existing network or broadcasting a Wi-Fi network from the device itself that the client machine can connect to. Rather inconveniently, it is not possible to configure the WPS to wirelessly connect itself to another network. Despite this, once you have got your network configuration sorted, you can connect multiple users to the display in conferencing mode and share the screen with up to 4 of these devices simultaneously.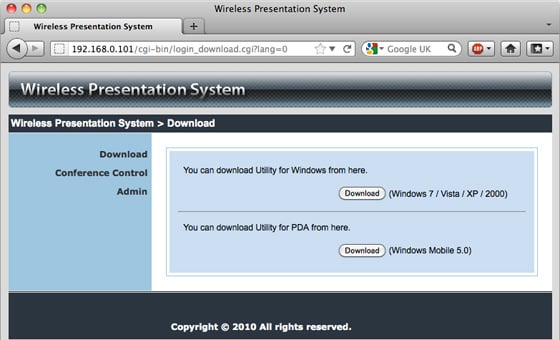 PC or PDA wireless presentation software is accessible from the unit
Actually using the WPS is simple beyond belief, just hook it up to a projector and it will display a screen with instructions, its IP address and the login code. Simply point your browser towards the IP and download the client software from the device. This works for Windows and PDA users only, Mac users will need to source the WPS-Pro application from the supplied software CD or from the website. If you're using a mobile then you'll need to download Mobishow from its respective app repository.

Conference confidence
Once the client software is up and running it will auto locate the WPS, from there just punch in the login code and confirm that you are happy to change your screen resolution to project away. At this point you can also use the client app to freeze the projected image or swap between screen locations in conferencing mode.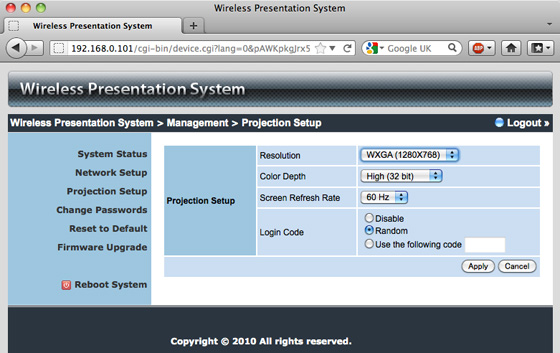 Projection set-up
I was quickly able to configure a conference projection with an Apple MacBook Pro, Acer Aspire 5749 and desktop Windows 7 PC with relative ease. It would have been nice to be able to split the projected screen dynamically based on the number of devices, but it seems it will always split four ways in conferencing mode.


Quad screen control and desktop video streaming app
Officially the WPS also supports stills and video streaming from PDAs running Windows Mobile 5.0 along with BlackBerry and Android devices using the MobiShow application. While this is a good solution for displaying photos, MobiShow can only stream AVI video. So I couldn't display MP4 video captured using the video camera on a Samsung Galaxy S used for Android testing.
As for the actual user experience, it really depends on what you want to show your audience. Mouse movements are perfectly smooth, but dragging or switching windows is a jerky and unpleasant experience. With this in mind it's easy to realise that you have no hope of playing video of any resolution from your favourite desktop viewer. However, the WPS client app does actually incorporate an MPEG1/2/4 streaming facility that works very well, provided you are also happy to send the audio to the WPS and rig it up for sound playback.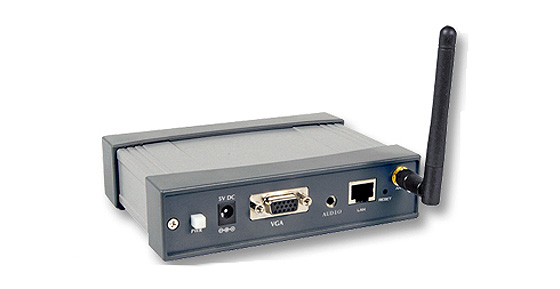 Expensive and only VGA out, but dead easy to set up
Yet the primary use of this device will be PowerPoint slide shows, so I had quite high hopes for its ability to handle at least basic screen transitions. Yet I was sorely disappointed to find that only static slides deliver acceptable results. Even then there is noticeable lag as slides change, which baffles me, as the WPS is more than capable of smooth hi-res video playback using the streaming facility.
Verdict
I really want to like the Lindy Wireless Prjection Server for its neat streaming features and its flexibility for conferencing with multiple sources. Yet with an asking price of £499, some good old-fashioned cables may seem more appealing, especially if it's a truly seamless experience that you are after. Perhaps with some development in terms of a software update or spec bump – how about HDMI? – Lindy could perfect the WPS into the do-it-all display box it so easily could be. ®
More AV Gear Reviews

Sony
HMZ-T1
3D headset
Marmitek
Gigaview GV820
wireless HDMI kit
Viewsonic
PLED W500
portable projector
HD JuiceBox
HDMI
Powerline kit
Sony
BDP-SX1
portable Blu-ray player