Original URL: https://www.theregister.co.uk/2012/01/12/ofcom_mega_auction/
Ofcom sets out spectrum mega-auction, again
2Mbps to everyone who can get a voice call
Posted in Networks, 12th January 2012 13:46 GMT
Ofcom is proposing greater coverage requirements, but fewer ownership caps and simpler lot sizes, in its latest round of proposals for the forthcoming mega-auction.
The proposals include pushing 2Mbps of data to everywhere you can get a 2G voice call today – which should cover 98 per cent of the country – and capping overall spectrum ownership to ensure there will still be four networks competing in the UK. But most of the proposal document (189-page PDF/989kb, harder to read than the last one) is comprised of meticulous justifications attempting to second-guess the inevitable objections from the industry.
The auction is supposed to be happening later this year, and these proposals follow Ofcom's last attempt almost 10 months ago. That effort was decried by just about everyone as being partisan, favouritist, and even illegal. Ofcom has made some significant concessions, though it explains them away as responses to a changing technical landscape, but despite that, and the detailed justifications, it's unlikely this set of proposals will come though the consultation process unscathed.
The last set of proposals included pre-allocation of prime spectrum to Three, the UK's smallest operator who missed out on the freebie spectrum which was given to the others when they launched their 2G services. Everything Everywhere was also given special treatment last time to make sure it got some of the 800MHz band, as it owns neither of the desirable 900MHz bands which were given to (and are still held by) Telefonica and Vodafone.
The new proposals drop both those conditions, justifying the change by claiming that increased use of femto and pico cells make ownership of spectrum at 800MHz less important.
Three has already said publically that it won't be able to survive without some low-end spectrum, either at 800MHz or some of the 900MHz currently owned by Voda and Telefonica, but perhaps the operator is unaware of the benefits femtocells can bring?
Ofcom does want Three to survive, and even provides a chart showing how Three's desperation for spectrum provides an incentive for competitors to muscle it out.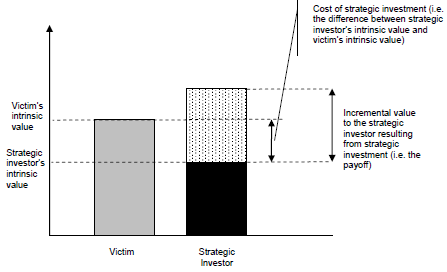 We're not trying to paint Three as the victim... oh... hang on... yes we are
To prevent that Ofcom will provide an overall ownership cap of 210MHz (written as 2x105MHz for arcane, and increasingly confusing, reasons). That will include the current holdings*, so limits what the operators will be able to buy. Those current holdings run to 75MHz or so for Telefonica and Vodafone, which Three only having 35MHz. Even Everything Everywhere only has 170MHz of spectrum at the moment, and will have to sell off 30MHz of that as a condition of merging the portfolios of Orange and T-Mobile, so everyone has some room to expand.
The proposals also suggest that one licensee, at 800MHz, should be required to provide 2Mb of data to everywhere it currently provides 2G voice telephony, plus any extension paid for from the government's £150m Mobile Infrastructure Programme (MIP). Ofcom reckons slapping an LTE decoder and antenna onto 2G base stations should be all that's required, and that the licensee (it proposed that "just one 800MHz licence contains the obligation") will have to do that by the end of 2017.
That requirement will upset BT, who has previously stated that coverage obligations are an effective state subsidy and therefore (in their opinion) illegal, so expect to see a robust response from BT. Three will moan a lot about the lack of restitution for the freebies given to everyone else, and probably threaten to leave the country (again), while Everything Everywhere will complain that it just has to have some sub 1GHz spectrum reserved for it.
Vodafone and Telefonica will be sitting smugly on the sidelines, pleased to see that their 900MHz bands aren't being threatened. They will have to pay more for them; Ofcom is committed to using the auction prices to recalculate the annual fee both companies pay.
But overall Ofcom has made a good stab at appeasing everyone involved, perhaps better than could have been expected, but whether it's good enough to appease everyone – and prevent legal challenges – we'll have to see. Responses are to be in by 22 March, then they'll be a final proposal, and then we'll see if we're really going to get an auction in 2012. ®
* All spectrum holdings except the four 5MHz bands at 1900MHz, which are still reserved for UMTS TDD services that no one ever developed, so the bands remain empty.