Original URL: https://www.theregister.co.uk/2012/01/11/wise_stars_are_born/
Big stars give birth to little stars in new WISE pic
Telescope provides evidence for secondary star formation
Posted in Science, 11th January 2012 16:01 GMT
NASA's WISE space telescope has stitched together a panoramic view of the Milky Way where stars are born.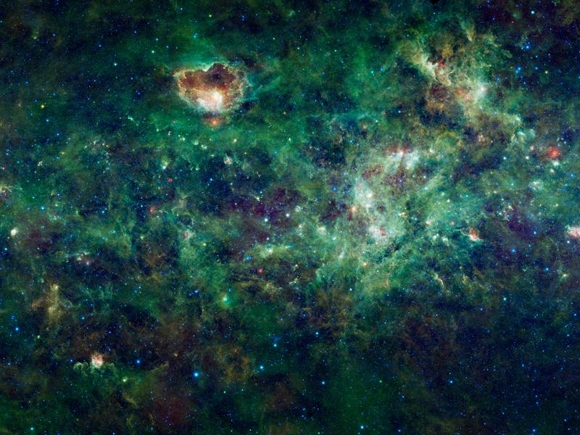 WISE mosaic of a section of the Milky Way. Credit: NASA/JPL-Caltech/UCLA
The Wide-Field Infrared Survey Explorer (WISE) scope has taken a 1,000-square-degree shot of a stretch of cosmic clouds that regularly form new stars.
"Massive stars sweep up and destroy their natal clouds, but they continuously spark new stars to form along the way," said WISE mission scientist Dave Leisawitz, who co-authored a paper reporting the results in the Astrophysical Journal.
"Occasionally a new, massive star forms, perpetuating the sequence of events and giving rise to the dazzling fireworks display seen in this WISE mosaic."
As well as making a pretty picture, the image was one of many taken by WISE that have helped star-gazing boffins to provide evidence for 'triggered star formation', where winds and radiation from massive stars compress gas and dust, creating a second generation of stars.
This process hasn't been easy to pin down, since the astronomers usually only have a few pictures from the lifecycle of any one star - like having a photo of a person as a baby, a pre-pubescent and a grown-up. From these snapshots, the boffins have to try to figure out how the star changes and grows.
"Each region we looked at gave us a single snapshot of star formation in progress," said Xavier Koenig, the lead author of the new study. "But when we look at a whole collection of regions, we can piece together the chain of events."
The WISE telescope mapped the entire sky twice in infrared light, completing its survey in February 2011. This image is a mosaic of thousands of snaps of the region around constellations Cassiopeia and Cepheus reassembled by collating 442 interlocking tiles. ®