Original URL: https://www.theregister.co.uk/2012/01/11/review_pure_highway_300di_in_car_digital_radio_adapter/
Pure Highway 300Di in-car digital radio kit
Beep-beep, yeah!
Posted in Science, 11th January 2012 12:00 GMT
Review

Since 2008 Pure has offered its relatively cheap first-generation DIY upgrade kit to add DAB radio and more besides when motoring. Now comes the second generation Highway, with an improved aerial and two-part combo of a main 'interface' unit, which is fitted under the dashboard near the car's existing radio, and a detachable controller/display.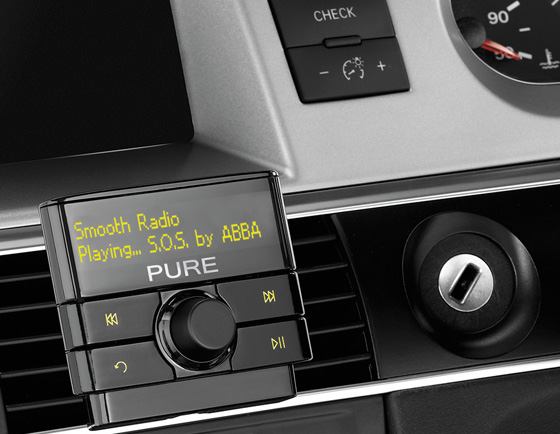 Dashboard widget: Pure's Highway 300Di
While a growing number of new cars have digital radios as standard or as an option there remains a vast number of legacy vehicles that aren't DAB-ready unless the whole head-end is replaced and Pure's Highway 300Di is made for these 'vintage' vehicles.
It's a neater, more sophisticated proposition that is installed by an engineer in a roughly hour-long process. Until March 2012 it's exclusive to Halfords. After then it will spread to other retailers, probably including your friendly local indie dealer. Installation prices may vary but expect to pay from about £25.
The benefit of going down the installation route is that most of the hardware is hidden away. The supplied antenna has been designed to improve DAB reception too. It uses the roof as a grounding plane, while active amplification compensates for signal loss as it passes through the glass. A conventional antenna is available for cars with soft-top or aluminium roofs.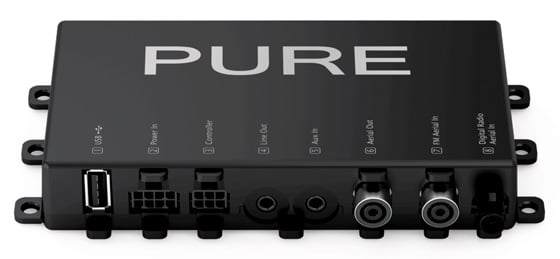 Audio and antenna interfacing abounds
In the weeks since I had it installed it's certainly been impressive, even retaining a good signal throughout a 350-mile round trip from the Midlands to Dorset. Since then I've only experienced a couple of brief DAB signal interruptions and unsurprisingly those happened in low lying rural areas.
Space truckin'
The interface unit upgrades almost any 12V vehicle and a truck version is planned for this year. It connects to the auxiliary line input that most car radios have. Failing that it can be hard-wired into a radio's aerial socket with the Highway's output carried on a specific (customisable) FM frequency. The Highway locks out that frequency to avoid external interference, though this particular set-up also wipes out RDS traffic alerts.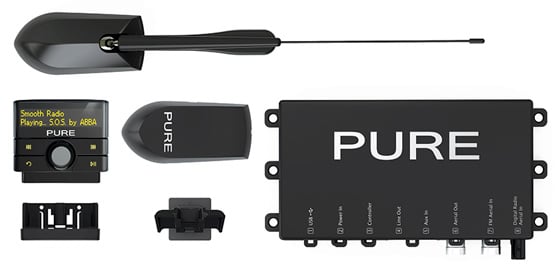 To keep things neat, getting the kit fitted is worth paying the extra for
A third option is standard FM retransmission, as with the previous Highway. Whatever the method, it's easy to return to the car's original radio functions.
As the 300Di is only for reception and control, the actual sound quality depends largely on whatever radio you have. If you spent a lot on your in-car system at the time, or it's hard to replace, then this upgrade makes sense.
Although the package is quite expensive, its specs and performance are strong. A major bonus is its dual tuners. The spare tuner refreshes the available station list for the region you're in at the time, and up to 30 can be memorised as presets. The system will also work outside the UK with DAB+, DMB-R and L-Band services.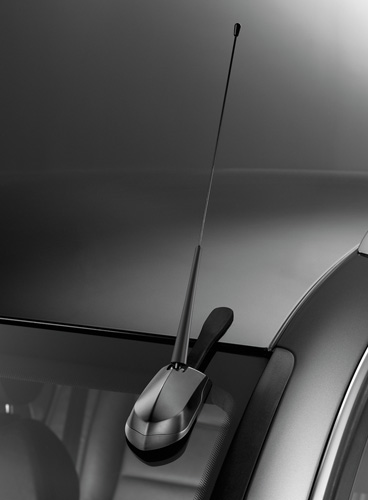 Fiddler on the roof?
The control unit, which sits in a swivel-cradle, can be popped out and is small enough to keep in a pocket, in case you're worried it's mistaken for a pilferable satnav. There's an OLED display that's clear in daylight or at night, plus a familiar set of digital radio function buttons.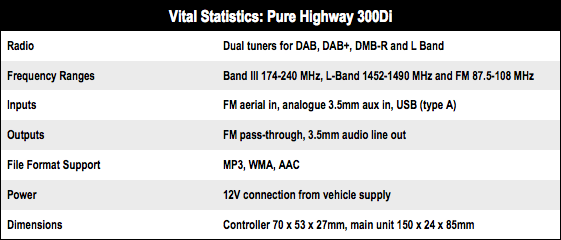 Highway star
A feature that's been missing from many DAB products lately reappears here: the facility to rewind or pause and resume live broadcasts. This is especially useful if you need to stop for a few minutes – at a garage for instance – and not miss anything. The Highway also works for about an hour without the engine running, in what Pure calls 'picnic mode'.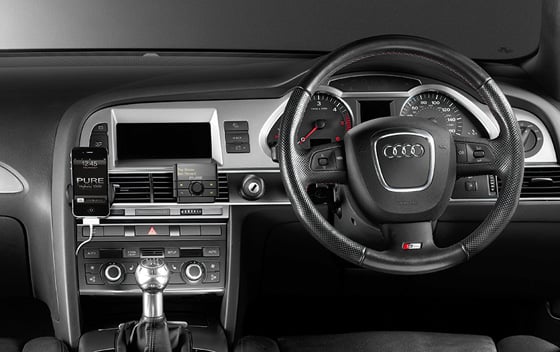 Sittin' with the dock in the bay...
Its other main asset is the USB connector. You can dock, charge and control iPhones, iPads or recent iPods. Alternatively, attach a USB stick or any media player that mounts as a mass storage device and the Highway picks up MP3, AAC or WMA files along with metadata for sorting into albums and artists. For any player or device that can't connect via USB, the interface unit also has a 3.5mm analogue line in.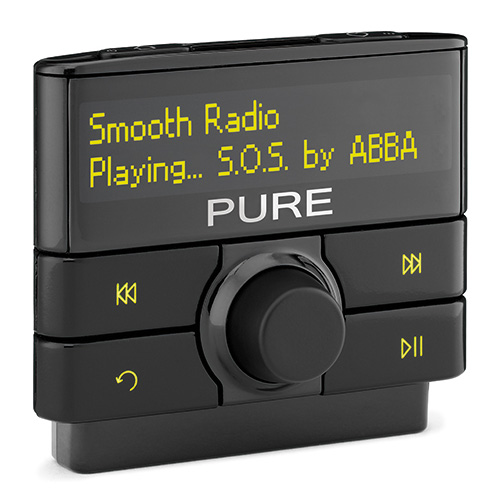 DAB handed: detachable for safekeeping
Verdict
The Highway 300Di is one of those well designed products that simply works without a fuss. It brought the basic car radio in my family's little old Nissan up to spec and added handy USB options that were lacking before. Without getting mired in the political or audiophile arguments surrounding DAB, the plain fact is that the 300Di provides a decent way of adding stations for in-car listening that aren't on FM – whether your taste is for Radio 4 Extra, 6Music, Planet Rock or a host of others. ®
More AV Gear Reviews

Sony
HMZ-T1
3D headset
HD JuiceBox
HDMI
Powerline kit
Ten...
mini hi-fi
systems
Marmitek
Gigaview GV820
wireless HDMI sender
Sony
BDP-SX1 portable
Blu-ray player