Original URL: https://www.theregister.co.uk/2012/01/10/astronomers_largest_map_dark_matter/
Astronomers map largest ever zone of dark matter
MegaCam maps 10 million galaxies
Posted in Science, 10th January 2012 01:10 GMT
An international research team has presented the largest ever map of dark matter at the 219th American Astronomical Society conference in Austin, Texas.
The team used a 340 megapixel camera, dubbed MegaCam, to take one degree by one degree shots for five years from the Canada-France-Hawaii Telescope (CFHC) on Mauna Kea mountain in Hawaii. Over 10 million galaxies were imaged, typically around six billion light years away, and the results examined to assess the effect of gravitational distortion on the distant light caused by dark matter.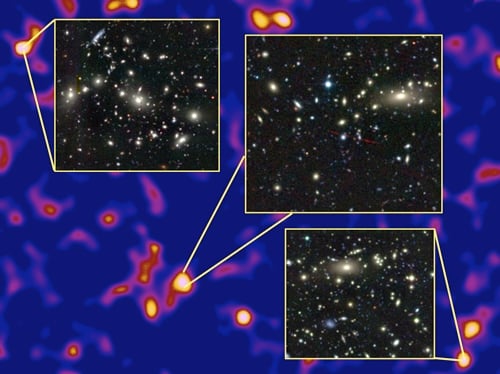 Where there's galaxies, then there's dark matter (Credit: Van Waerbeke, Heymans, and CFHTLens collaboration)
"By analysing light from the distant Universe, we can learn about what it has travelled through on its journey to reach us," said Dr Catherine Heymans, a Lecturer in the University of Edinburgh's School of Physics and Astronomy, in a statement. "We hope that by mapping more dark matter than has been studied before, we are a step closer to understanding this material and its relationship with the galaxies in our Universe."
The map shows largely what you'd expect, given the current state of theoretical thinking about dark matter. The concentrations are heaviest around galactic clusters and fade to almost nothing in the deeper reaches of empty space.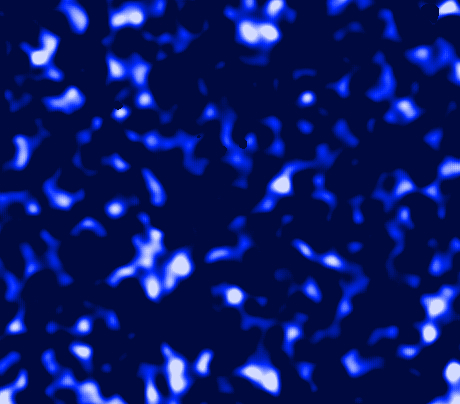 White areas show dense clumps of dark matter (Credit: Van Waerbeke, Heymans, and CFHTLens collaboration)
"It is fascinating to be able to 'see' the dark matter using space-time distortion. It gives us privileged access to this mysterious mass in the Universe which cannot be observed otherwise," said Professor Ludovic Van Waerbeke, from the University of British Columbia. "Knowing how dark matter is distributed is the very first step towards understanding its nature and how it fits within our current knowledge of physics."
The team now plans to map ten times the current area using the Very Large Telescope's (VLT) Survey Telescope in Chile. ®