Original URL: https://www.theregister.co.uk/2012/01/09/review_archos_g9_android_tablet/
Archos G9 101 8GB Android tablet
The cheapest 10in Honeycomb fondleslab?
Posted in Personal Tech, 9th January 2012 12:00 GMT
Review

Over the years, Archos has pitched much of its kit at the impecunious rather than the technically demanding. However, some of its Android devices like the 43 media player have appealed to both camps. Now it's trying to repeat the trick with the G9 series of Android 3.2 Honeycomb tablets.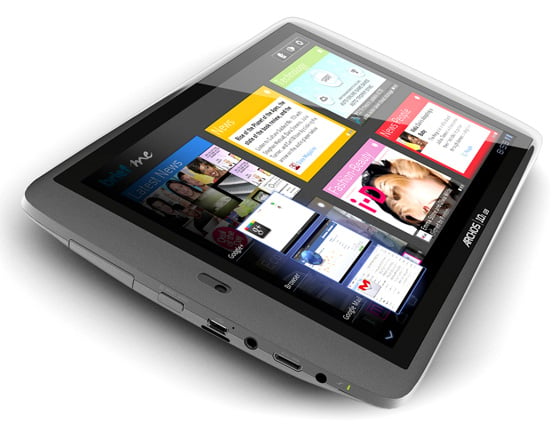 Archos G9 Android tablet
For the G9's £250 asking price you are not going to get something that looks or feels like a £400 Samsung Galaxy Tab 10.1. The body is made entirely from grey plastic and the shut lines are rather obvious to the eye. That said there's little in the way of body flex and the hard plastic screen feels glass-like enough to the touch.
Despite all the plastic, the G9 is still no featherweight. At 649g it's lighter than the original Motorola Xoom and Asus Transformer but heaver than the likes of the Sony Tablet S let alone the Galaxy. The 12.6mm thickness is par for the course but nothing more.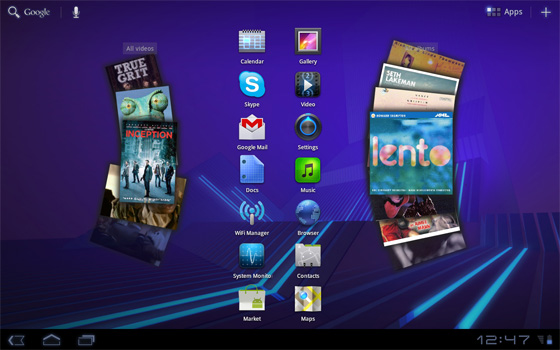 Media widgets
Materials aside, the design does suffer from a couple of flaws. Firstly, the micro SD slot is too shallow and enough of the card stands proud to be easily nudged so it springs out. On the opposite side, the volume rocker is too exposed and located too low down – just where your hand rests when holding the G9 – making it all too easy to inadvertently change the sound level.
The 10.1in 1280 x 800 LCD screen needs few excuses made for it. It's crisp, bright, suffers no backlight bleed and its effective viewing angles are wide. If you really give the chassis a twist you will get a groovy light show as the panel flexes, but you have to be deliberately brutal.
A stand out selling point?
The support leg at the back is, again, plastic and not the most robust thing I've seen. Still, it does the job and is much better than nothing, and when it comes to prop stands, nothing is precisely what you get with every other tablet on the market.
Texas implements
Rather than go down the Tegra 2 road, Archos has fitted the G9 with a 1GHz dual-core Texas Instruments OMAP4 chip with 512MB of RAM. It's a combination that spits out a mediocre AnTuTu score of 4741 but in every day use feels just as quick as any Tegra 2 machine.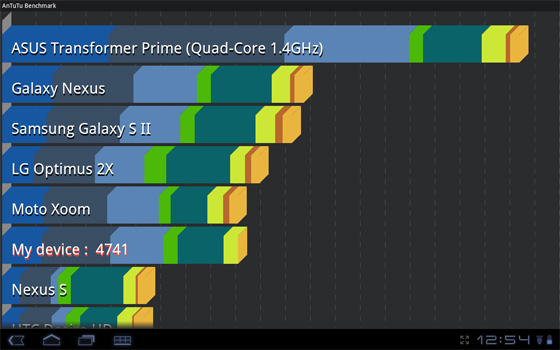 The OMAP CPU holds its own with older tablet tech
This cheapest version of the G9 101 comes with only 8GB of internal storage but a 16GB version with a 1.2GHz chip is also available. A 1.5GHz/250GB HDD version is due for release early next year along with an Ice Cream Sandwich update for existing machines.
Unlike many Honeycomb tablets, the G9 will munch through 1080p video regardless of codec or container type - MKV, QuickTime, DivX/Xvid, WMV, MP4, it plays the lot. My efforts to bamboozle it with peculiar subtitle formats were laughed off too. In short the G9 is a very powerful and competent video player.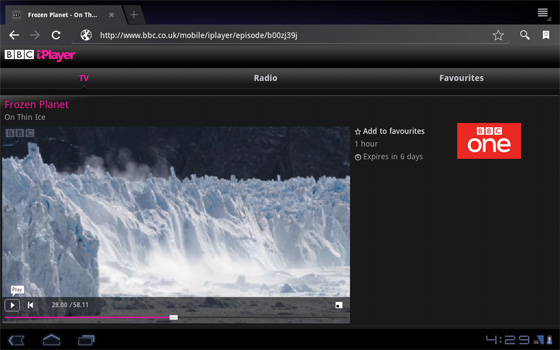 Flash works, but only using version 11.0, not 11.1
The music player is equally agnostic when it comes to codecs and handles Flac, as well as the expected AAC, WMV, Ogg and MP3. Both the video and music players come with handy scroll widgets that let you launch files from the desktop.
The single rear speaker is a little raucous but has plenty of volume available. Plug in a decent pair of earphones and everything sounds very nice indeed and there's no want of volume either. Like all Archos Android gadgets, you can control the G9 from your Android mobile phone as long as both devices share the same Wi-Fi network. Just download the app onto your mobile and you are good to go.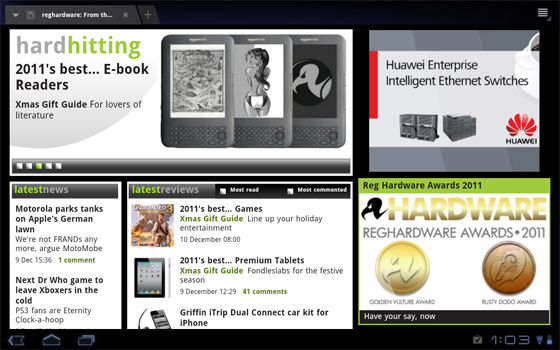 Nifty browsing
Archos boasts that the G9 can load web pages 50 per cent faster than Tegra 2 machines. I'm not sure I'd like to prove that in court but the G9 does render pages very quickly and browsing feels subjectively faster than on the Tegra 2 devices I've used. There is however a problem with the G9's web performance.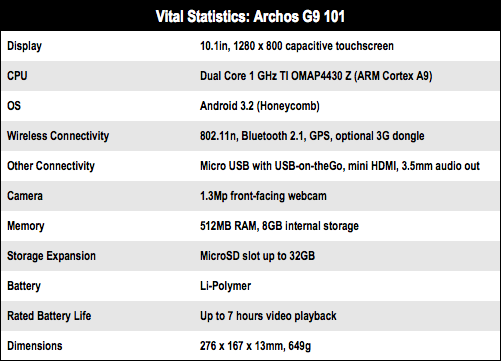 Downgrade delights
The G9 supports Adobe's Flash player, yet in tests my device was all sound but no vision with in-browser video showing as a black box while the soundtrack played in the background. The issue turns out to be a firmware clash with Flash Player 11.1 – replace it with v11.0 and everything works as intended.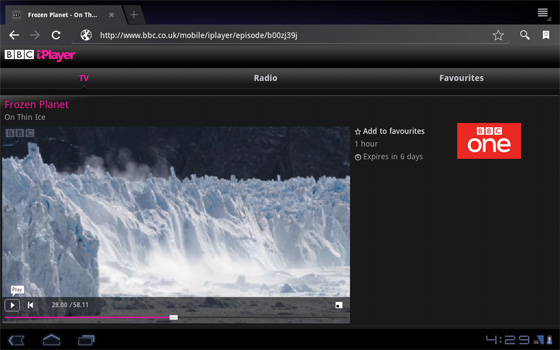 Flash works but only using version 11.0, not 11.1
Archos has taken an interesting route with 3G connectivity. Slide a plastic blank out of the back and you can replace it with a bespoke Archos 3G USB dongle. It's a canny idea and because it connects over USB you can also use the unlocked dongle with your laptop.
At around £50, the dongle is reasonably priced, which is just as well because you have to use the Archos unit and, of course, it's something you can buy at a later date when you are sure you have a need for it. Alas, tests using an unlocked Zoom dongle with a USB extension cable wouldn't connect.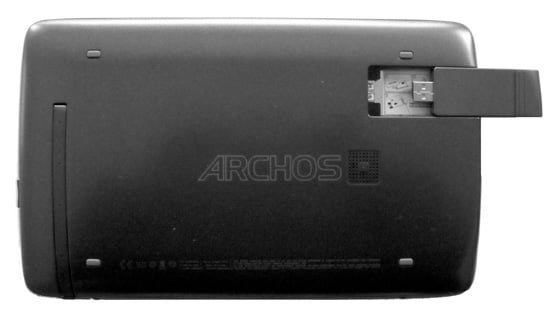 3G option if you need it
The G9 only has the one camera, a front-facing 1.3Mp affair. That's a design decision I can't argue with – who actually takes photos with a 10in tablet? Indeed, the camera works a treat with Skype, unlike the webcam fitted to the Motorola Xoom 2.
Battery life is no more than adequate. Once you have the G9 charged you can expect around seven hours of use depending on how hard you push it. Set it to loop an HD video and you will get to the four mark but little further.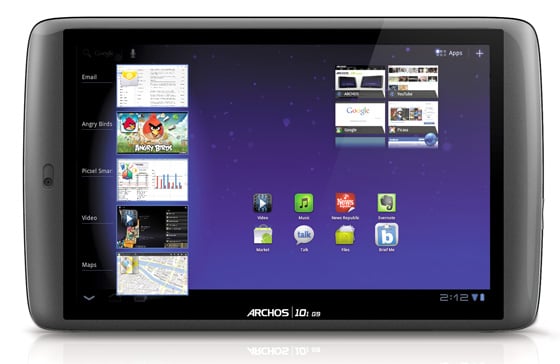 Battery conditioning may see charging improve over time or maybe not
But good grief, my G9 took an age to charge – even when switched off it was well over four hours. Plug the G9 into the mains while being used and the charger barely seems to keep pace with the device's power consumption. Charging from a USB port does little more than marginally extend the running time.
Verdict
The G9 101 is not without some niggling annoyances but it still represents decent value if you want a tablet that plays HD video in any format. The stand and 3G dongle are simple ideas that make the G9 rather versatile too. The only reason I can't give it more of a recommendation is the Flash problem and the Biblically long recharging time. Here's to the next firmware fix. ®
More Tablet and Reader Reviews

Sony
Tablet P
Ten high-end
Android
tablets
Asus
Eee Pad Slider
SL101
Ten budget
Android
tablets
Sony
Tablet S