Original URL: https://www.theregister.co.uk/2012/01/09/autovirt_dead/
File stroker AutoVirt ascends into the clouds - in a bad way
Document virtualiser is no more
Posted in The Channel, 9th January 2012 13:39 GMT
AutoVirt is now like Monty Python's Norwegian Blue parrot: bereft of life, it rests in peace. If it wasn't nailed to its perch it'd be pushing up the daisies.
It's not very funny for the employees who have lost their jobs, nor for the investors, channel partners and the founder who has seen his vision and attendant enthusiasm turn to acid in his mouth.
It is not pretty. But that's startup capitalism USA-style; for every successful startup, such as Fusion-io, Compellent and 3PAR, there are the crash-and-burn stories like this one, Copan and many, many others, far, far too many to list.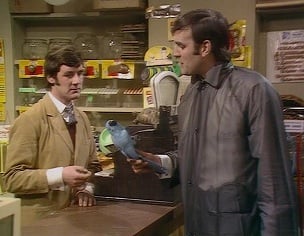 Monty Python's Norwegian Blue dead parrot sketch
AutoVirt, founded in 2007 by ex-acting Acopia software VP Klavs Landberg, produced software that virtualised files and enabled them to be tiered, replicated and migrated, along with competitors such as EMC's Rainfinity, Brocade's StorageX and Acopia's ARX. They all failed because customers didn't want to deal with the complexities of stubbing, global name spaces, layering a separate management layer on NAS filers and so forth.
Acopia failed and was bought by F5. StorageX went to HDS in 2008. Rainfinity decayed and died, being replaced by a Cloud Tiering Appliance.
It's the way of such failures that they just lie down and die with no fuss and no announcement. El Reg has seen various credible reports, including some from industry insiders, of AutoVirt's demise. It is no more, and the firm's US spinners have confirmed so.
The company's website still exists and lists awards and analyst recommendations AutoVirt achieved, a now sad litany of misplaced hopes, idealistic views and sometimes paid-for analyst recognition. But no one is at home, the phone is unanswered, and, like Monty Python's Norwegian Blue parrot, AutoVirt will squawk no more.
Requiescat in VC pace. ®