Original URL: https://www.theregister.co.uk/2012/01/07/product_round_up_ten_mini_hifi_systems/
Ten... mini hi-fi systems
Good things in small packages
Posted in Personal Tech, 7th January 2012 08:00 GMT
Product Round-up Compact enough for a bookshelf but punching above their weight compared to a portable radio, mini hi-fis are an audio staple. These items can become the sole sound system for anyone pushed for space in bijou flats, bedsits and student digs or serve as a back-up in bedrooms, kitchens and other places around the home.
This part of the market is still fairly conservative. CD playback remains key, while 'special' features such as an iPod dock or DAB radio tuner wouldn't have looked unusual almost a decade ago. USB sockets are increasingly common in these systems but often restricted to playing MP3 files rather than higher quality lossless formats like FLAC. Also, wired or wireless network connections, now essential in a lot of consumer electronics devices, are only slowly making their way into mini systems. With a varied price range, it's not simply you get what you pay as this round-up uncovered some sound offerings at a reasonable sum.
Arcam Solo Mini-Muso

This system from the British luxury brand is a modern classic. You can partner the Mini with any suitable speakers or with the Muso pair, which use sturdy metal enclosures. The main unit is equally robust and adorned with a vast array of sockets. There are combined binding post/screw terminals for the speaker outputs (and on the speakers themselves), while a USB port is for MP3/WMA playback, as usual. It lacks a built-in iPod dock but the optional irDock is top-notch and offers control through the system's user friendly remote. Power output is 2 x 25W. CD playback is where it excels, delivering clean and precise audio quality, although it's less forgiving with MP3s. The radio (including DAB) features both F-type and Belling-Lee connections and fares well too.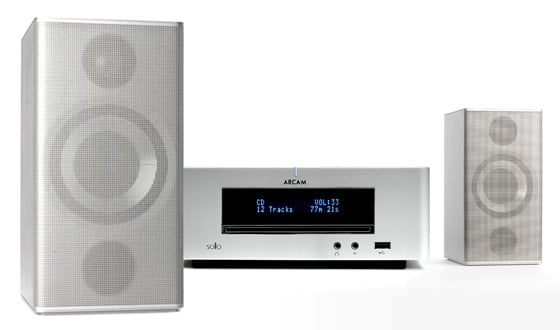 Reg Rating 75%
Price £999
More info Arcam
Cambridge Audio Sonata DR30 and S30 speakers

As with the Arcam, this is a classy offering built around the slim metal-cased DR30 receiver. A separate £149 unit (CD30v2) provides disc playback or another option is the £400 NP30 network media player. The separate DD30 iPod dock is supplied in the box. The receiver's wealth of sockets includes screw/binding post speaker terminals. Power output is 2 x 40W. It lacks a USB port but there is a mini-jack for MP3 players. DAB tuning was problematic at first but fine after recanning. Vocals are powerful and forthright but higher notes could do with more sparkle and the speakers sound boxy at times. Compressed iPod tracks are also somewhat woolly. All in all, it's a chic but slightly disappointing system.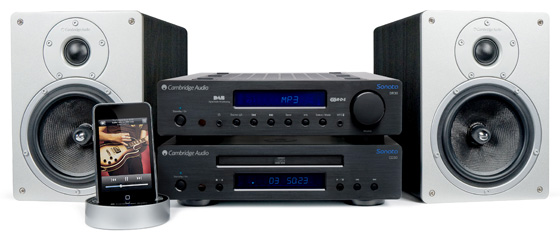 Denon CEOL Noir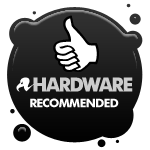 One of the few networkable mini hi-fis, this is a black-clad version of Denon's feature-packed CEOL system. The RCD-N7 unit is available solo for under £400 or bundled with SC-N7 speakers. Connections include binding post/screw terminals, Belling-Lee FM/DAB antenna socket, USB, optical digital input and a top-mounted iPod dock. Its biggest selling point is built-in Wi-Fi (or alternative Ethernet port) for internet radio, Napster, LastFM, network music streaming and AirPlay (specifically for streaming from computers running iTunes or Apple hardware such as iPhones and iPads). Power output is 2 x 65W and it seals its audiophile credentials by also being FLAC compatible for 96kHz/24-bit playback. It's glossy to look at and gorgeous to listen to.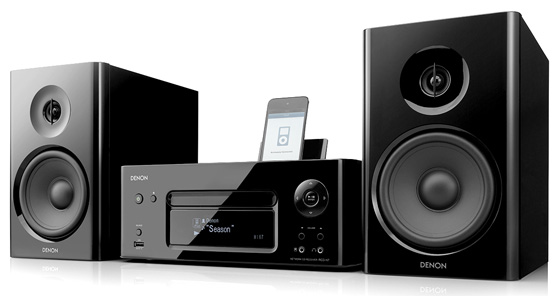 Reg Rating 80%
Price £500
More info Denon
Onkyo Colibrino CS-245DAB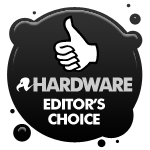 This entry level package comes with a pair of DT05 speakers, which are excellent for their compact size and price. Its CD performance sensibly manages the amount of bass, and the system has a broad response across higher frequencies. The DAB tuner is not as sensitive as some but it's good to see an F-type connector for a rooftop aerial, if needed. There's a built-in iPod dock and though the USB port is just for MP3 files, it does a very impressive job with them. Power output is 2 x 15W. So, while it's not over adorned with features, it concentrates on providing amazing audio quality for the money.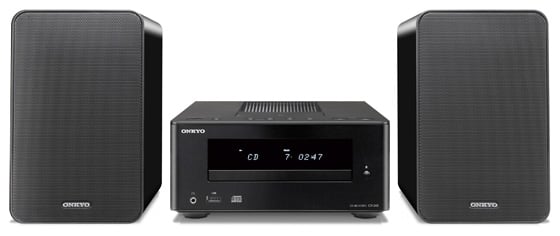 Reg Rating 85%
Price £265
More info Onkyo
Panasonic SC-HC35DB

This space-saving all-in-one has built-in speakers and is wall mountable. Features include DAB, MP3 playback from USB and analogue mini-jack input. A sliding panel reveals an iPod dock area and, on the right, an upright CD drive. Given its cost and dimensions, it's not bad value. CDs sound especially good and the bass is surprisingly strong (power output is 2 x 20W RMS). Audio for MP3 via USB or iPod lacks definition, so it does little to improve compressed formats. The biggest letdown was the radio. Using its supplied wire antenna FM and DAB reception were awful. The F-connector will take a rooftop aerial if you have one but that limits where you could put this otherwise portable product.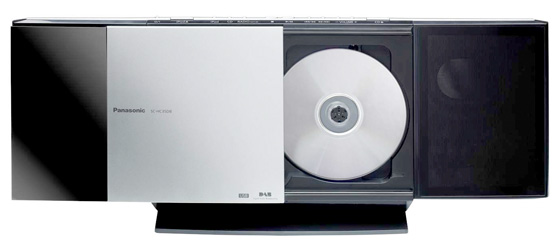 Reg Rating 55%
Price £160
More info Panasonic
Philips Harmony DCB8000/10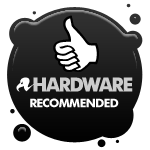 This new system comes as a two-part package of disc player linked by control cable to a CD-playing DAB/FM receiver unit. There are the usual phono inputs and outputs, analogue mini-jack line in, front-mounted USB and top-mounted iPod dock. There is some snazzy lighting on the receiver's volume control and the units have an attractive metallic finish. Its supplied speakers are unusually large for a mini hi-fi and use real wooden cabinets (not cheap and nasty MDF). This isn't just for show, as the overall the sound quality is warm and richly detailed. It doesn't quite match the top-rated Onkyo above but it's a cheaper alternative to the likes of Arcam.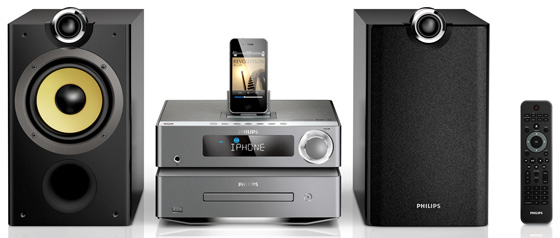 Reg Rating 75%
Price £449
More info Philips
Pioneer X-HM50-K

One of a number of mini hi-fis from Pioneer, this affordable offering covers all the basics, such as FM/DAB tuners, CD playback and a built-in iPod/iPhone dock. The front-mounted USB port handles MP3 or WMA files. It doesn't skimp with its connections, as it provides an Belling-Lee antenna input, two analogue inputs (one as a mini-jack) and conventional screw terminal speaker outputs that can also accept binding posts, so it's no trouble to use higher calibre cabling or change to your own choice of speakers if you fancy the option. As it stands, it's a decent value system that doesn't compromise too much on quality.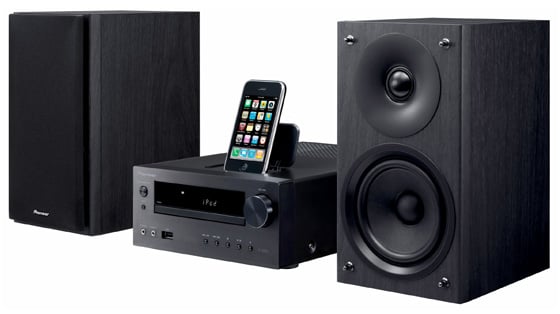 Reg Rating 70%
Price £250
More info Pioneer
Pure Sirocco 550

Pure's mini hi-fi manages to include a Wi-Fi connection for about the same price as many 'ordinary' products. This is for accessing any of the thousands of internet radio stations, podcasts, on-demand programmes (including BBC catch-up), the Pure Music cloud-based portal or tracks bought from the Lounge service, as well as music streamed from a PC or NAS drive (including AAC format). Unsurprisingly, it also handles DAB, FM, CD and (from USB) MP3 and WMA, or anything from a docked iPod/iPhone. Navigation could be better and audio quality is acceptable given the price but I'd recommend buying one without speakers and adding superior ones from elsewhere. Power output is 2 x 40W (RMS).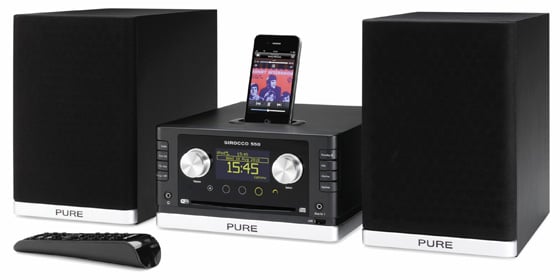 Reg Rating 75%
Price £325
More info Pure
Sony CMT-FX350i

This Sony sits squarely at the budget end the market but still incorporates an iPod dock and reasonably sensitive DAB tuner. It has an analogue mini-jack input but no USB for memory sticks. Speaker terminals are merely spring clips and the supplied speakers have MDF cabinets with wood-effect covering. Audio quality is uninspiring, being particularly raspy for music radio. FM comes over better than DAB here and talk stations don't seem too bad. CDs are relatively clear and bassy but lack the punchiness of the better products in this group. Four preset EQ settings do little to improve things, though swapping to higher quality speakers helps, within the limitations of its meagre 2 x 4W power output.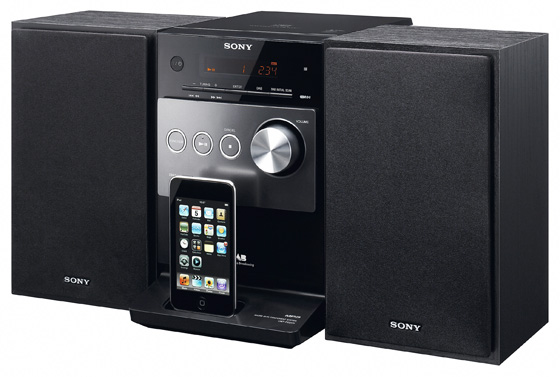 Reg Rating 50%
Price £120
More info Sony
Yamaha MCR-555

This system combines a beefy CRX-550 main unit and generously proportioned NSP-B300 speakers. The CD/receiver has a top-mounted USB for MP3 and iPod dock. Rear sockets include an F-type FM/DAB aerial connector and two aux inputs (one as a mini-jack), while all speaker connections accept binding posts or work as screw terminals. Power output is 2 x 32W. Its FM and CD performance are particularly good in the lower mid-range, with deeper vocals and piano conveyed especially well. It tends to expose the limitations of compressed MP3s and DAB. I also expected the overall sound to be a stronger given the speakers' build quality but generally it's a desirable package. ®
Reg Rating 70%
Price £329
More info Yamaha